100 Days of Oil: The Numbers So Far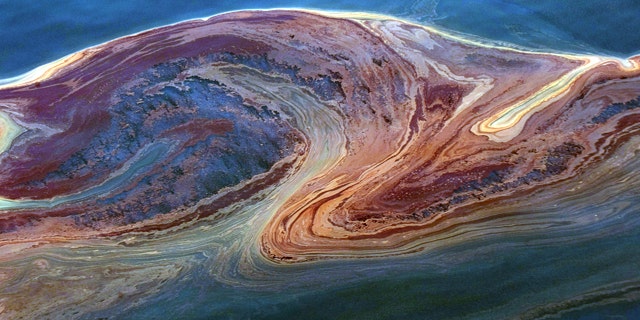 NEWYou can now listen to Fox News articles!
In the 100 days since an April 20 explosion about the Deepwater Horizon drill rig unleashed a seemingly unstoppable torrent of oil into the Gulf of Mexico, the eyes of the world have been focused on the disaster. Hundreds of millions of gallons of crude have been released, and billions of dollars have been allocated toward the clean up fund. The numbers so far:
GULF OF MEXICO OIL
According to government estimates, between 100 and 200 million gallons of oil have been released into the Gulf due to the Deep Water Horizon accident.
Oil recovered: 50 million gallons
* The Coast Guard said nearly 33 million gallons of oily water have been recovered and as much as 15 percent of that -- or nearly 5 million gallons -- is oil.
* The Coast Guard estimates that nearly 11 million gallons of oil have been burned.
* BP says it has recovered about 34.7 million gallons.
That's more than 50 million gallons in all pulled out of the gulf -- or roughly a quarter of the 200 million gallons that entered it.
THE RESPONDENTS
17,500 National Guard troops from Gulf Coast states have been authorized for deployment to respond to this crisis; currently, 1,676 are active.
Approximately 13,000 personnel are currently responding to protect the shoreline and wildlife and cleanup vital coastlines.
More than 3,700 vessels are currently responding on site, including skimmers, tugs, barges, and recovery vessels to assist in containment and cleanup efforts-in addition to dozens of aircraft, remotely operated vehicles, and multiple mobile offshore drilling units.
520 Service personnel are actively engaged in the response, working to protect wildlife and their habitats, including 36 national wildlife refuges. They are also assessing the damage from the oil spill in preparation for the work that will be needed to restore the Gulf of Mexico.
CONTROLLING THE FLOW
More than 3.41 million feet of containment boom and 7.82 million feet of absorbent boom have been deployed to contain the spill. The combined boom deployed is equal to 2,127 miles
Approximately 1.84 million gallons of total dispersant have been applied -- 1.07 million on the surface and 771,000 sub-sea. Approximately 577,000 gallons are available.
411 controlled burns have been conducted, removing a total of more than 11.14 million gallons of oil from the open water in an effort to protect shoreline and wildlife.
EFFECT ON NATURE
Approximately 637 miles of Gulf Coast shoreline is currently oiled -- approximately 362 miles in Louisiana, 109 miles in Mississippi, 70 miles in Alabama, and 96 miles in Florida.
Approximately 57,539 square miles of Gulf of Mexico federal waters remain closed to fishing in order to balance economic and public health concerns. Approximately 76 percent remains open.
1,467 visibly oiled birds have been collected alive by the U.S. Fish and Wildlife Service, the states and our partners in response to the Deepwater Horizon/BP oil spill. Of those, 553 birds have been rehabilitated and released.
3,473 wildlife have died related to the oil spill
MONEY
The Small Business Administration has approved 186 economic injury assistance loans to date, totaling more than $15.5 million for small businesses in the Gulf Coast impacted by the BP oil spill.
Additionally, the agency has granted deferments on 707 existing SBA disaster loans in the region, totaling more than $3.7 million per month in payments.
BP claims: To date, 125,539 claims have been opened, from which more than $239 million have been disbursed.