Why superyachts are the epitome of luxury living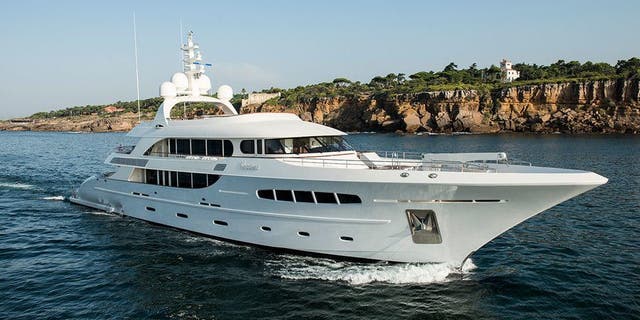 With their top-deck swimming pools, private screening rooms, state-of-the-art kitchens and saloons, and on-board beach toys, superyachts represent the very top of luxury living.
"It's the ultimate luxury and the ultimate independence," giving owners the ability to instantly pull up anchor and sail or motor off to anywhere in the world that catches their fancy, said Ginger Hornaday, a broker and marketing consultant in the marine and luxury real estate industry.
"Owning a yacht means owning something exclusive," said Sebastiano Pitasi, a sales yacht broker at Engel & Völkers Yachting in Nice, France. "Most of the time we are talking about a really unique masterpiece built to satisfy the owner's wish to own something fully customized."
"A yacht is probably one of the most expensive hobbies an owner may have, but it's for sure one that will create unforgettable moments," Pitasi said.
Increasingly popular with the ultra wealthy
Some yacht owners live most of the year on their boats, others use it only for occasional travel, experts say. But either way, they seem to be getting more popular with a certain clientele.
"As the pursuit of luxury moves from goods and services to unique experiences, the ultra wealthy are demanding that the returns on their most precious possession, time, are maximized in every way possible," according to The Wealth-X and Camper & Nicholsons State of Wealth, Luxury & Yachting Report 2016, which notes a new, younger generation of ultra-high-net-worth individuals increasingly focused on pursuing rare, tailored experiences over accumulating "'things."
Yachts are popular among the super rich, which Wealth-X and Camper & Nicholson define as worth $30 million and more, because the experience is "personalized, private and provides access to unique experiences in food and drink, travel and culture and activities and entertainment," according to the report.
Superyachts are defined by length, not price, with 79 feet (or 24 meters) and up as a base figure. The average value of a superyacht is $10 million, according to the Wealth-X and Camper & Nicholsons report, and 4,476 people around the world own one. The top countries for the ultra-high-net-worth superyacht owners are the United States (33 percent), United Kingdom (11 percent), Italy (5 percent), Australia (4 percent) and Russia (3 percent). These super rich are about 88 percent of the share of the luxury market for yachts, with an annual spend of $22 billion.
"Buying a yacht is a very personal and private investment," said Benjamin Barker, a sales yacht broker at Engel & Völkers Yachting in Nice. "It's an emotional decision and one of financial importance."
'Go into it with your eyes wide open'
If a super-luxurious superyacht is on your shopping list, there are a few things to keep in mind before you swoop in.
"There are pitfalls and people have to be very careful," said Gary Brown, 73, a business investor who lives on Paradise Island in the Bahamas. He has owned several big boats over the years and is now in the market for a superyacht in the 80- to- 100-foot range. "Go into it with your eyes wide open."
"A lot of yacht choices have to do with ego," he cautioned.
But there's so much more to them. "Owning a yacht is the way for an owner to showcase his success, but most importantly, to enjoy his time together with his family and friends in some of the most exclusive locations," Pitasi said.
First, you are likely going to need to be patient and take the necessary time to find the right boat that fits your wallet and lifestyle.
"When you purchase a superyacht, it's a long process," Hornaday said, with lots of inspections, surveys, and digging through logbooks and other data. "You'll see 20 binders in the engine room alone." Those binders will have working drawings, schematics and specs for the engine room and its mechanical systems.
Brown said, "If you want a new boat, you can shop at the various manufacturers, but most of them, especially the most popular ones, are backordered. Occasionally, you can find a new boat that was built on spec and is ready to take to the seas."
Many of the leading yacht builders are Dutch, including Oceanco, Vitters Shipyard, Feadship Royal Dutch Shipyards and Amel Holland, or German, including Lurssen and Blohm + Voss. Other top builders include Perini Navi in Viareggio, Italy; Sunseeker in Poole, England; and Christensen Shipyards in Vancouver, Washington.
It typically takes 12 to 36 months to build a new superyacht
"The real challenge is finding exactly what you want in the used market," Brown said. "But you want to make sure you're enjoying your yacht, not constantly fixing and patching an old boat."
It's very difficult for someone who is new to the market to just go out and buy a superyacht on their own. "You need someone who is highly knowledgeable to help you," Brown said. If you don't have the knowledge, get a reputable agent, he advised.
"If you're spending $5 million, $10 million, $15 million or $50 million on a boat, that can be a life-changing event for the broker because of the commissions," he said. "You have to find an extremely reputable and trustworthy broker or agent to represent you."
"There is a great selection of yachts available on the market, therefore finding the perfect yacht requires specialist advice and insight," Barker said.
You also need to look at the economies of managing a big ship. "It's like running your own resort," Hornaday said.
"The biggest challenge is staff," Brown said. "There are quality captains and crews and then there are captains and crews. I've seen friends struggle with this." He added that it's very important to check their backgrounds and talk to previous owners.
Crew sizes for superyachts vary greatly, but usually number between eight and 35 members and can go as high as 50 or 60, Hornaday said. A general rule of thumb is two to four crew for every 10 meters of boat.
Because of worldwide security concerns, "at least three or four of them might have some kind of military training."
Mapping out your destination
Would-be buyers also need to outline where they want to go and whether the waters will be deep enough for a superyacht. "Your cruising grounds are always predicated on the depth of your vessel," Hornaday said.
You don't see yachts in Turks and Caicos, for example, because the waters are too shallow, she said. Newport, Rhode Island, and the south of France, on the other hand, are known for their reliably deep harbors.
Fuel capacity can be another concern. Can your yacht make a 600-mile run without refueling?
Like many yachtsmen, Brown likes to spend winters in the Bahamas and summers in the Mediterranean. "You couldn't ask for two better locations in the world, places where you can truly enjoy yourself."
But docking charges in summer in the Mediterranean can be "staggeringly expensive—$10, $15, $20 a foot per day," he said.
In high season in the port of Monaco, a 50-meter boat would pay 962 euros (US$1,025) per day and 19,240 euros (US$20,500) per month, Barker said.
Owning a superyacht can require a nearly constant outlay of money, Brown said. "You almost have to disregard what it's costing you— it's going to be expensive."
He has also chartered big yachts several times and recommends that as a good way for would-be owners to get a feel for what is involved in owning a superyacht.
In fact, depending on how often you use your yacht, chartering may be a cheaper, better option than owning.
Before buying, carefully consider how much you will actually use the boat, Brown advised. "You have this wonderful idea of spending lots of time on your yacht, but after six months or a year, you find it sitting on the dock."
Here are some of the coolest superyachts available today:
Yacht: Regina
Price: 8.850 million euros (US$9.6 million)
Length: 56 meters (193 feet)
Cruising speed: 12 knots
Guests: 12
James Bond fans will recognize the stunning superyacht known as Regina from her appearance in the film "Skyfall." "A potential buyer for a yacht such as Regina would be a high-net-worth individual who has a strong passion for the sea and sailing and who also enjoys the comfort of a motor sailing yacht," said Benjamin Barker, a yacht sales broker at Engel & Völkers Yachting. "She's made with romance that can be felt as soon as you step on board."
Built in 2011 by Pruva Yachting, this classically styled schooner is a high-performance ocean-going vessel. Regina has wide deck spaces, including separate deck areas for sunbathing and al fresco dining. The interior layout was designed by Aylin Örs, with a large dining and sitting saloon. Regina can accommodate 12 guests in six classically designed en-suite cabins. The master stateroom has a lounge area and walk-in dressing room. Amenities include canoes, stand-up paddleboards, jet ski, snorkeling equipment, speed boat, deck shower, easy-access swim ladders, modern kitchen, and 3D LED televisions with satellite connection.
Yacht: Nassima
Price: 17.9 million euros (US$19.5 million)
Length: 49 meters (161 feet)
Cruising speed: 14 knots
Guests: 12
Nassima is an aluminum three-decked superyacht by Olivier Van Meer Design and built by the Dutch shipbuilder Acico Yachts. It was launched in 2012. The interiors, designed by Maja von Dewitz, feature a neutral décor of cream-colored soft furnishings, crisp white structures and sumptuous dark woods. The boat has large panoramic windows with lots of natural light. The upper-deck en-suite master stateroom has a private deck with exterior seating. Below the decks, there is a full-beam VIP cabin plus four more guest cabins with private en-suite facilities.
Amenities include a trainer-designed gym, extended swim platform and teak beach, circular wet bar with seating, spa pool tub, and hydraulic side-boarding ladder.
Yacht: Ipanema
Price: $26 million
Length: 50 meters (164 feet)
Cruising speed: 15 knots
Guests: 12
The 2016 Ipanema was custom-built by Mondomarine and designed by Hot Lab Yacht & Design, with an ultra modern exterior and a striking red hull. In contrast to her minimalist exterior, her opulent interior is busy with decoration, furniture and color. Design touches include dark woods, brightly colored carpets, textured walls, patterned marbles, mirrored ceilings and fancy ornaments. Full-height glass windows that run almost the full length of the main deck provide lots of natural light. An unusual layout allows Ipanema to accommodate up to 12 guests in seven cabins, including an owner's stateroom. The full-beam master suite with private owner's deck is on the main deck. Two single cabins are on the bridge deck, and the four twin cabins (two with additional Pullman berths) are on the lower deck. The aft deck is large enough to store three jet-skis as well as offer al fresco dining at a sociable circular table. The semi-covered sun deck has an extremely large Jacuzzi, plush sun pads and an outdoor bar. There is also a large fore deck with additional seating.
Yacht: Natita
Price: $39.9 million
Length: 66 meters (216 feet)
Cruising speed: 13 knots
Guests: 16
Natita was built by the renowned Oceanco shipyard in the Netherlands and her sophisticated retro-meets-contemporary interior was designed by Alberto Pinto.
The earthy color palette in the main saloon features Macassar ebony and sycamore joinery with nickel-plated finishings. The light and airy sky lounge has large floor-to-ceiling windows and there is a dedicated cinema room for 12.
There are eight cabins with a large full-beam master suite that converts to two VIP suites and features two dressing rooms and spacious en suites. The expansive sundeck is designed around a scallop-shaped pool with swim jet and spa pool functions. A shaded aft area offers informal seating and dining.
Yacht: Grigreca
Price: 2.99 million euros (US$3.3 million)
Length: 23 meters (76 feet)
Cruising speed: 11 knots
Guests: 8
Gigreca is a custom designed Silent 76 sailing yacht built by the Italian Sea Group in 2014. She has a push-button operating system, which means she can easily be sailed by a couple or a few friends. The layout and interior were created by the Italian Sea Group's in-house Admiral Centro Stile design, with dashes of marble and stone to complement the dark wood finish. There are a total of four cabins, including a master suite, VIP suite, two guest cabins and one crew cabin.