What Is a Kitchenette? A Space-Saving Alternative to a Chef's Kitchen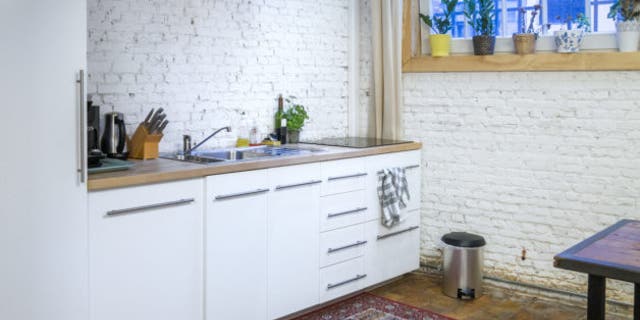 NEWYou can now listen to Fox News articles!
A cigarette is a small cigar and a towelette is a small towel, so what is a kitchenette? The English language has a tendency to not stick to hard and fast grammar rules, but in this situation, the rule stands. A kitchenette is, essentially, a smaller version of a kitchen.
But don't be quick to count out kitchenettes based on their diminutive size! The benefits of these space-saving amenities far outweigh the disadvantages—so much so that people have started putting them in their homes in addition to their chef's kitchens.
Traditionally you may think of kitchenettes as the solution for spaces that cannot accommodate (or do not need) a full-size kitchen—such as dorm rooms, extended-stay hotels, or even rooms in your home that you're renting out. But these days, kitchenettes are veering more into the mainstream, says Samantha Hancock, a real estate professional with Re/Max Advantage Plus in Minneapolis–St. Paul.
Small size, big efficiency
In most living situations where square footage is limited, a kitchenette is the ideal cooking setup. It takes up only a small section of a wall and provides you with the basic necessities of a kitchen.
In your standard kitchenette you'll find some combination of these basic, scaled-down appliances: a single-bowl sink, a miniature refrigerator and freezer, a four-burner stove, an oven, or a dishwasher.
Each configuration is different, and homeowners make up for a lack of one of these appliances by "opting for microwaves, small toaster ovens, or hot plates instead," says Hancock.
Kitchenettes can add value to a home
And while you may still correctly assume that kitchenettes are found in small efficiency apartments and condos in urban areas, there is another growing market for them: high-end or larger homes.
"Kitchenettes are very popular for homeowners who are adding or renovating spaces for extended family," says Hancock. Guests, nannies, or in-laws will all feel more at home with a private space to cook simple meals.
They're also very desirable in entertainment areas, often finding a useful life in a media room, basement, or man cave.
"Some homeowners are choosing to add a kitchenette instead of a full wet bar, because it adds more utility to the space," Hancock points out.
Photo by CDA Interior Design – Look for Mediterranean home theater design inspiration
However, just because they are simple doesn't mean they have to be spartan or boring. Interior designers have found ways to up the cool factor on kitchenettes by adding nonstandard appliances such as beverage coolers and drawer dishwashers, says Hancock.
"These amenities not only save space, they also fit well in entertaining spaces that don't get used every day," she notes.
The post What Is a Kitchenette? A Space-Saving Alternative to a Chef's Kitchen appeared first on Real Estate News & Advice | realtor.com®.