What Is a Cul-de-Sac? A Dead End That Draws Home Buyers in Droves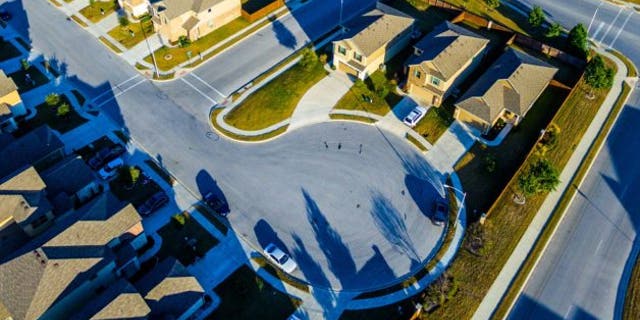 Let's say your house-hunting spree leads you down a quiet road to the end of a cul-de-sac. But what exactly is a cul-de-sac, you might ask?
In the most basic terms, it's a dead-end street, typically with a rounded end (thus its French etymology, which means the "bottom of a sack") that facilitates the movement of the few cars that drive there.
For people who crave quiet and privacy, cul-de-sacs are sheer paradise—and major magnets for families or anyone, really, who loathes tons of traffic whizzing by their front door.
Here's what cul-de-sacs have to offer home buyers, and how much it will cost you.
A brief history of the humble cul-de-sac
While dead-end roads have been around as long as, well, roads themselves, they became a deliberate part of residential planning during the height of Athenian and Roman times as a means of self-defense that could trap foreign invaders unfamiliar with the territory.
As the 15th-century architect Leon Battista Alberti explained in his writing, "If an Enemy comes into them, he may be at a Loss, and be in Confusion and Suspense; or if he pushes on daringly, may be easily destroyed."
Of course, lack of thoroughfares can also be a headache for residents, too, which may explain why England banned the construction of cul-de-sacs in 1875. Yet in 1906, they were relegalized as part of the Hampstead Garden Suburb Act, since researchers had begun to see the benefits for families with kids.
German architect Rudolf Eberstadt probably put it best, pointing out that the well-being of children hinges on "the opportunity of moving about in close connection with their dwelling places without the danger of being run over." We heartily agree!
Benefits of cul-de-sac living
In 1936, the U.S. Federal Housing Administration gave cul-de-sacs its own stamp of approval, which prompted developers to include them in housing developments throughout suburban America. And evidence has continued to mount on the benefits of cul-de-sacs, both in terms of traffic safety, quality of life, and beyond.
One study by the University of California, Davis found that children living in cul-de-sacs played outdoors longer; another study by Duke found that cul-de-sacs deter crime. The city of Durham, NC, for example, was the subject of the latter study, which revealed that, out of a sample size of 89 crimes committed in 2012, 74 occurred on properties located on two-way streets—nearly five times as many crimes as committed in cul-de-sac neighborhoods.
How much do cul-de-sac properties cost?
One survey found that buyers are willing to pay up to 20% more for a home on a cul-de-sac, indicating that their peace and quiet garner top dollar.
"Although I think the neighborhood as a whole is a bigger factor, you could certainly get a higher selling price for a home on a cul-de-sac than a busy street," says Joanne DeLuca, a Realtor® with BHHS NE Properties in Fairfield, CT. For families, the reason is obvious.
"When I purchased my home 21 years ago, we decided to buy on a cul-de-sac," DeLuca adds. "We liked the private feel of the yard. Our children could play outside. And we didn't have to worry about cars going by all the time."
Of course, some people might prefer the bustle and easier access of a busy thoroughfare, but if peace and quiet is more your speed, you may want to put cul-de-sac on your wish list when shopping for a home.
The post What Is a Cul-de-Sac? A Dead End That Draws Home Buyers in Droves appeared first on Real Estate News & Advice | realtor.com®.