What I learned about installing a patio door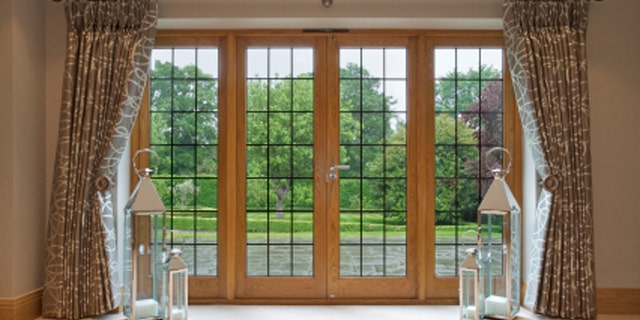 There were always signs that our French patio doors had the same high-quality construction as the sandy "patio" outside (one of our many DIY remodeling projects at our home in Cincinnati). The built-in blinds no longer swiveled, living-room seating next to the door came with a draft and even massive wood spiders seemed to stroll into the room unimpeded. Outside, the unsealed wood frame was rotting and splintering. When we saw the water mark was slowly advancing, we finally acknowledged the need to cough up some cash and called in help from my husband's co-worker - a farm-raised gentleman too used to working to settle into retirement.
Removing the thin slices of interior wood trim, we found just a few fluffs of pink insulation - about enough to fill a sandwich bag - filled the ½- to ¾-inch gap around the door frame and separated our living room from the great outdoors, helping to explain the "open-air" feel.
We installed a sliding door that has more window space and no annoying blinds, then insulated the frame with expanding foam and waterproofed the seams and finishing nails with silicone caulk. Now, the room actually sounds different, is quieter and the heat from the vent is finally noticeable.
While the project took just one weekend, shopping for the right door took weeks, but we learned a few lessons along the way.
Measure twice. Because there are just a few size options that differ by just a couple inches, it's easy to overlook the dimensions when shopping for a sliding door. But an opening that's too small could mean a lot of additional time and cost. As the carpenters say, measure twice and cut once.
Consider a composite. Composite materials provide style options beyond traditional glossy white vinyl finishes and alleviate the worry of rotting that comes even with aluminum-clad wood.
Try it out. Beyond the additional energy savings, the difference between high-end and low-end models becomes apparent when you open and shut the in-store sample doors. No amount of WD-40 can ease the load if you have to turn blue in the face.
Look for security. Even mid-range door styles have a flush bolt that provides extra peace-of-mind. If it's frequently used as your home's "main" door, consider a style that can be locked from the outside – many don't have this feature.
Research. While the stores only displayed our sliding door with a standard white glossy finish - and employees at multiple locations told us that was the only option, we happened to pick up a brochure and found the style was available online with a wood-grain interior finish in a blonde color that complements our woodwork.
Check for the Energy Star. This mark of energy efficiency also indicates that the door qualifies for a federal tax credit – 10 percent of the cost, up to $500.
Amy Howell Hirt writes for Networx. Get home & garden ideas like this on Networx.