Turn Your Man Cave Into a Gentleman Cave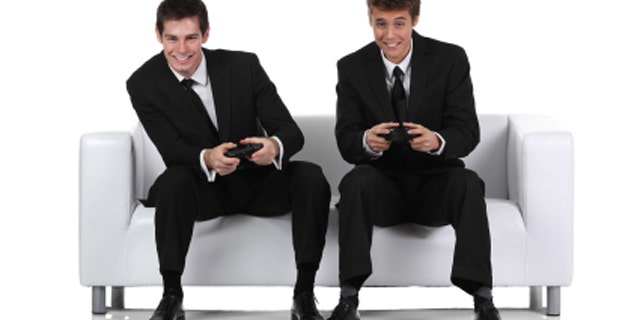 The man cave: The last refuge of the modern male. A barbarian bulwark against the imperial triumph of domesticity. But just because your manhood has been confined in the deepest, darkest reaches of the house doesn't mean you need to live like a troll.
It's time to ditch your rank and tattered couch, the pinup-girl calendars and the beer pong table. Class the joint up a little. After all, these are man caves, not boy caves.
With a few artful purchases, it's possible to transform that cold patch of basement into something befitting a modern man.
Off the Wall
Let's talk first about art, men. The irradiating glare of a neon beer sign burning into your retinas is no way to look like a class act. Rather than basking in the glow of the St. Pauli girl's illuminated bosom, why not opt for more upscale wall hangings.
For race fans there's the Race Tracks of the World ($199-$275), a series of wooden sculptures that transforms the elegant curves of the world's greatest race tracks into art.
If racing isn't your sport, then cover your walls in Glidden's Team Colors line of paint, which gives you precise color matches for many sports teams – college and pro. The ol' man cave can probably use a fresh coat of paint, anyway, so you might as well make it something that puts your allegiances on display.
Pay to Play
Unless you can dominate your friends in games of sport and skill there, it's not really a man cave, even if you are a gentleman. But that doesn't have to mean an Xbox that's constantly on the fritz or a rickety old air hockey table.
If you've reached the point of life when the warm grip of nostalgia makes you yearn for the relics of your youth, then you'll want to check out the Stealth arcade system ($3,300). These minimalist machines clad in glass and gloss look like works of art and feature a tabletop arcade that allows you to relive your favorite games of old — from Pong to Space Invaders.
No one looks quite as suave as a person shooting pool — provided you do it well, of course. The Olhausen Waterfall pool table is so good-looking, you'll have an air of cool even if you can't shoot straight to save your life. The Waterfall table balances atop an artful arch that seems to glide up out of the floor. And once you get good, I mean really good, you can take your friends for everything they're worth and the table will pay for itself.
For a slightly more active way to class up your cave, check out the the James Perse ping pong table. These teak and leather tables will have you feeling like a big shot as you serve ace after ace against your pals.
Take a Load Off
Once you've finished besting your buddies in pool and ping pong, it's time to kick back and relax a little, and I don't mean in that ratty old couch that bears the stains of a thousand chicken wings.
Real men, of course, recline, and there's nothing better to do that in than an erudite Lay-Z-Boy. The Montgomery Signature Recliner ($1,979) looks like it was invented to slowly sip single malt scotch in. This leather-clad classic is the sort of chair that your grandfather would be proud to own, even if he was a robber baron.
For a more modern look, check out Juno Recliner ($2,199), a sleek and elegant seat outfitted in genuine bison leather. If the Lazy-B-Boy is the scotch drinker's chair, then the Juno is, without a doubt, the preferred seat of martini lovers. But don't worry, this seat will have you neither shaken, nor stirred.
Click here for more from FoxNews.com Home and Garden