Tools to help you get your grill on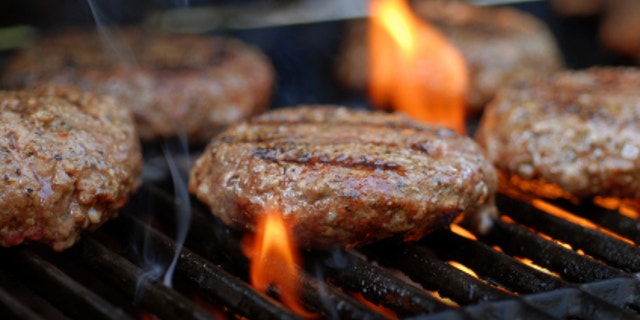 It's the Fourth of July this week -- the highest of high barbecue holidays. And while you could slap a few limp dogs and frozen patties on the grill and call it a day, that's not what makes this country great. To really get your grill on this Independence Day, you should pick up some top-notch gear that will have you barbecuing like a boss.
Pit Mitt
Made from heat resistant fibers, the Pit Mitt ($15) will protect you from temperatures as high as 475 degrees Fahrenheit. But unlike many bulky barbecue gloves, it's lightweight and nimble enough to allow you to flip skewers and dish out dogs. So feel free to stoke the coals or crank up the propane -- singed knuckles and fire-callused fingers are a thing of the past.
Custom Grill Grate
Sure, you could sear your steaks with the traditional crosshatch pattern, but why not put your own personal brand into your 'cue? A custom grill grate from Huntingdon Co. Customs or YMI Grate is a fantastic way to personalize your Fourth of July feast. Both companies can produce a grill emblazoned with your initials, company logo, favorite team and just about anything else you can dream up (prices vary, but start around $100).
Steel Grill Chef's Pan
While your Independence Day menu might heavily feature burgers and big cuts of meat, why not mix it up a little with some barbecued vegetables? The Steel Grill Chef's Pan ($40) features a perforated basket that'll keep diced vegetable from falling through the grate without sacrificing that rich smoky flavor.
Weber's On the Grill
Weber, makers of America's iconic grill, now has an app to help you with your grilling. Weber's On the Grill (iPad $4.99) includes more than 300 great recipes culled from the company's many cookbooks, making sure that you get the most out of your grill this summer.
CyberQ
Transform your smartphone into a mobile barbecue command center with the CyberQ ($295). The fully automated system features a fan and several thermometers to control and monitor the precise cooking temperature, taking much of the guesswork out of barbecuing. And because it is WiFi enabled, you can use your phone from anywhere in the house to keep an eye on all aspects of the cooking process.
Barbecue Grill Light
If you like grilling long into the night, you probably know what a hassle it is to check on your dinner's doneness after the sun has set. The Barbecue Grill Light ($18) is a simple tool, but one that can save you many pointless trips in and out of the house. With both a clamp and a magnetic base, it should fit pretty much any style of grill.
Looftlighter
Waiting around for a charcoal grill to get hot is the least pleasant thing about barbecuing. The Looftlighter ($80) packs a fierce punch and greatly speeds up this process. By pumping out a 1256 degree Farenheit stream of air, the Looftlighter transforms your cold coals into a raging fire in a matter of minutes. And because the starter is electric, it makes lighter fluid unnecessary, eliminating that nasty petrol taste that sometimes creeps into grilled meat.
PizzaQue Pizza Stone
If you're tired of the same old burgers and brats, why not try grilling up something a little more special this year. The PizzaQue Pizza Stone ($85) will give you that trattoria-perfect crust, crisp and delicate, with the robust smokey flavor that you love from the grill. With a built-in thermometer, the stone tells you when it has reached the perfect temperature to put the pizza on.