"Tiny homes are nice, but not in this area," Charlotte resident Joe Black tells Fox News.
Tiny homes are the newest environmentally friendly living trend, with tiny-living communities popping up all over the U.S. In fact, there are more than 30 tiny-home developments across the country, but in North Carolina, homeowners are concerned that community of such homes may decrease property values and cause an increase in traffic.
"Tiny homes are nice, but not in this area…"
In a first for the city, however, tiny-house developer Kelvin Young has announced plans to design a community of 56 small residences.
$28K 'FIXER UPPER' HOME PUT ON MARKET FOR ALMOST $1 MILLION
"My goal is to bring together people who want to make a choice in having the economic freedom of living smaller, living tiny. It's a choice," Young says.
The announcement came shortly after Young built a blue one-bedroom, one-bathroom 493-square-foot tiny home with a bright red door right across the street from Black's house.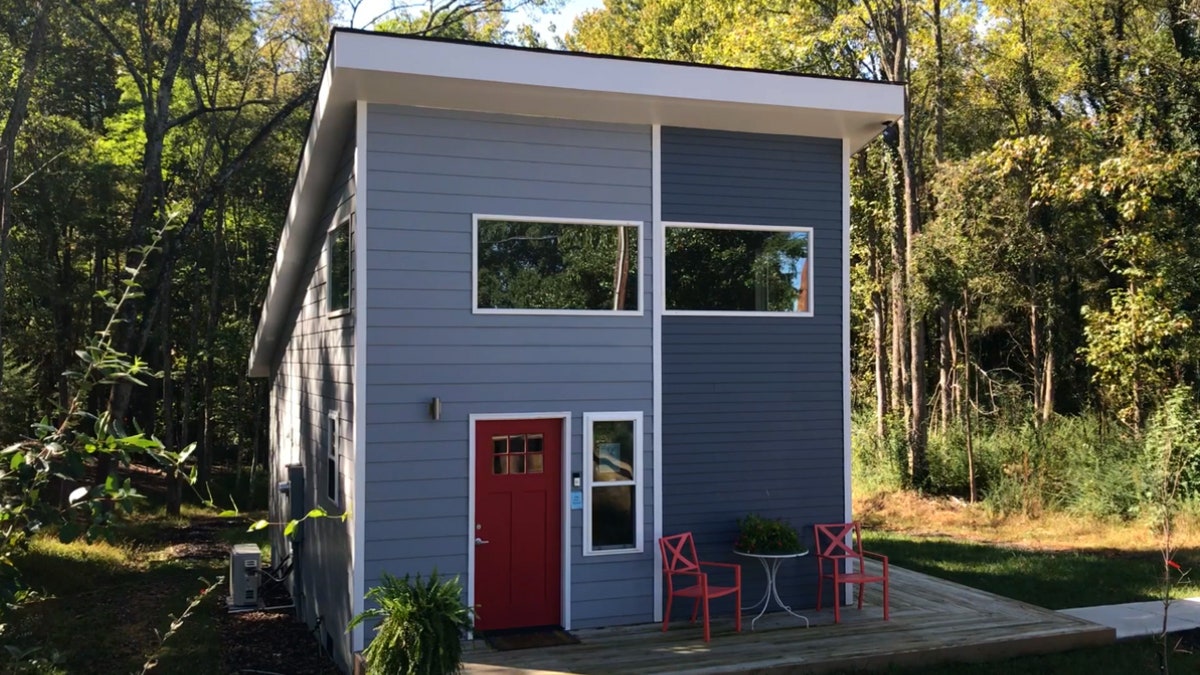 "It will create a major traffic problem in this area, especially in the morning between 7 to 7:30 and in the afternoon between 2:30 and 3:30. The buses can't get by now," Black says.
Black has lived in northwest Charlotte for over 48 years. He says he likes tiny homes, and he may live in one someday, but he feels they should be built in another neighborhood.
"This is not the area for it. This area has been here for a long time and its [for] larger homes. And I don't think the people out here want it to come here," Black says.
In some cities nationwide, tiny homes also violate building codes, as they're too small to legally inhabit. Charlotte, too, has minimum size requirements for homes, but Young's developments will presumably meet the minimums.
Furthermore, Young feels the area would benefit from the development.
"The 28214 zip code has some of the worst schools in Charlotte, so it's not like people are just rushing to get to this community, and this will be a great way to spark some interest in a community that needs some positive people moving in," Young says.
TINY HOME COMMUNITY IN THE WORKS FOR HOMELESS VETS
"Like I said, it's progress and we can't defeat progress."
Another resident of the neighborhood, Carolyn Palmer, has lived in the area for more than 30 years. Her home is located directly across the street from where the new community is set to be built, and like Black, she feels the tiny-home community would be best placed elsewhere. She and a few other neighbors also tell Fox News that they're not against the idea in and of itself — they simply feel the community will suffer from increased traffic, and they believe the smaller homes could impact the values of their own.
"They have this one already here. It'll be here," Black says of the house Young built across from his own. "Just cancel the other development and go somewhere else, where it's wanted and more convenient for the situation."
But not every neighbor feels the new development will cause problems.
"Like I said, it's progress and we can't defeat progress," 90-year-old Glenn Gurley tells Fox News. "I don't think [tiny home community] will affect [property value] too much. Property value goes up according to how well the place is kept up," Gurley says.
Gurley has lived two doors down from Palmer for over 30 years, and he says he's looking forward to having more new neighbors. "Well, it's new friendship when people move into the community. We'll go to them and welcome them into the community and they are one of us," Gurley says.
Broker Christopher Carter with Carter Group Realtors further tells Fox News he believes the development will have little impact on the overall property values of the neighborhood as long as the neighborhood is restricted to owner occupants only.
"Generally speaking, realtors use price/sq. ft. as the measure of property values in a neighborhood, and the tiny homes for sale in the Coulwood neighborhood are actually at a higher price/sq. ft. than other homes in the area," Carter says. "That being said, I do not see the tiny home neighborhood driving up property values, because I think the real estate consumer is going to differentiate a tiny house and its value just as they do with pricing of a mobile home."
FOLLOW US ON FACEBOOK FOR MORE FOX LIFESTYLE NEWS
There are already seven neighborhoods of tiny homes in various cities across North Carolina. Young hopes to have the Charlotte tiny house community completed by 2018.