This Week's Most Popular Homes Are All Amazing, One-of-a-Kind Bargains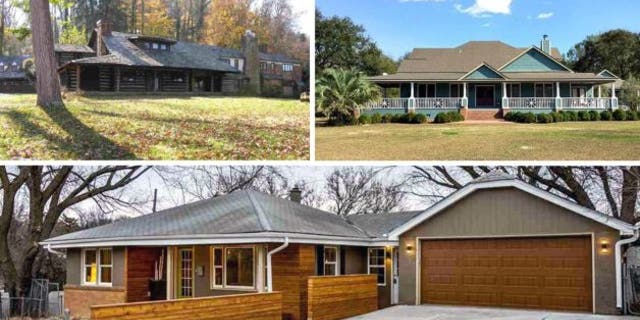 Every week, million-dollar listings slide into our countdown of the most-clicked homes on realtor.com®. We get it. It's natural to be a looky-loo when it comes to opulence and extravagance.
This week was different. The ever-popular, over-the-top $200 million Spelling Manor was relegated to the 15th spot, and mansions with seven-digit prices were a no-show. What's going on?
America, it seems, is eager for deals—and home buyers are hunting for affordable gems! There's nothing on our list topping a half-million dollars, which means our most popular properties are a veritable buffet of bargains.
There are a few fixer-uppers, including the week's most popular home—a former hunting lodge in West Virginia. Even so, the price on the lodge was right, because the agent told us eight offers rolled in for the historic $149,900 log and stone home.
Outside of the lodge, you also clicked on a '70s time capsule in Michigan, a Mid-Century Modern bargain in Kansas, and a couple of stunningly renovated flips.
Without further ado, here are the week's most popular places:
Price: $489,000
Why it's here: Location, location, and location. Situated across the road from Apalachicola National Forest, this five-bedroom house is perfect for a buyer who craves privacy. The nearly 22-acre lot also provides plenty of buffer from neighbors.
realtor.com
———
Price: $399,900
Why it's here: It's a truly '70s time capsule! It doesn't look like key elements of this home have been touched in four decades. The deep-pile shag carpets in the living room, the dark wood paneling on the lower level, and the master suite done up in a shade of dusty rose evoke a different era. For vintage lovers, this five-bedroom classic demands attention.
realtor.com
———
Price: $195,000
Why it's here: A successful trip to rehab. Purchased in late 2014 for a little over $50,000, the three-bedroom home has been completely redone. It's listed for a little over the median price for the area, but a buyer can acquire what's essentially a brand-new home.
realtor.com
———
Price: $149,900
Why it's here: Listing agent Nick Mazzola told us this place is popular because of its price. He says most five-bedroom homes in the area are priced north of $200,000, so to get one under $150,000 is a "total bargain." The home is located about a half-mile from the ocean, he added, and everyone who's seen it loves it.
realtor.com
———
Price: $185,000
Why it's here: It's a testament to the power of a timely gut job. Look at the home's past on Google Street View if you dare. Sold last year for $42,000, the three-bedroom home was given an extreme makeover. The fabulous result appears to have jumped from the pages of Pinterest—and at only $92 per square foot, it's still a deal!
realtor.com
———
Price: $214,900
Why it's here: This three-bedroom home has also benefited from a recent refresh. Located in the Cleveland suburbs, the home features an open floor plan and updated kitchen.
realtor.com
———
Price: $180,000
Why it's here: When we spoke with listing agent Daly O'Brien, she cited a lack of inventory in the city as one reason for this home's popularity. The other big reason? O'Brien said the home's Mid-Century Modern style appealed to buyers throughout the Kansas City metro.
"We don't have many Mid-Century homes in the area," she said. "When they come on the market, they go very quickly." Proof: This one's already under contract!
realtor.com
———
Price: $199,900
Why it's here: Hello, Montana! It's rare to see a home in Big Sky Country crack our top 10, but this four-bedroom ranch is worth a look. Built in the late '60s, it needs a few cosmetic changes, but it looks like a cozy place for a family to spend a frigid winter.
realtor.com
———
Price: $162,500
Why it's here: Being sold as-is, this three-bedroom home needs work to come back to life. But it's an awesome chance to cash in on Carrollton's hot housing market—where the median list price sits at $350,000.
realtor.com
———
Price: $149,900
Why it's here: Listing agent Preston Cole said this former hunting lodge turned into a single-family home has been vacant for nearly a decade. It's in disrepair, but the condition hasn't dimmed interest from buyers. Cole said he received eight offers on the home, and it's "more than likely" the place will sell for over asking. He was hesitant to put a dollar figure next to the required restoration, but said a buyer will have to start with the old slate roof—it's leaking.
realtor.com
The post This Week's Most Popular Homes Are All Amazing, One-of-a-Kind Bargains appeared first on Real Estate News & Advice | realtor.com®.