The Ultimate Open House Checklist: Dining Room Edition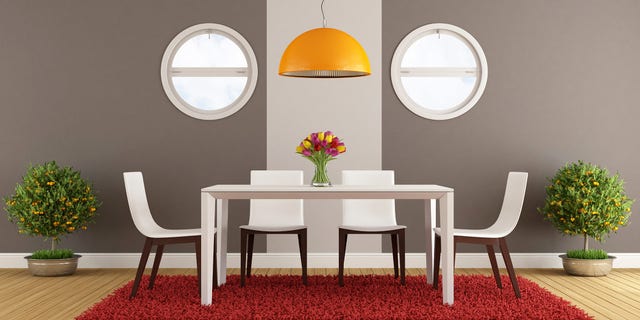 Open-concept living destroyed the dining room. What used to be a separate space has been swallowed up by the living room, which itself is now merely an extension of the kitchen. The delineation of space by columns, arches, or french doors is now often accomplished by a mere area rug.
Still, defining your dining space is important for an open house, to help potential buyers visualize how they might live there. But how far to go in staging? To set the table or not to set the table? We answer that important question -- and more! -- in the checklist below:
Don't set the table. This isn't West Elm. Just eliminate the clutter (all the clutter), and present a bare table with a simple vase of fresh flowers or bowl of citrus. Now, if your table is riddled with water stains, a simple tablecloth is in order.
Do extend it. Pull out those extra leaves to make your table look as big as possible -- but don't overdo it! There should be enough room around the table and chairs to walk freely. If there isn't, well, maybe don't extend the table.
Replace the chandelier. You'd be amazed by how many deals have fallen through over chandelier disputes. So, rather than have a buyer fall in love with your family heirloom and insist that you include it with the sale, just replace it. Switch out any custom, antique, or outrageously expensive lighting that you plan to take with you. It's not worth the fight.
Hide the china. Not out of fear anyone will steal it, but because it's distracting. If you have plates displayed as wall art, take them down. Again, keep it simple.
Polish everything. The buffet, the china cabinet -- all wood surfaces and chairs should be polished to a high shine. A microfiber cloth and a bottle of Old English furniture polish (not the beer) will perform wonders.
Pull back the curtain. Natural light, natural light, natural light. You should know by now it's important.
Vacuum/sweep/mop. Surely you do this anyway, but before the open house, do it again.
The post The Ultimate Open House Checklist: Dining Room Edition appeared first on Real Estate News and Advice - realtor.com.