The fastest-growing suburbs in America: It's a sprawl-for-all!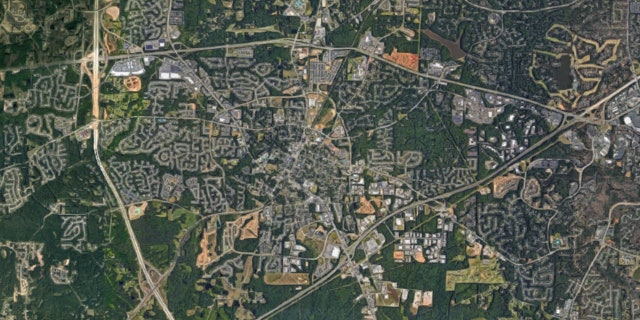 Americans are falling in love with the 'burbs again. The longstanding romance cooled a bit after the 2008 financial crisis, but as cash makes its way back into personal savings accounts, folks are again indulging their instinctual urge to grab their own piece of the national dream, front and back yard included—thank you very much.
But if you think suburbs are serene and low-key compared to the bustle of big cities, you probably haven't bought a home in a popular suburb lately. Demand is fierce in communities that have the right mix of good schools, short commute times, fun and walkable downtowns, and lots of new, spacious homes. And things are only likely to get hotter, considering that millennials, America's biggest group of buyers, are moving to suburbia in ever-greater numbers.
Realtor.com®'s data team set out to identify the nation's most sought-after 'burbs—the ones experiencing construction booms (adding much-needed inventory to the market), home appreciation, and population growth (making them smart investments). Their growth didn't just happen—these places chased it, with developed downtowns and plenty of citylike amenities.
"A fast-growing suburb gets that way by attracting builders—working up a business case for people to come in and build in their community," says Javier Vivas, director of economic research for realtor.com. "These [are places that] have what people want. They aren't right in the city, and they aren't too far out, where commute times are long."
To find the country's fastest-growing suburbs,* we analyzed more than 7,000 ZIP codes, focussing on the ones outside a city's limits and within an hour's commute in rush hour to the center of the nearest urban area. We also calculated home appreciation over the last three years and the increase in the number of home listings in that same time frame. Next, we looked at population growth. Finally, we factored in the share of new construction at the county level.
Looking to leave the urban nest for a bedroom community you can call your own? Let's see where Americans are flocking.
ZIP code: 27523
Metropolitan area: Raleigh, NC
Median home list price: $494,900
Three-year price appreciation: 50%**
Three-year home listing increase: 307.4%***
Higher prices within the nearby city of Raleigh have pushed many cash-strapped buyers into the suburbs. And Apex's walkable downtown, with a few blocks of storefronts, has made it appealing to city folks.
"The downtown is what really makes Apex what it is. ... There are lots of festivals, and the town organizes plenty of family-oriented activities," says one resident, Suzanne Outten, 45. "There's a farmers market every Saturday morning. The vendors get to know you and your kids; they say hi to you by name." Sweet!
Outten and her husband have lived in the community for 17 years. When they recently decided they wanted to buy a bigger home, they considered moving closer to his work in the city. But they couldn't bring themselves to move away from Apex.
"We chose to stay because we love living here," Outten says. "With as much growth that we've seen, I thought the small-town charm would decline. But it hasn't. They've managed to make it even better."
Apex benefits from its close proximity to Research Triangle Park, home of around 170 companies offering plenty of high-paying tech and pharmaceutical industry gigs.
The homes most in demand are four-bedroom, single-family houses with two-car garages that are priced from around $400,000 to just over $500,000, says Drew Ludlow, a local real estate broker with Giving Tree Realty. And more of them seem to be going up every day.
"The construction is out of control," Ludlow says. "There are new sections being cleared all the time [for] building 50 to 100 homes."
ZIP code: 32081
Metropolitan area: Jacksonville, FL
Median home list price: $443,300
Three-year price appreciation: 13.4%
Three-year home listing increase: 70.7%
Suburbs are where folks move to when they want more space for their growing families—or shoe collections. But Ponte Vedra residents don't have to trade fun for square footage. There's the the lazy river and slide tower at the Nocatee Splash Waterpark in Ponte Vedra. There are plenty of tennis courts and golf courses. And did we mention it's less than a 10-minute drive to the ocean?
That's why Ponte Vedra is booming with sprawling single-family home communities. Homes here come in all kinds of styles: everything from Mediterranean-style homes like this three-bedroom priced at $360,000, to ranches like this four-bedroom with a breakfast bar, priced at $499,900.
The area, headquarters for the PGA Tour, has grown into an affluent community. The median household income in Ponte Vedra is $96,700, compared to just $48,300 30 minutes away in Jacksonville.
"We're seeing a lot of families move in because of the schools," says local real estate broker Eileen McVeigh of Re/Max Coastal Real Estate. She's also seeing a lot of retirees moving in to be near their grandkids.
ZIP code: 75035
Metropolitan area: Dallas, TX
Median home list price: $474,200
Three-year price appreciation: 21.2%
Three-year home listing increase: 177.9%
Toyota began moving employees from across the country into its new corporate campus in the Dallas region last year, with about 250 relocating per week. All of those new employees in need of housing have led to a building spree. You need look no further than the suburban community of Frisco, roughly a 40-minute drive into downtown Dallas and only a 10-minute drive from Toyota Motor North America headquarters.
More than one in three homes on the market in Collin County, which includes Frisco, are newly constructed. The community is now dotted with new 3,000 square-foot, single-family houses with big yards—a size you might expect to find in the Lonestar State.
While huge single-family homes like this four-bedroom 3,400 square-foot home priced at $468,500 dominate the market, there are some large multifamily buildings going up, too.
Another big draw for buyers are the schools. Frisco was named one of the best suburbs in which to raise a family in Texas and one of the state's best suburbs to live in by the ranking website Niche.com.
ZIP code: 30079
Metropolitan area: Atlanta, GA
Median home list price: $404,700
Three-year price appreciation: 207%
Three-year home listing increase: 14%
A mix of affordability and a wave of desirable new construction lured masses of buyers to Scottdale, just 25 minutes east of Atlanta. But new homes sure aren't cheap. They've effectively boosted the median home price in the area from $131,800 to $404,700—in just three years.
But that doesn't mean bargain hunters can't snap up the plenty of older homes for sale in the mid-$200,000s. Just look at this three-bedroom bungalow built in 1940, with an eat-in-kitchen, walk-in pantry, and a front porch, on the market for $279,000.
And signs point to even more construction: There are around three dozen plots of land for sale in the area.
Bonus: The community is only a 10-minute drive to Emory University, one of the best in the South.
ZIP code: 34211
Metropolitan area: North Port, FL
Median home list price: $427,000
Three-year price appreciation: 5.7%
Three-year home listing increase: 73.4%
Back in the mid-1990s, Lakewood Ranch, a master-planned suburban community 30 minutes from Sarasota, FL, started attracting retirees and young families alike. Give credit to the warm weather and the many single-family homes that sit right on the lakes that dot the region or have views of the many golf courses.
Much of the land the community sits on came was originally owned by the Uihlein family, which made its money from the Joseph Schlitz Brewing Company, once America's largest beer producer. And the community is still growing, thanks in part to its aggressive outreach to new business and residents.
"Lakewood Ranch does a hell of a job at marketing," says Kelly Murphy, a local real estate agent with Coldwell Banker Residential Real Estate-Florida. "They are all over social media and newsprint. They do lots of promotional things."
Those campaigns have attracted many new buyers, particularly to the homes at the Esplanade Golf and Country Club, she says. The community features tennis and pickleball courts, a wellness center, and two pools. Check out this two-bedroom, 1,800-square-foot single-family home priced at $439,900. Any takers?
ZIP code: 70032
Metropolitan area: New Orleans, LA
Median home list price: $249,700
Three-year price appreciation: 86.7%
Three-year home listing increase: 76.3%
Hurricane Katrina didn't just devastate New Orleans. When it hit nearby Arabi in 2005, it tossed trees onto homes, turned over cars, and leveled local businesses. Most houses that weren't ruined were damaged by winds or flooding. This pushed prices all the way down. But as the region and the national economy have improved, many new homes have gone up, while others have been remodeled.
"Everyone said it would take 10 years to come back, which it did," says local real estate agent Lara Schultz of Berkshire Hathaway HomeServices. "We're [finally] gaining momentum again with new construction."
Just about 20 minutes from downtown New Orleans, Arabi is attracting both middle-class families and single, female buyers, Schultz says. They're coming for the new homes—usually cottages, with high ceilings and porches. Or they want the town's remaining historical homes, which often date back to the early 20th century and were made out of salvaged wood from ships.
ZIP code: 78653
Metropolitan area: Austin, TX
Median home list price: $237,800
Three-year price appreciation: 23.6%
Three-year home listing increase: 142.4%
For more than a decade, Austin has ranked among the country's fastest-growing cities and tech hubs. But all those newcomers have put home prices out of reach for many folks. And that has led buyers and builders to expand out east into the 'burbs.
Manor has become nearly unrecognizable over the past decade. Its population was just 1,200 in 2000, according to the U.S. Census Bureau. By last year, the number of residents had climbed above 9,000.
Affordability is this community's key selling point, with a median list price at $237,800, as compared with $425,000 within the Austin city limits.
There are lots of subdivisions filled with three- and four-bedroom, single-family homes. Expect to see residences like this four-bedroom 2,000 square-foot home built this year and priced at $256,800, with a Kimbell floorplan, tile backsplash, and covered back patio.
And folks here don't have to go into Austin to have fun. They can take a tour of the Banner Distilling Company, a small operation that makes vodka and whiskey. Or they can go horseback riding at the White Fences Equestrian Center. (Disclaimer: Horseback riding and vodka don't mix.)
ZIP code: 80018
Metropolitan area: Denver, CO
Median home list price: $418,400
Three-year price appreciation: 19.4%
Three-year home listing increase: 175.1%
All the tech money that has flowed into Denver has made home prices surge. So buyers on a budget are pouring over into Aurora, just east of the city, where subdivisions are popping up at a rapid pace. "There's tons of new construction," says Kelly Brink, managing broker at 8z Real Estate. "There's such a demand [from buyers that] they can't keep up with it."
Aurora's school systems make it particularly attractive for young families who want to live in neighborhoods with pools, community centers, and gyms. Buyers can get spacious, single-family homes in the $300,000 range if they're willing to compromise on the age and amenities of their home—or they can shell out for top-of-the-line properties selling for more than $1 million.
"There's lots to do outdoors, which attracts a lot of younger families. You can go on the hiking trails or go to mountains," Brink says. "We have easy access to the trail system that connects to Denver. You can ride your bike all the way downtown."
ZIP code: 50263
Metropolitan area: Des Moines, IA
Median home list price: $342,900
Three-year price appreciation: 12.8%
Three-year home listing increase: 24.9%
Waukee, about 20 minutes west of Des Moines, IA, is no longer a blue-collar industrial town. It has become a middle-class haven packed with middle-class subdivisions, with sidewalks leading down cul-de-sacs adorned with three-bedroom, three-bathroom houses.
Among the most rapidly growing U.S. suburbs, Waukee has the highest rate of new construction. More than 55% of the homes listed through the first six months of this year in Dallas County, IA, where Waukee is located, were newly built.
And not only houses are going up. A new movie theater, The Palms Theatre, is slated to open in Waukee this year. It will have an 85-foot-wide Imax, the third-largest screen in the state. The town even got its first Starbucks this year.
ZIP code: 37135
Metropolitan area: Nashville, TN
Median home list price: $511,100
Three-year price appreciation: 34.3%
Three-year home listing increase: 55.3%
Suburbs succeed when they have the right mix of big, beautiful homes, great schools, short commute times, and safe neighborhoods. Nolensville does all of this really well. In fact, Niche.com ranked it as the 'burb with the best public schools in Tennessee. Its popularity has also been accelerated by the explosive growth of nearby Nashville—and rising home prices.
It's popular with young families and professionals buying their first, three-bedroom homes in subdivisions. Prices range from the high $300,000s to the low $700,000s. Take this three-bedroom, two-bath home with a fireplace, granite countertops, and a sunroom, priced at $339,900.
"We're a quaint small town that is growing by leaps and bounds," says Nolensville Mayor Jimmy Alexander. That's led to more traffic and higher home prices. "We are seeing new faces, mostly getting middle-class people moving here that want to get involved in the community."
* We used the Nielsen definition of suburbs and eliminated ZIP codes within big city limits. The price increases compared the first six months of 2015 to the first six months of 2018; home listing increases compared the first six months of 2015 to the first six months of 2018.
Sources: realtor.com, Nielsen, and the U.S. Census Bureau
Allison Underhill contributed to this report.
The post The Fastest-Growing Suburbs in America: It's a Sprawl-for-All! appeared first on Real Estate News & Insights | realtor.com®.