Storage tricks for renters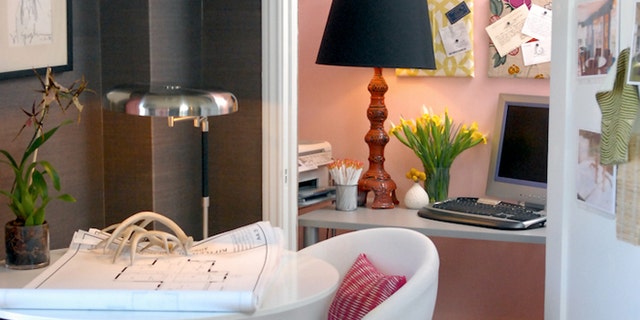 If you live in a small apartment, skip the built-in shelves (sigh, someday…) and focus on multifunctional pieces and storage using drawers, doors and baskets. Awkward layouts that renters aren't likely to fix also can benefit from clever placement of storage furniture. Bonus: Less visible clutter means your place will look bigger.
1. Even the tiniest spare closet can become a home office with the addition of a desk and some lighting. Simply close the door when you're done working and keep those paper piles out of sight.
2. Choose a coffee table with hidden storage; just lift the top and store blankets, magazines or board games. Corral remotes and snack dishes in a tray on top so they're easy to remove in a jiffy.
More: Browse photos of home storage ideas on Houzz
Link: http://www.houzz.com/storage/
3. Tuck baskets into any "dead space," like under a bench or table. Since the furniture itself is already taking up square footage, you might as well squeeze some extra function out of the floor underneath. In a kid's room, add a basket or bin under the play table for hiding toys and craft supplies.
4. A bed with built-in drawers is perfect for kids' toys or in an office that doubles as a guest room. In an office, you can stash extra file folders and envelopes in one drawer and guest linens in the other.
5. Rental kitchens are often tiny and cramped or medium-size but with lots of unused space (tiny countertops with an awkward empty corner, for example). If yours is the latter, take cues from a grander home and bring in an armoire. It offers wonderful storage and its doors help hide the clutter. Use the shelves as a makeshift pantry or as desk space.
6. Get a drop-leaf table for the dining room. When not entertaining, fold down the sides, turn it 90 degrees, and tuck it under a window.
7. Choose a nightstand with drawers. It can hide just about anything. Besides the usual bedside items, you can stash spare linens, photo albums or even socks and other small items.
8. Add a credenza in the living room creates a surface for lighting and a place for hidden storage. In an open living room/dining area it can serve both spaces and act as a room divider that helps define different activity zones. Or place one against the wall to store books, games and off-season decorations.
9. A beautiful dresser or chest in the entry (even if your entry is just a hallway) can be a great place to stash gloves, hats, leashes and spare change. It could even be a good place to charge your phone and camera.
10. Put your furniture on wheels. Since everything needs to be multifunctional in a small studio or apartment, pieces that move around are a bonus. A little cart in the kitchen can serve as a prep and storage area when you're cooking, then wheeled to another area for use as a serving table or bar.
More:
Full story and photos on Houzz
Find bookcases and storage cabinets
Browse thousands of inspiring home design photos