Resolve to finish those DIY home projects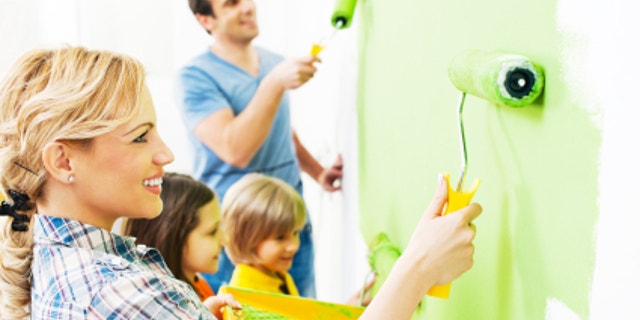 It's that time of year when resolutions about weight loss and fitness abound. No denying it, the gym is a great place, but why not make 2013 the "Year of Your House?"
Resolve to make this the year you finish painting the living room or transform that pile of wood in the backyard into the garden shed you've been meaning to build. Maybe you can tackle the closet organization project you've put off for years or hire a contractor to build that new deck you've been wanting.
DIY limbo
For most families, unfinished DIY projects are simply frustrating. For Burnsville, Minn., resident Mitch Faber, leaving his siding installation job unfinished resulted in a 30-day jail sentence (he was allowed to serve his time at home, wearing a home electronic monitoring bracelet).
Faber blamed tight finances for stopping his project in its tracks. Other homeowners simply get themselves into DIY projects that are more complicated and time consuming than they originally imagined.
While statistics regarding unfinished home repair and renovation projects in the United States are tough to come by, it's clear the problem is widespread. A 2008 survey by Halifax Home Insurance reveals that 6.5 percent of households in Great Britain have been living with an unfinished DIY or home renovation project for more than two years. Almost 250,000 Britons are so resigned to their ongoing do-it-yourself nightmares that they have lived with unfinished projects for more than a decade.
Getting started
Finishing up your half-done DIY job is as simple as identifying the project and deciding if you have the skills and time and to complete it yourself or if you need to hire a pro. If a job is especially formidable, break it into smaller tasks. Putting the trim up around all the windows and doors on your main floor may seem impossible, but if you tackle just one room per weekend, you'll have the project done in no time.
Do you have multiple projects to complete? Take them on one at a time, setting realistic times for completion. And don't forget to reward yourself when a long-overdue renovation project is finally done. Buy a new grill for the deck once the final board has been installed, or host a party when the new tile floor is finally grouted and sealed.
Tips for next time
Finally, when old projects are done, resolve to ask yourself these questions before taking on future DIY jobs:
Do I have the skills necessary to complete the project? Make sure to consider all aspects of the project.
Do I have the tools necessary to complete the project? If not, what will it cost to buy or rent the tools I need?
What will the project cost if I take it on myself?
What will the project cost if I hire a contractor to do it?
Is it possible I can handle most of the project and get a skilled friend or contractor to take on the parts I can't do?
What's a realistic timeline for me to complete this project?
By asking yourself these questions ahead of time, you should be able to avoid taking on more than you can handle and living with the mess an unfinished project can leave behind.
Related: