On trend: Nautical salvage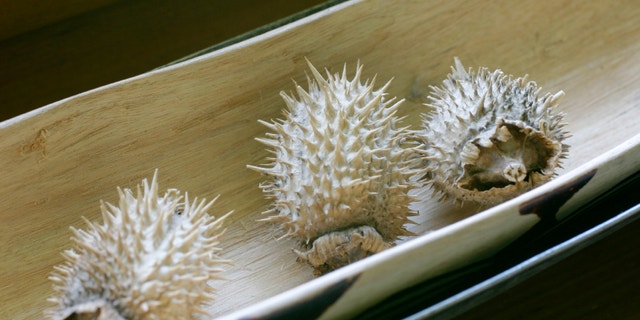 NEWYou can now listen to Fox News articles!
Trends come and go. That is their inherent nature. Currently a big trend that we all hope will stay is the recycling of materials. What was old is very much new again. Another hot trend right now is the use of industrial detailing in design.
Whether recycled or newly manufactured, these hard details juxtapose nicely with softer or more glamorous finishes for an eclectic, yet stylish look. Nautical salvage is one way to incorporate trendy industrial and recycled decor into a design scheme, especially a nautical design scheme.
Ships' lights: Ships lights are some of the most reused parts of a ship. They were built to be durable and withstand rough seas and wind, so there are many available on the market. Trick out original navigation lights with a new lamp and shade for a unique and colorful table lamp.
Caged hanging lamps: How fantastic are caged hanging lamps? Calling to mind the traditional onion lamp, salvaged caged hanging lamps feature the cages used to protect the swinging bulb from the sometimes violent movement of a ship. This light would be great in a portico, foyer or hung in multiples in a kitchen.
Portholes: Portholes make some of the most decorative and versatile nautical salvage parts available. My father installed a porthole in a sidewall of a tiny bathroom in the family home. The porthole window was functional and could be opened to let in fresh air and natural light in this small space, while maintaining privacy. Portholes can also make tops for a side table, or swap the glass for a mirror for use in a powder room.
Figureheads: Figureheads off of sailing ships originally served no real functional purpose aside from helping to identify a particular ship for the mostly illiterate ship workers between the 17th and 19th centuries. As ships were designed to go ever faster, the hulking carved wood figureheads only served to slow down progress and were made smaller and smaller until they have all but disappeared. Figureheads were generally either female or animal/mythological figures and were often majestic works of art.
For that reason, they are sought after remnants of bygone days by museums and homeowners alike. The Peabody Essex Museum in Salem, Mass., has an amazing collection of figureheads on display and their website features a wonderful video on the restoration of an important figurehead.
Steamer trunks: Leather steamer trunks have long been used in interiors for impromptu coffee or side tables. For a more industrial look, these zinc clad WW1 era artillery trunks were used on battle ships and feature a beautiful patina of age and use. The bronze strapping and mahogany interiors are beautiful appointments and a trunk of this type would make a wonderful cocktail table, or outfitted as a mobile bar cart.
Lobster traps: Wood lobster traps have long been a ubiquitous feature in New England homes, paying homage to our lobsterman culture. Add a glass top for a rustic, and perfectly sized, coffee table.
Japanese glass fishing floats: Japanese glass fishing floats have recently become quite popular as objets d'art in decorating circles. Once used by fisherman to keep their nets afloat, these blown glass globes came in many beautiful colors and were encased in heavy netting to protect them from breakage. Today, many manufacturers are doing copies, but it's still possible to find originals out there at antiques and vintage fairs. Many floats are still actually floating out at sea and are washing up on beaches. Interestingly, most of the Japanese glass floats were often recycled glass from used sake bottles.
Linda Merrill is an interior designer who works with Boston painting contractors and remodeling contractors, and wrote this article for Networx.com.