'Must-do' home projects for August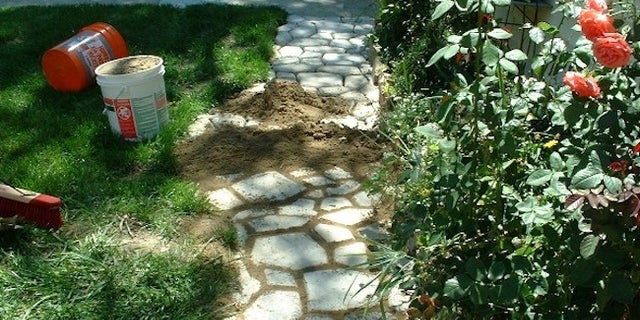 NEWYou can now listen to Fox News articles!
It's August, the summer is in full swing, and the living is easy. Well, sort of. As every homeowner will agree, there's always something to do around the house or the yard to keep things looking good and performing well.
This month is the ideal time to tackle some upgrades on your home's exterior; simple, inexpensive things that you can accomplish on your own to boost the curb appeal of your home -- its resale value.
And with the days growing continually shorter, the time to start is now. Here are my five "must-do" projects for August:
Update your front entry
Improving the entrance to your home is a relatively easy thing to do. Add some color by painting the front door in a fresh coat of gloss paint, or strip it down to the natural wood. Consider container gardens or shutters to provide additional interest. And replace outdated exterior wall sconces with more stylish models. If you are looking to do the latter, here's all you need:
Materials and tools
New exterior wall light fixture
Wire nuts (if not included)
Multi-head screwdriver
Pliers
Lightbulb
Electrical tape (optional)
Directions
Turn off the power. You will need to go to the main circuit breaker of the house to shut off the power to the existing light fixture. Don't think that having the light switch "off" is a sure-fire way to cut the power entirely. It's not!
Remove the old fixture. The existing fixture will be attached to the wall with either a mounting cover plate or exposed screws. If the former, lift the plate off to reveal the mounting screws. Loosen and remove the screws while holding the fixture in place until you disconnect the wires.
The mounting bracket. Chances are the old light fixture was affixed to the wall with a crossbar mounting bracket. You should replace it with the mounting hardware that came packaged with your new fixture. Depending on the style of lantern, the crossbar is either a 4-inch circle of metal with several holes cut in it, a 4-inch by 1-inch metal plate with several holes, or two 4-inch by 1-inch metal plates connected in the center to form a cross.
Wiring 101. Connect the wires according to the manufacturer's instructions: white (neutral) to white, black (hot) to black and green (ground) wire to the bare copper wire from the junction box. Use plastic wire screws to keep wire connections secure. (You can also choose to secure connections with electrical tape.) Pack all the wires back inside the outlet box, making certain not to loosen connections.
Installing the new lantern. Attach the lantern to the crossbar with the mounting screws provided, or position it onto the protruding screws and affix the hex nuts packaged with the lamp. Secure tightly. Depending on the contour of the wall siding, you may need to put a bead of clear caulking along the top and sides to prevent water from seeping behind the fixture. (Another option is a foam mounting block cut to fit the contour of the siding.)
Power on. Turn the power back on at the circuit breaker and test out your new fixture.
Create a stone path
You can avoid the expense of a structured walkway and add visual interest to your home's landscape by laying a more casual pathway. Choose from a full range of materials -- bricks, pavers, flagstone, granite slabs, river rocks, gravel or simulated stone products like above -- to design the path that fits your home's design and matches your DIY skill set. Not interested in cutting stone to configure into a pattern? There's no need. Plenty of designs require nothing more than a little imagination, a thoughtful plan and some basic skills.
Make a window box
A simple window box can add enormous curb appeal to a house or an apartment while providing an attractive garden view from indoors. There are a multitude of products on the market today -- wood, plastic, resin and metal -- that embrace a broad range of designs and price points. Feeling crafty? Make one yourself. It's an easy woodworking project that requires minimal tools and materials. You can tackle it as a family, imparting how-to skills and an appreciation for small-scale gardening to your kids.
Consider a garden shed
If you are looking for a way to free your garage of unnecessary seasonal storage, consider the benefits of a ready-made shed. Not only are sheds a practical choice for outdoor equipment storage, many are appealing as an architectural element in the yard. But today's sheds aren't just for the garden. Coming in all shapes and sizes, some are perfectly suited as a standalone workshop, artist studio or home-away-from-home office.
Collect rainwater
Although serious rain shortages and extreme heat have parched many a lawn and garden this summer, you can take some initiative and responsibility by installing a rain collection system to help with future irrigation needs. A rain barrel, or some variation thereof, will allow you to keep your yard and garden well-irrigated without tapping into well water or municipal water supplies. You might want to check with your town to see if there are any restrictions on rain barrel use or size, first.
Related:
Bob Vila is the home improvement expert widely known as host of TV's This Old House, Bob Vila's Home Again, and Bob Vila. Today, Bob continues his mission to help people upgrade their homes and improve their lives with advice online at BobVila.com. His video-rich site offers a full range of fresh, authoritative content -- practical tips, inspirational ideas, and more than 1,000 videos from Bob Vila television.
Note: The views and opinions expressed in this article are those of the author and do not necessarily reflect the opinion or position of Zillow.