Moving? Top 5 tips for packing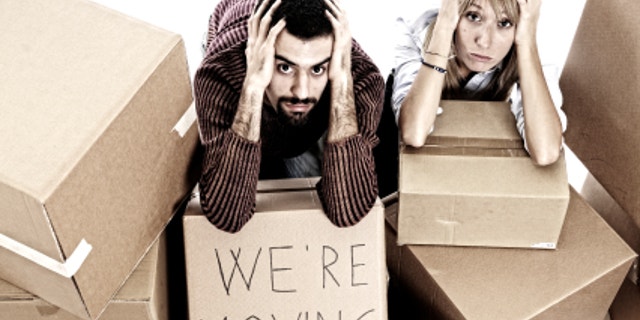 Moving to a new home can be exciting, the sign of new beginnings. It can also be an exceptionally stressful time.
Getting all your furniture, clothes, kitchenware, electronics and valuables from one place to another is no simple task -- whether you've hired professionals or are managing the move yourself.
The specifics of each move are different. Moving down the block, from one studio apartment to another, is less complicated than moving from a 3,000-square-foot home in New York to a similarly sized house in California. No matter how or where you're moving, preparation and careful planning will make the process smoother.
1. Sort, sell, donate or toss
Why move what you don't need or use? During the days and weeks leading up to your move, mercilessly sort through every closet and drawer. Organize a moving sale, donate items to a charity like Goodwill, The Arc or The Salvation Army, or list them via an online reuse/recycle-type website. Throwing things away is OK, too; some items will simply be outdated or too worn to be of much use to others.
2. Make lists, check them twice
Organization is the key to any good move. Make lists of all the people and institutions you need to contact before moving: schools, utility companies, government offices, subscriptions you need to change, etc. You'll need another list that includes the names of everyone who needs to know your new address, from family members to co-workers. Perhaps most important of all: make a list of things that will be moved, room by room. If you've hired a moving company, the movers will work with you to put together an inventory. If you're moving your own stuff, consider getting an app like Moving Day for the iPhone, which allows you to build a complete inventory and create barcodes for your boxes that you can scan with your phone and document damaged items.
3. Over-prepare
If there's one thing you don't want to run out of on moving day, it's boxes. If you're packing yourself, ask nearby stores, friends and neighbors for boxes. If you buy special moving boxes, ask if you can return any you end up not using. Also make sure you have plenty of tape, furniture padding and bubble wrap to ensure your stuff arrives undamaged. Borrow or rent a dolly for moving heavier items. If you're relying on friends and family to move you, make it as easy as possible for them. Have all the boxes packed and labeled before they arrive, so all they have to do is pick up a box and carry it to the moving van. If you've got professional movers handling the packing, they should come armed with all the supplies you'll need.
4. Label absolutely everything
Mark your boxes with clear descriptions so you can remember which boxes are fragile and which can wait to be unpacked. Even better: In addition to listing contents, label with a destination such as "master bath" or "basement." Avoid mish-mash boxes and "misc." labels -- those boxes will cause frustration on moving day and beyond.
5. Pack an 'open me first' box
When you get to your new place, the last thing you want to do is sort through a half-dozen different boxes to find the toiletries and clothes you need. Your 'Open Me First' box should include a change of clothing for each family member, towels, soap, shampoo, medicines and favorite toys for the kids. If your morning isn't complete without a cup of tea, include a tea kettle, tea and mug; granola bars or a box of crackers might also be a nice pick-me-up on unpacking day.
Related:
Mary Boone was a newspaper writer/editor for 13 years and worked as spokesperson for a Fortune 500 Company before becoming a freelance writer. She has authored more than two dozen books for young readers and writes for a handful of regional home and garden magazines.