Mobile home masters: What it really takes to live in a van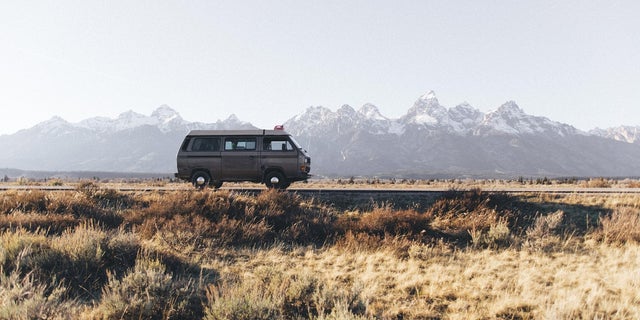 With the 50th anniversary of the Summer of Love nearly upon us, it's a fun time to revisit something Instagrammers call #vanlife. Psychedelic hippie VW buses aside, there are thousands of modern-day, or at least, technologically tricked-out, vans cruising America's highways.
And for their nomadic owners, home is where they park it. Whether you're considering mobile tiny home living or you simply want to see what's behind the sliding doors, here is some insight from the men, women and dogs contributing to #vanlifediaries.

1. Brent Rose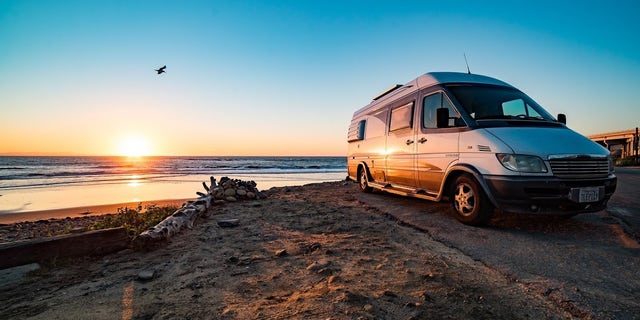 Brent Rose bought his van, which he named Ashley, from an 82-year-old man whose wife said, "Either it goes or I go." Ironically, Rose chose van life after coming out of a long, stable relationship and realizing he wasn't anchored to one place.
"I also really wanted to explore more of the U.S.," Rose says. "We're going through such a divided time in history so I wanted to talk to people from different walks of life and focus on the commonalities, the things that connect us." In nearly two years of traveling for his storytelling project, Connected States, he's put more than 40,000 miles on his Gulf Stream Vista Cruiser G24. Since Rose is a tech reporter by trade, he outfitted Ashley with plenty of power—320 watts of solar, a 200AH lithium battery and a 3,000-watt hybrid inverter—to charge his gadgets. He also installed a Viper security system and a safe with a fingerprint scanner. "Philips Hue color-changing LED light strips give the interior a soft mood lighting," adds Rose.
2. Kristin Bor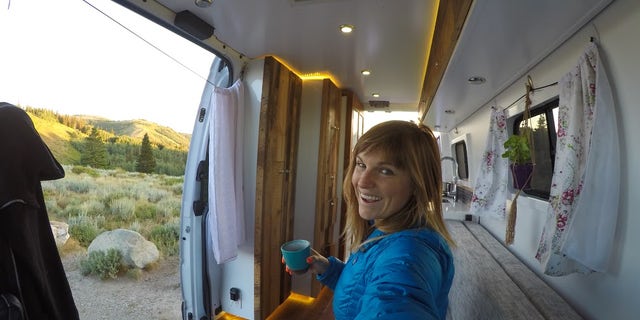 Kristen Bor moved into her 2016 4x4 Mercedes-Benz Sprinter cargo van after realizing her Salt Lake City apartment served only as an expensive place to do laundry. The former policy worker left Washington, D.C. in 2014 to focus on her outdoor adventure blog, Bearfoot Theory. Her 2017 travel plans include attending the Overland Expo, a gathering of thousands of vanlifers and their adventure rigs, before road tripping through Idaho, Canada and Alaska.
"The van community is super welcoming," says Bor. "Traveling in a van opens you up to meeting so many new people you'd never encounter otherwise." She admits that maintaining the van has been a learning process, but she anticipates living the mobile lifestyle for at least a few more years.
3. Trey Frye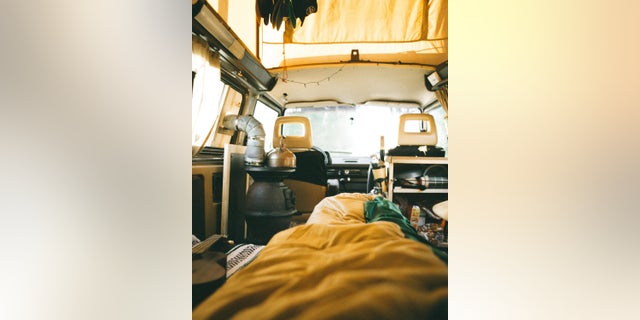 The day after graduating high school, Trey Frye opted for van life over college. The then 18-year-old travel photographer traded his hometown in Indiana for the West Coast, where he lives in a 1986 Volkswagen Vanagon West Wolfsburg Weekender.
"Sue" has over 200,000 miles on her and she boasts a pop-up tent, a greenhouse on wheels and a wood stove for cooking and heating. Because of the freedom to wake up wherever he wants—on a summit or by the sea—Frye says he'd be happy living the rest of his life in a van. But he does admit it's tough not knowing where he's going to sleep every night. "I've had nights where I've driven an hour just to find a place to park," admits Frye. "Those are the worst!"
4. Pete and Tay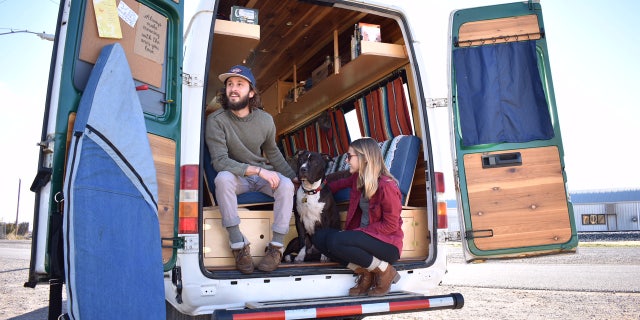 "We got our 2004 Dodge Sprinter 3500 with 194,000 miles on it," says Pete of AlwaysTheRoad.com. "That's pretty good because they can get up to 500,000 miles." Pete and his girlfriend, Tay, along with their 90-lb dog, Snoop, worked on "van Sonders" in the evenings-- after clocking out of their day jobs-- for five months, before they were ready to hit the road. The now full-time van-lifers are so passionate about their old van-turned-comfy home that they wrote an eBook about how to do your own vehicle conversion.
"Some people think that vanlife is like one big vacation," says Tay. "But they're wrong! We're working very hard to create a self-sustained lifestyle and completely finance it from the road." The two Wisconsin natives, and Snoop, are currently exploring Petrified Forest National Park and wondering where their next shower will be.
5. Jane Salee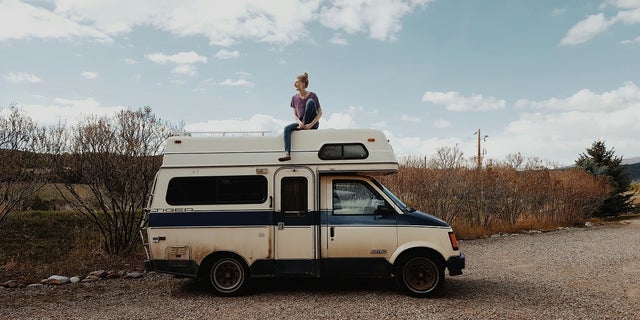 When Jane Salee had her birthday two months ago, she gifted herself a home. "Teeg is a hard-top Tiger conversion which is hard to come by," says the 27-year-old. "It means I can fully stand up without a manual pop-up."
Salee, who runs the blog Rock Meets Soil, first started living in a camper van with her ex-boyfriend in Nov. 2015. Now, she's driving solo and living in a different van, which she also uses as her office from which she sells her photography prints, books and trinkets. Teeg has a bathroom with a shower but Salee uses that space for product storage. "I don't mind going to the rec center to shower," says the semi-resident of Carbondale, Colo. "I could think of a million things worse than living in a van. But if you were transitioning from a house to a van, I suppose not having your own toilet might be an issue for some people."
6. Andy Austin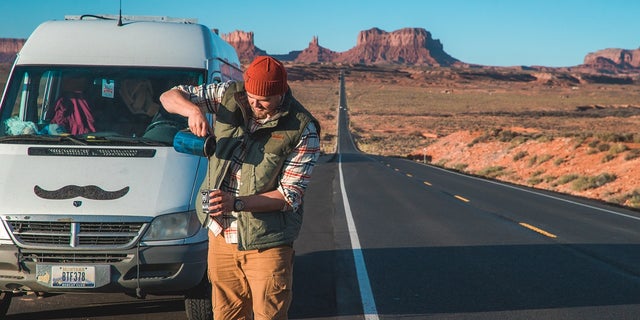 After realizing he'd only spent 10 nights in nine months in his apartment, Andy Austin knew he had to make a life change. So, the 25-year-old moved into a 2005 Dodge Sprinter van which he's called home for the past 10 months after briefly living out of his car. Because he's based in Montana, Austin relied on his van's diesel furnace to keep him alive this winter.
It also has a stove, sink, solar panels, reclaimed wood cabinets and a memory foam mattress. And in between its headlights? A giant black mustache decal. "I don't have a five-year plan, let alone a five-day plan," says the traveling photographer whose favorite part of van life is the people he meets. Developing relationships, however, can be challenging. "It's hard when you're only in a place for one or two nights. A rainy day in the outdoors often leaves me cooped up in the van watching movies or cooking. The solitude is beautiful, but also painful."
7. Reed Rombough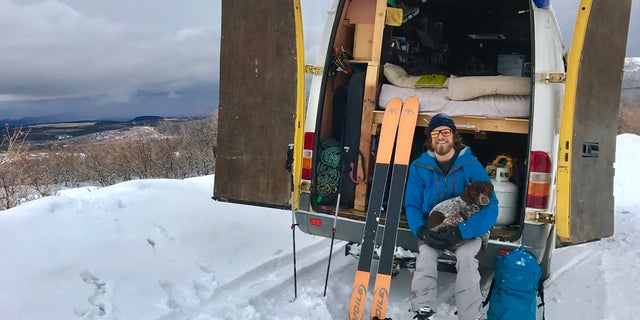 Reed Rombough didn't go straight from four walls to van life. "I actually started living in the bed of a 2001 Ford F-150," says the avid climber, who moved into his van a year ago so he could save up money from his mobile construction business, Nomad Construction, and climb more often.
Rombough isn't a stranger to transitional living. His dad is a retired army colonel, so he lived in 11 different houses before graduating from high school. Now, he prefers to park his 2003 Dodge Sprinter van wherever the weather and climbing are good. The van is outfitted with solar power, serious gear storage (Rombough is a self-proclaimed serial ski-addict), a stove and a queen-length bed. He admits he gets lonely at times, but he does have the company of his 4.5 year-old German Shorthaired Pointer, Sadey, who was just four months old when they moved into the truck bed. "I foresee myself out here for another 2-3 years," says the wanderluster.
8. Ben, Leah and Alaska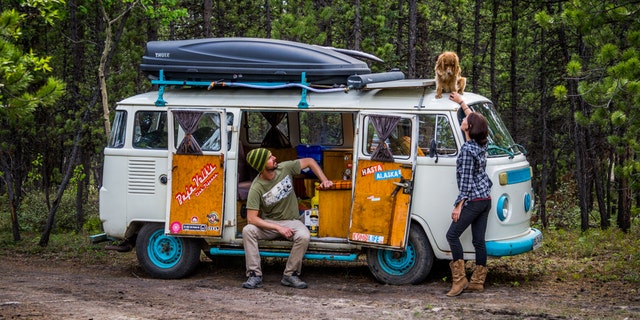 Ben, Leah and their photogenic dog Alaska live in a "freedom vessel." At least, that's how they refer to their rare Volkswagen Kombi from South America. "'Co'Pito'—named for a fearless Chilean street dog of the same color and temperament—is assembled from a mix of parts dating from between 1955 and 2001," says Leah. "But his official birth date is 1992." Their favorite feature is the 360-dree windows providing them with ever-changing, extraordinary views from bed.
The trio have been living the van life for five years and plan on living it for at least another five. They fund their lifestyle by documenting their adventures on their YouTube channel, Kombi Life. "We just finished journeying from south to north across the planet and now we're heading west to east to complete a circumnavigation," says Ben. "It would be hard to trade this freedom for the rat race."