Michael Jordan's Bold Plan to Sell His $15M Home: Slam Dunk or Foul?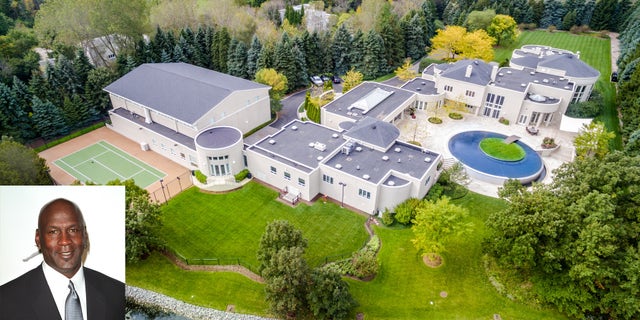 Michael Jordan is no quitter, even when it comes to selling his home. So although the NBA legend's mansion in Highland Park, IL, has been languishing on the market since 2012, he's back with a bold -- and, some say, risky -- new game plan. Hey, big guy: No guts, no glory!
Jordan's new home-selling strategy? A series of six Hollywood-style videos that show sweeping aerial views of the 56,000-square-foot, nine-bedroom, 15-bathroom estate along with a peek inside its massive entertaining area, full gym, and (of course) basketball court. The emphasis is unabashedly on the superstar and the potential reflected glory of inhabiting his lush former home. The dramatic voiceover is practically issuing a challenge to other luxury properties: Bring it on.
"Think you're big? I'm bigger. You say you're great at entertaining? Have you seen my pool pavilion? Putting greens? Game rooms? You might have a basketball hoop, but I have a full-size regulation court designed and played on by the greatest of all time."
The price? $14,855,000. Those digits add up to 23, Jordan's famous jersey number, which is also emblazoned on the 7.4-acre property's entrance gates.
Clearly His Airness isn't the type to check his ego at the door! But then again, when Jordan's property first hit the market in 2012, it was listed for twice as much at $29 million -- and didn't move. That's why Jordan hired luxury real estate agent Kofi Nartey at The Agency to mastermind this new home-selling strategy. And so far, it seems to be getting the word out at least.
"Our website crashed for a few hours … due to the number of hits," says Nartey, who hopes the publicity will find its way to the right buyers. "The buyers for a home like this aren't buying it to be in the neighborhood," he explains. "They're buying it because they want to own a piece of history."
But some experts are skeptical that this over-the-top approach will translate to actual offers.
"The approach is completely wrong," says Wendy Flynn, a Realtor with Keller Williams in College Station, TX. "First, why all the sneaker images? Does the home come with 500 pair of Air Jordans?" But to her, the bigger problem is that the videos focus more on Jordan than they do on the property.
"The focus should be on the incredible amenities; the fact that the home is Jordan's home should be an 'asterisk' item," Flynn continues. "I'd recommend removing the 23 from the entrance gates. Buyers may like the fact that the home once belonged to Michael Jordan, but ultimately buyers want a home that represents themselves."
But not everyone agrees that Jordan should just sit on the sidelines and "depersonalize" his home as many of us mere mortals are taught to do before we sell.
"I don't think you can downplay that Jordan owned the home, since it's obvious with the basketball court and professional-grade gym," says Cara Ameer, a Realtor in Ponte Vedra Beach, FL. "While tweaks could be made with taking the number off the gate, it was well-known that Jordan owned and lived in this house, so I think the marketing should own it. This house really is a landmark in Chicago."
"If you're buying Elvis's house, you'll want to talk about it being Elvis's house," Nartey adds. "Michael Jordan is one of the greatest athletes ever. And this home is a piece of that success."