Infamous Grey Gardens House Is Renovated and Rentable: 'Staunch Character' Needed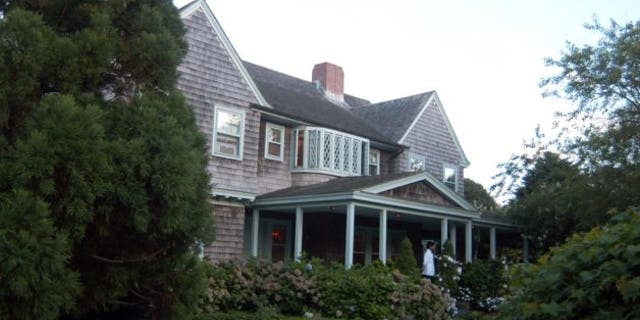 We've found the perfect way to spend the already gloomy year of 2017. Why not roam the gardens once graced by the "staunch character" of Little Edie Bouvier? Yes, the sprawling and infamous Long Island mansion known as Grey Gardens is renovated, back on the market, and available for rent.
While the home is decades removed from the decrepit dwelling unforgettably featured in the 1975 documentary (and later Broadway musical), it comes with a pedigree beyond compare. After decades of work, the property now bears little resemblance to the crumbling palace captured in the film. There are no more ceiling holes and few, if any, raccoons!
The price of the monthly rental depends on the season. From now until mid-May, the iconic home can be leased for $50,000 a month. During the summer, until mid-September, it rises to $125,000 a month. Gary DePersia of the Corcoran Group is the listing agent.
The luxury 2-acre estate in the Hamptons includes a pool and tennis court. Inside, there are seven bedrooms, six baths, loads of entertainment space, an open kitchen and family room, and a charming cottage.
Originally designed by Joseph Greenleaf Thorpe in 1897, the architecture was "totally renovated and restored to its original condition with the addition of today's amenities when the current owners rescued it some 40 years ago," according to the listing.
Decades ago, Grey Gardens was the retreat of a reclusive mother and daughter who were also the aunt and cousin to former first lady Jacqueline Kennedy. Fans of the documentary can remember the meandering musings of Edith Ewing Bouvier Beale, who was known as "Big Edie," and Edith Bouvier Beale, who was called "Little Edie."
Richard Corkery/NY Daily News Archive via Getty Images
The former socialites had fallen on hard times and were living in squalor in this crumbling mansion with overgrown gardens, located in the posh vacation destination near Georgica Beach. Their eccentric lives became the subject of the fascinating documentary by Albert and David Maysles.
When the mother died, her daughter (who has also since died) sold the home to the late Washington Post editor Ben Bradlee and writer Sally Quinn. According to property records, Quinn still owns the estate, which has been lovingly restored.
Although difficult to detect from the film, which showed a garbage-filled residence with multiple cats, grime, and decay, the spot is highly desired. The rental could surely attract beach lovers as well as followers of American folklore. Of course, those beautiful gardens are still legendary. Just be sure to bring a kimono!
The post Infamous Grey Gardens House Is Renovated and Rentable: 'Staunch Character' Needed appeared first on Real Estate News & Advice | realtor.com®.