Incredible State-of-the-Art Kitchens!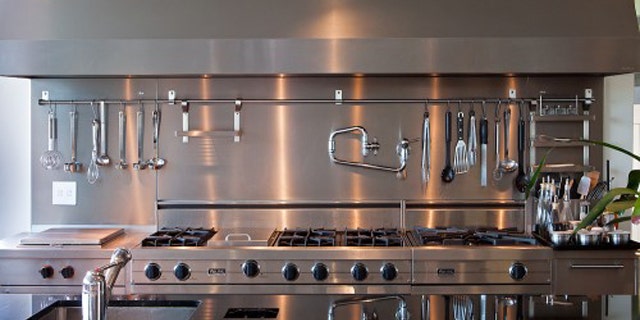 NEWYou can now listen to Fox News articles!
The first things people think of when it comes to state-of-the-art kitchens are appliances, with good reason; new technology and appliances go hand in hand. Laying them out for maximum efficiency along with clever new organization strategies will give you a restaurant-inspired workspace. With a busy-cooking holiday season upon us, let's take a look at some state-of-the-art kitchens and 10 elements for the cook space of your dreams.
PHOTOS: 10 Elements of State-of-the-Art Kitchens
1. Restaurant-style ranges and cooktops. There's nothing like a wall longer than the span of your arms full of cooking goodness: a multi-unit range with a combination of gas burners, a griddle, a wok burner and a fryer or steamer. Overhead there's a full-length hood to provide maximum ventilation coverage, a pasta filler and the wall rail for gadgets and utensils. A cook's dream.
2. Modular cooktops and ovens. Flexibility is at the forefront of cutting-edge kitchen design these days. All the state-of-the-art appliance companies are now offering 15"-24" cooking modules that fit into the countertop on their own or side-by-side to create a custom cooking environment.
3. Dedicated task stations. It's not just about the work triangle anymore. State-of-the-art kitchens are designed more like restaurant kitchens, complete with a clean up station, a prep station, a hot station and computer station.
4. Commercial-style and high-efficiency refrigeration. Refrigerators and freezers are going modular, too. More companies are coming out with separate all-refrigerator and all-freezer options, as well as the glass door/stainless interior units beautiful enough to make you fall in love with an appliance. Combo units are raising the bar on keeping food fresher longer while conserving energy.
5. Universal design. Product design is becoming more thoughtful and taking into account how people age with their homes. Everything from faucets to raised dishwashers are being designed for easier use by people of all ages and needs.
6. Gorgeous and functional ventilation. Hoods are breaking out of the basic box they've been in for years. We're seeing wilder and more imaginative designs, both modern and vintage, that get the very important ventilation job done.
7. Flexible small appliances. Not in the market for a complete state-of-the-art kitchen overhaul? Not to worry, appliance companies are coming out with more fun small appliances and gadgets to make cooking more enjoyable every day.
8. Cutting-edge organization. The kitchens of today are nothing like the ones from even 10 years ago, when you would consider yourself lucky to find roll-out shelves in cabinet. Today there is every form of organizational gadget, including magic corners, pull-out pantries, spice organizers and waste bin and recycling organizers, just to name a few.
9. Stylish workhorse sinks. The new sink designs coming out everyday are truly reinventing the infamous mousetrap. Offset drains, integrated cutting boards and multi-level interiors are just some of the options in sinks, which are available in all sorts of stunning shapes and sizes.
10. Convenient, hands-free faucets. Designed with universal design in mind as well as today's focus on hygiene and food prep, this commercial-inspired product has finally found its way into the home, and I think it's just a matter of time before it's available in all faucets.
More from Houzz
MORE: See 30,000+ Beautiful Kitchen Designs
BROWSE: 190,000+ Inspiring Home Design Photos
PHOTOS: 23 Inspiring Real-Life Kitchens