HUD Programs to Help You With Home Improvements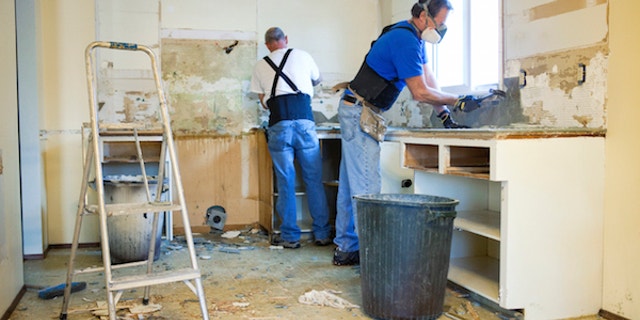 Need to make some major repairs on your home but don't have the funds? Or do you need a smaller loan just to replace some burned-out appliances?
The Department of Housing and Urban Development might have you covered.
Whether you need to replace your furnace after pushing it too hard during this brutal winter or need to fix a flooded basement, you might want to try one (or two) of these popular HUD home improvement programs.
These loans are available only from HUD-approved lenders. (Remember: HUD doesn't lend money, it only insures it.) And since these programs are backed by HUD, approved lenders are able to offer special rates and terms not found in other loans.
Title 1 loan
HUD's Property Improvement Loan Insurance Title 1 program, also known as FHA Title 1, is available for homeowners who need improvements, big or small. These improvements could be for appliances, such as a new oven or dishwasher, or they can be used for something like a new roof. Here's a basic rundown for Title 1 loans:
They are fixed-rate loans.
The maximum loan length is 20 years.
They have no prepayment penalties.
For loans under $7,500, you don't need to put your home up as collateral.
Loans over $7,500 require your home to be put on the line.
A maximum of $25,000 is available for single-family units.
They can be used in conjunction with 203(k) rehab loans.
203(k) rehab loan
If you're looking to buy a fixer-upper or make major repairs on your home, a 203(k) Rehabilitation Mortgage Insurance loan could be the way to go. These funds can be used to purchase, refinance, or renovate a home with items like these:
Major landscaping work
Modernization/improvements
Adding/replacing flooring and roofs
Energy conservation improvements
You can even use this loan to build an entirely new house, as long as the previous structure's foundation is still there.
The loan amount is equal to the value of the property, which has to fall within FHA mortgage limits (in most areas, that means a max value of $417,000). The value of the property is determined by up to 110% of the property's value after the rehab work, or the value of the property plus the rehab cost -- whichever one is less.
This loan is primarily for extensive repair work. You can use it for more minor repairs, but you need a minimum of $5,000 in work to be eligible for the loan. These loans can come with fixed-rate or adjustable-rate terms.
Streamlined 203(k)
For less serious renovations, consider the streamlined 203(k) loan. There is no minimum loan requirement, and homeowners can get a maximum of $35,000 in funds.
This loan can be used for things like the replacement or renovation of gutters and/or roofs, inside and outside paint jobs, basement waterproofing, accessibility improvements, septic systems, and buying and installing appliances.
Both streamlined and regular 203(k) loans can be used for HUD-owned and REO single-family properties.
Do you qualify?
Not all properties or repair types will qualify for these loans. You may need to hire a contractor to inspect the property. For 203(k) loans, you need to have a detailed list of what repairs are needed and how much they'll cost -- this can take a good chunk of time, so plan ahead. You can't use any of these loans for luxury improvements, like a new swimming pool.
Like with most loans, you'll want to have a good credit history and be able to show the ability to repay the loan. Credit requirements, loan terms, and rates can vary by lender. With 203(k) loans, you will probably be required to place a down payment and have reserves equal to a portion of the total loan amount.
For more information about these HUD loans, see Title 1, 203(k), and streamlined 203(k)loans.
The post HUD Programs to Help You With Home Improvements appeared first on Real Estate News and Advice - realtor.com.