How to Play Golf in 325 Square Feet: 'Tiny House Nation' Blows Our Minds Again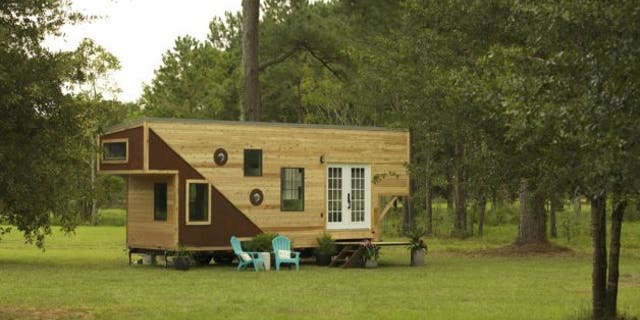 Probably the best part about "Tiny House Nation" is watching hosts John Weisbarth and Zack Giffin squirm as their clients unfurl a ridiculous wish list of features they hope to squeeze into a few hundred square feet.
Last week, NFL star Deion Sanders' tiny house just had to have a double vanity in the bathroom, movie theater, and yoga studio for his girlfriend. And this week's guests make equally outrageous demands.
Home office?
Dog porch?
Putting green?! What are these two smoking, anyway?
As it turns out, Nicole and Mark, a couple in the small town of Waller, TX, run their own business as marketers for a health and wellness company. Since they can work anytime, anywhere, they are free, free, free to live a rambling life, and they want a 325-square-foot house on wheels for $60,000—the price of a nice car.
FYI
However, just because the couple want to downsize doesn't mean the demands on their living space are minimal. Nonetheless, Weisbarth and Giffin prove that nothing is impossible to pack into a tiny house by coming up with some ingenious solutions that can serve as inspiration for us all. Here's what they manage to stash in this small space.
A full porch
If this particular house were on a fixed foundation, a porch would be no problem. However, this is a tiny house on wheels, so the whole structure can be only 8 feet wide if it's going to be easily and legally towed.
Giffin comes up with the idea to raise the floor and put a slide-out porch underneath it, so when the tiny house is sitting in an RV park, the porch can slide right out.
FYI
A home office with a huge white board
Since they'll be working from their tiny house, Nicole and Mark need more than just a kitchen table where they can park their laptops. They want room to "plan and brainstorm and be creative."
At first, Giffin wants to make the guest loft into a home office, but the couple tell him that's a nonstarter: They need room to walk around and write things down whenever inspiration strikes. So Giffin comes up with a kitchen table of inlaid wood on one side, and a white board on the other side. When they're working, they flip up the table against the window so they can write on it, and a smaller desk slides out from underneath. Sweet!
FYI
Doggy windows
The couple have a small Shih Tzu named Oliver, and they want him to not only be able to see out, but also to have access to his own porch so he can enjoy fresh air when they're not home. Creating doggy windows is no problem; Oliver-level portholes are installed on the side of the house, close to the floor. The portholes look like mounted fishbowls, so Oliver can stick his head in them and have a better view.
FYI
A doggy porch, too
The porch, or "doggy lanai" as they call it because of the home's Hawaiian theme, presents a greater challenge. But Giffin finds space above the propane tank area at the front of the house to build a small balcony, accessible by a doggy door.
FYI
A putting green
The couple are avid athletes, and golf is big on their agenda, so they're going to have to find a place to stash their clubs. Not only does Giffin devise a storage compartment under the guest loft, he also constructs a stowaway putting green under the staircase, with a strip of AstroTurf that rolls out into the center of the house. Now, the couple can practice their putting indoors.
FYI
When Nicole and Mark see the final results, they are moved to tears. And who can blame them? It really is a stunning design. And once again, the tiny-home maestros confound and mystify us with their ability to make awesome and seemingly spacious things come in very small packages.
FYI
The post How to Play Golf in 325 Square Feet: 'Tiny House Nation' Blows Our Minds Again appeared first on Real Estate News & Advice | realtor.com®.