How to make your driveway part of your garden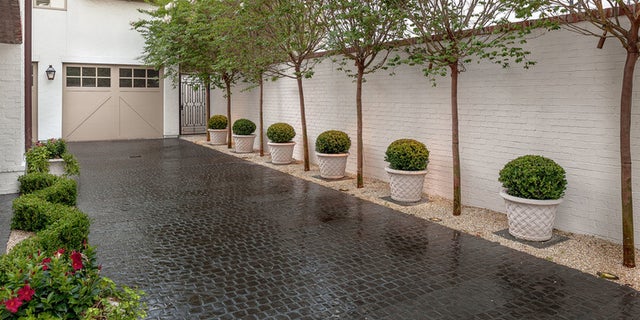 NEWYou can now listen to Fox News articles!
The often-overlooked planting area running alongside the driveway can provide an opportunity to increase your home's curb appeal and help tie in a paved area to the rest of the landscape. Browse these nine ideas for driveway plantings of all styles, shapes and sizes, whether you're looking for neat and tidy trimmed hedges or abundant colorful flowers.
1. Colorful slope. Sloped gardens can be tricky to plant, sloped driveways even more so. Decrease runoff and soil-shifting from beds to the driveway by running a low rock wall a few feet back from the driveway down its length.
Layers of foliage — including burgundy Japanese maple (Acer palmatum), silver lamb's ears (Stachys byzantina), wispy Japanese forest grass (Hakonechloa macra) and chartreuse spurge (Euphorbia characias) — and cool-toned blooms, such as globe allium and catmint (Nepeta sp.), create a tapestry of color. Bonus: The planting is pollinator-friendly and deer-resistant.
2. Stately elegance. Welcome guests with a grand, formal driveway bordered by a classic planting combination of evergreens and white roses (such as Rosa 'Iceberg').
3. Clean and green. Layer all-green foliage plants for a driveway planting that looks lush and inviting and requires less maintenance than flowering perennials. For even less maintenance, plant driveways with evergreen hedges like arborvitae (Thuja occidentalis), cherry laurel (Prunus laurocerasus) and pittosporum.
4. Colorful cottage garden. For driveways that take up a good-size chunk of the front yard, consider paving materials that feel less like a means from getting from here to there and more like a part of the landscape. Similarly, plantings alongside the driveway should be chosen to look less utilitarian and more like a garden.
5. Minimalist. Keep things simple with a single variety of plant — this could be an evergreen shrub, an ornamental grass or a striking cactus, depending on your climate and preference — planted en masse along the length of the driveway.
Reducing the range of color highlights the plant's form as an architectural landscape feature. This can work well with clean-lined, contemporary architectural styles as well as more traditional homes.
6. Long approach. Use long, meandering driveways to create an interesting journey and a sense of arrival to the home. To get the look, break up expanses of lawn or other open space with planting vignettes featuring an interesting mix of leafy evergreens, bright, variegated foliage (such as hosta) and colorful accents.
7. Short but sweet. Even postage-stamp-size driveways provide the opportunity to make a design statement with plantings. If there's little room for border plantings, swap out some of the paved areas with walkable ground covers, leaving the load-bearing wheel tracks as hardscape. A few ground covers to consider: creeping thyme (Thymus serpyllum), Jenny's stonecrop (Sedum reflexum) and silver carpet (Dymondia margaretae).
8. Informal meadow garden. Choose billowing grasses, like 'Blonde Ambition' blue grama grass (Bouteloua gracilis 'Blonde Ambition'), and mixed flowering perennials, such as coneflower (Echinacea spp.), black-eyed Susan (Rudbekia hirta) and 'Autumn Joy' stonecrop (Sedum spectabile 'Autumn Joy'). Plant them in a free-form arrangement, some inside defined planting beds, some outside and allowed to spill over the driveway edge.