How to clean, maintain hardwood floors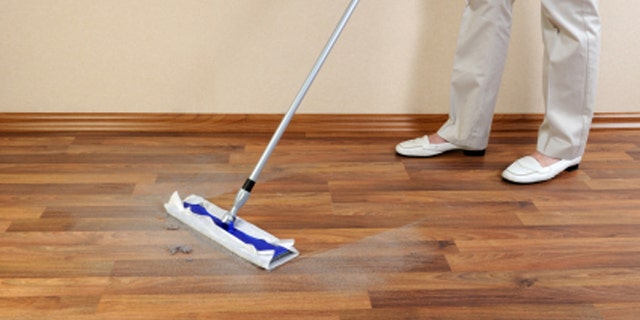 According to the World Floor Covering Association, wood floors are a long-lasting, wear-resistant alternative to other types of flooring. It is helpful to know the proper way to clean them, whether you are thinking about installing a wood floor or already have them in your home.
Determine the finish
Your floor's sealing will govern the most effective way to keep it clean and in good condition. Find a small section of the floor that is not easily visible, perhaps behind a door, so you can run some tests to determine the generic finishing.
First, apply a few drops of rubbing alcohol. If the finish starts to soften and becomes sticky, you have a shellac finish. You can also try scratching the floor with a coin. If this causes the finish to flake, the floor is probably shellac or varnish. If the area crumbles instead when you scrape, you have a urethane or polyurethane finish. If you apply a small amount of paint remover to the floor and the finish bubbles, it is probably a urethane finish.
In a new spot, apply two drops of water. If white spots appear within 10 minutes, your floor has a wax finish. You can also check for wax finishes by wiping a drop of mineral oil and seeing if the cloth has a yellowish-brown stain.
Cleaning
According to the National Wood Flooring Association (NWFA), polyurethane-finished floors require regular cleaning using a dust mop, broom or vacuum. Do not wax a floor with surface finishing.
Michael Martin, CEO of the NWFA, recommends sweeping or vacuuming wood floors at least once a week to remove dust and dirt from the surface. Standing water can cause damage and discoloration to the floors, he says, so you should avoid cleaning them with a wet-mop.
"[Instead,] wipe up all spills immediately with a dry or slightly dampened towel," he says.
For particularly grimy or dirty spots, use a hardwood floor cleaner that contains alcohol or vinegar, says Eric Hurst, president of Flooring.org -- a nationwide distributor of hardwood floors.
"Avoid cleaners that contain oils," he says. "They will basically leave a greasy film over your entire floor that will show every single footstep and smudge, and you'll have a really difficult time getting your floors to look pretty again."
Maintaining
Prevent scratches by placing soft felt or protector pads under the legs of all furniture. This is especially important when you move heavy pieces of furniture across the floor. Use curtains, blinds or other window treatments to provide shade for your floors and prevent sun damage.
Floor mats will catch dirt before it has a chance to make it to your floor, so place them at every entryway. Use rugs to protect places on which water may easily be splashed, like in front of the kitchen or bathroom sink. Make sure the mats and rugs are made for wood floors, as certain types may damage your floor.
If cleaning your polyurethane-finished floor does not restore the shine, you may need to re-coat the floor. Severe damage may require that the floors be sanded and refinished. Waxed floors should be buffed to restore their shine.
Read: 'World's tallest treehouse' grew from a divine vision