How to childproof your house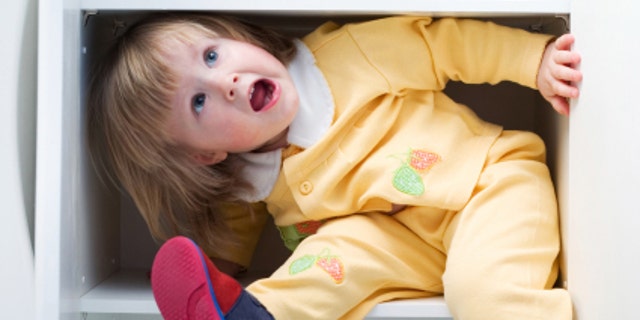 If your little one is always on the go, danger will be lurking around every corner, so take a minute to get on your hands and knees and look at the living room from your toddler's perspective. Keep your child safe with these childproofing tips for your baby or toddler.
Remove or lock away hazards
Debra Holtzman, the author of "The Safe Baby: A Do-It-Yourself Guide to Home Safety and Healthy Living," suggests using an empty toilet paper roll to check for potential choking hazards. If the item can fit through the tube, it is not safe for your baby to play with and should be kept off of the floor and out of their reach.
Lock away poisons. This includes cleaners, bug sprays, medications, vitamins and alcohol. Also keep matches and cigarette lighters out of reach. Move these potential hazards to higher locations or put secure latches on the cabinets. It is also wise to avoid lighting candles while you have a roaming toddler.
Holtzman says to exercise caution when it comes to decor. She advises using fake plants instead of real ones because some leaves are poisonous. Know what types of plants are in your yard as well, and keep the number for Poison Control (1-800-222-1222) on hand.
Make sure you have a working smoke alarm in each room. It is also important to have a carbon monoxide detector near gas-fueled appliances.
Make rooms toddler-friendly
Make sure to cover all electrical outlets. You don't want your child sticking a fork or finger inside the outlet. Find plugs that your child cannot remove, as the plugs themselves can become choking hazards if left out. Don't leave plugs out in the open and return them to the electrical outlets as soon as possible. If you are replacing your outlets, look into installing sliding safety covers.
Secure furniture and electronics to the wall so they do not fall on your child if he or she pulls on them. Cover the sharp edges and corners of tables. Block access to refrigerators, stairs, large exercise equipment like treadmills, windows and railings. Use safety gates at the bottom and top of staircases. Make sure the ones at the top of the gate are secured to the wall, and check that neither gate has a space large enough that your child's head can get stuck in.
Open windows from the top or use stoppers so the window only opens as wide as you want it to. Avoid situating furniture by windows so your child does not try to climb up and out. Put away cords and ties, and make sure they stay out of reach. Don't forget about the pull cords of blinds, shades and electronics.

Prevent burns and drowning
Don't handle hot liquids like coffee and tea while carrying or playing with your toddler. Use the back burners of the stove and turn the handles of pots and pans inward. The U.S. Consumer Product Safety Commission (CPSC) recommends using anti-scald devices for faucets and shower heads. You should also set your water heater temperature to 120 degrees Fahrenheit.
Never leave your child unattended in the bathtub. Only fill the tub with three or four inches of warm water, and use a rubber suction mat to prevent your child from slipping. Put a lock on toilet seats, as these are also drowning risks. BabyCenter.com warns that babies and toddlers can drown in as little as a few inches of water. Don't leave buckets of water or filled baby pools unattended. Keep your child away from your pet's water bowl, and make sure pools and hot tubs remain covered or enclosed.
Also remind your older children to secure any safety measures they take apart, like closing the gate before going down the steps. And remember, you're going to have to update your childproofing methods as your baby gets older and figures out your tricks.