How to accent a neutral space with color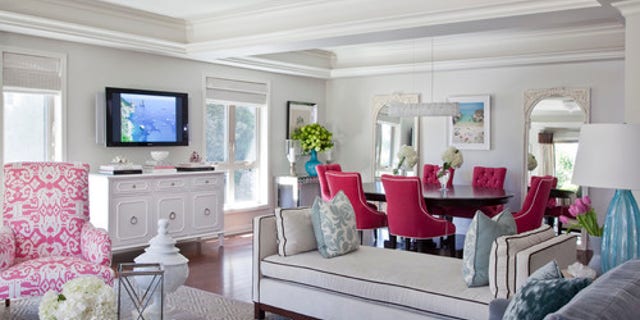 Whether you have white, beige, gray or vibrant walls in your room, there is always a place for accent colors. Accent color is to a room what jewelry is to an outfit. Whether it takes the form of accessories, fabrics, fixtures or even one wall, it's by far the easiest way to add personality to a room.
Adding accent hues also is a great way to experiment with different color combinations and allow you to bring in those bold tones you've been dying to try but may be afraid to use.
Color pairs: Accent color can also come in twos. In this kitchen, sunny yellow and celadon add a fun, casual feel to the space.
Neutral accents: Accent colors don't always have to be bold -- go for neutrals, too. In this beautiful blue room, chocolate brown plays a very important part as an accent hue. It defines and finishes this window shade while also tying the seat cushion and pillows into the entire look.
Easy updates: In this white bedroom, coral throw pillows add a spark. Pillows are easy to switch out when you're experimenting with different accent colors or when you want to change with the seasons.
Surprise wall: Many homeowners like the idea of having an accent wall, because it's a practical way to introduce a striking color without overdoing it. An unexpected color such as electric blue (this one is Brilliant Blue from Olympic Paints) can energize and excite your space.
Accent chairs: Painted furniture is a chic way to add an accent color. For the full effect, add accessories in the same shade. This creates harmony in the space.
Artwork: In a neutral space, artwork can add just enough color to catch the eye. A gallery wall with identical or similar pieces will reinforce a fun accent color -- in this case, yellow.
Connecting colors: In an open floor plan, an accent color can connect different areas of your home. Upholstery is a great way to accomplish this. I love how these dining chairs are in a solid fabric while the wing chair wears a pattern.
Balancing acts: Even a room painted with a vivid hue can benefit from an accent color. Here, cool green chairs balance the brilliant wall color (Bold Orange from Ralph Lauren Paint) and tone things down a bit.
Related:
Kelly Porter is the owner of Porter House Designs. As a designer, color expert and contributor at Houzz, her goal is to help you make the right color and design decisions for your home.