How and Why to Install Wallpaper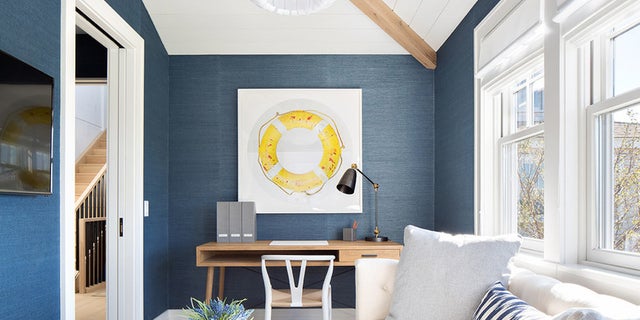 Wallpaper, on the surface, sounds pretty simple: Add decorative paper to the wall. But once you start unrolling the topic, installation gets more complicated. You have to think about the costs, the different kinds of wallcovering, how much to buy, how to prep the wall, what tools you need and so on. That's why, as many designers advise, we turned to a wallpaper professional with more than 25 years of experience.
Julie Young, The Wallpaper Lady, has a family history in the wallcovering and paint business that dates back more than 100 years. Today she does wallpaper installation, removal and repair in the Houston area, and took some time to share her knowledge with us.
"Wallpaper is in style right now," she says, "but people don't always realize how much is involved."
Project: Install wallpaper
Why: It adds personality to your space, and can make a room look warmer and larger, says Young, a member of the Wallcovering Installers Association.
It's a good project for you if: You are looking for a fresh look. You can install wallcovering at any time, but Young says many of her clients add it right after purchasing their home or as family members transition out of the home, such as when children go off to college.
Whom to hire: Young advises beginners to hire a professional. Even if a job seems easy, factors such as crooked ceiling lines or an improperly prepped wall can derail a project for a DIYer. When you hire a professional, you get their expertise and experience at handling all wallpapering tasks, from determining the quantity needed to a smooth installation.
If you are set on doing the job yourself, Young says to start on an easy, straight wall, such as an accent wall in a bedroom. Do not start in a complicated room with objects and windows to work around.
Cost range: Wallpaper installation costs can range from $300 to $700. That typically covers a daylong installation project. Some installers may charge by the roll installed, but Young said that is a more old-fashioned rate. Instead, many installers charge by the project and include consultations, room measurements, most supplies and installation in the cost.
The wallcovering is an additional expense. Young says paper can come as cheap as $20 per roll (covering about 28 square feet), but she says most decent papers range from $50 to $150 and up.
Typical project length: A smaller project, such as an accent wall or powder room, takes about one day. Larger spaces can take two days. Young says a typical job includes wall prep from 9 a.m. to about 3 p.m. and installation until about 6 to 8 p.m. "Prep is a good chunk of the job," Young says.
Best time to start: It's best to start in the morning, Young says. A job won't happen in an afternoon, so it's best to start early and finish it on the same day.
Wall prep considerations: The best wall prep happens at the hands of a professional wallpaper installer, Young says. Any existing wallcovering should be removed, and the wall should be washed and smoothed. The primer applied to the wall needs to be specifically for the wallcovering. You also need the wall to be free of dust before application, Young says; otherwise, as with cake in a floured baking pan, the wallpaper will not adhere as well.
Paper recommendations: Young prefers paper wallpaper from brands such as Designer Wallpapers, Seabrook Wallcoverings, Thibaut, Wallquest and York Wallcoverings. She likes these papers because they are easier to work with, compared with thicker and stiffer papers that don't turn corners well and leave seams because they are thick.
"Textures and geometrics are in," Young says. "People are taking traditional papers and sassing them up, like overscale paper and bold colors."
RELATED: Search Wallpapers in Every Style, Color and Texture
A professional wallpaper installer or wallpaper store can also help you find the right wallcovering for your space. They can help you find something that's great for kids, high-traffic areas or humid locations.
Buying wallpaper: Professional installers can ensure that you have enough material for the walls. They can factor in repeating patterns, the size of the rolls, features in the room and windows. "Some people just assume they can use the square footage of the room," Young says. "You can't put all the paper on the wall. Only if you could grind it up like paint could you cover the wall."
RELATED: Want a Temporary Fix? Try Wall Decals Instead
Young always likes to visit a site in person to measure the space and gauge the amount of wallpaper needed for a job. She also likes her clients to order at least one extra double roll, she says.
Why buy extra paper: Professionals encourage clients to buy extra paper for a number of reasons.
○ You can find defects in the paper once it arrives, or the ends of the paper can get crumpled during delivery.
○ You may need to repair a patch down the road. Young recently revisited a 20-year-old project after the clients had a plumbing fix that required the plumber to cut through the drywall.
○ You want to ensure that the extra paper has the same run or batch number as the original paper on the wall. If the same design comes from a different run or batch, it may not look quite the same, Young says.
Where to store extra paper: Keep your paper safe and fresh by storing it in a climate-controlled location away from the light. This could be a closet in your home.
Wallpaper toolkit: Professional wallpaper installers bring their tools to the worksite. When working, it's great to have room to spread out, Young says.
This is what Young includes in her basic kit:
○ Table to spread out paper
○ Roller to put on primer and paste
○ Brush to cut in while priming
○ Smoothing brush, which is about 10 inches long with 2- to 3-inch bristles
○ Plastic smoother
○ Scissors
○ Trimming knife (Young prefers a single-edge blade)
○ Measuring tools (Young uses a yardstick and ruler, but some people prefer a measuring tape)
○ Chalk for edge of paper
○ Laser level
○ 5-gallon bucket of paste
○ Edge trimmer
○ Drop cloths
○ Space heater or heat gun
○ Ladder
Young also notes that you need to bring a good dose of patience to any job.