Homes that strike a chord: Mozart to Lady Gaga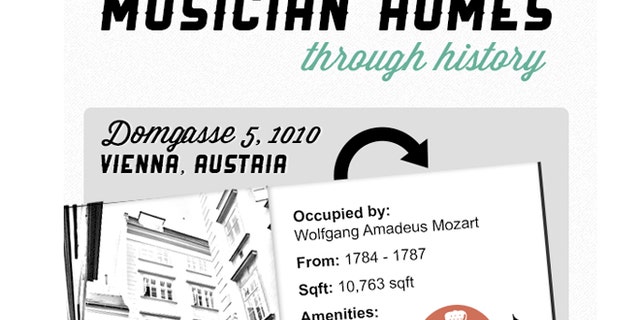 For paparazzos, making a quick buck is as simple as lurking around a celebrity's home (if they can find it). Why, might you ask? That would be because our culture is obsessed with the extravagant pads of Hollywood's elite.
The gargantuan homes of today's stars are plastered across the Internet and on tabloids. This prompted the Movoto Real Estate bloggers to put our own spin on covering these posh properties.
We wondered how the often grossly oversized and overpriced abodes might compare to celebrities of times past. Musicians, in particular. By this we mean any popular musical individual -- whether composer, singer, or band mate -- from about the 18th century onward whose work remains popular.
Pimped-Out Pads for the Win
While researching the abodes of 10 musicians, we came across some surprising discoveries about the size of their homes.
Here are the highlights of what we found:
At 10,763 square feet, Wolfgang Amadeus Mozart's apartment was so large it could fit three of Louis Armstrong's home's first level and still have space left.
Jazz singer Billie Holiday spent a portion of her childhood in a home that was just 1,056 square feet.
The home of King of Rock 'n Roll Elvis Presley was the largest of the bunch, at 17,552 square feet.
Rat Pack crooner Frank Sinatra at one point occupied a home only slightly smaller than Michael Jackson's, with 10,000 square feet.
With 6,143 square feet of living space, Lady Gaga's West Coast mansion is smaller than that of Classical composer Tchaikovsky.
And now, the homes in all their glory.
1. Wolfgang Amadeus Mozart (1756-1791)
Wolfgang Amadeus Mozart lived in this Viennese apartment, found at Domgasse 5, longer than any other place during his time in Vienna. He occupied the first level in what was originally a 10,763-square-foot (1,000 square meters) apartment and has since been renovated as an exhibition space and museum, Mozarthaus Vienna.
The space consisted of four large rooms, two smaller rooms, and a kitchen when the Classical composer resided there from 1784 to 1787. It is the only remaining residence of the renowned musician that still exists in the Austrian city.
2. Ludwig Van Beethoven (1770-1827)
Beethoven was born in this residence in 1770 in Bonn, Germany, where his family occupied the garden wing of the house. The Beethovens resided in an apartment at Bonngasse 515 (now 20) on the second floor with three small rooms and an attic. We could not find the original property size, but based on a similar style home in the area, we estimated the home to be around 1,400 square feet and their living space to likely be around 400 square feet.
The property was turned into Beethoven-Haus Museum in 1893 and now houses the largest private collection of Beethoven's belongings and manuscripts in the world. It is the only remaining home of the Beethovens in Bonn still in its original condition.
3. Pyotr Ilyich Tchaikovsky (1840-1893)
Pyotr Ilyich Tchaikovsky lived in this country home near Moscow from May of 1892 until he died in 1893. Found in Klin, Russia, the two-story residence consists of 8,159 square feet and included:
A large garden
Stable
Kitchen
Dining room
Bedroom
A reception room where he kept his piano (and it still remains)
It was here that Tchaikovsky composed "The Nutcracker Suite" and "Pathetique Symphony No. 6," his last major work and self-proclaimed best composition. Within a year of Tchaikovsky's death, his brother turned the property into a museum that is still open.
4. Louis Armstrong (1901-1971)
The Queens, New York home of trumpeter Louis Armstrong from 1943 to his death in 1971 was a modest 3,000-square-foot structure. Two stories high, the home on 107th street includes:
A dining room
A master bedroom
Two bathrooms
A den
An outdoor bar and grill
Modern kitchen with custom-made blue cabinets
The home is known for its eclectic, almost retro style and Japanese gardens.
The property -- a National Historic Landmark–underwent restoration and renovation in the early 2000s and now serves as a museum for the public. The New York City Department of Cultural Affairs, the organization in charge of the home, has kept it in virtually the same condition as when the Armstrongs lived there.
5. Billie Holiday (1915-1959)
A childhood home of jazz singer Billie Holiday (born Eleanora Fagan), the brick building found at 219 South Durham Street is relatively small, with only two stories and an attic. The 1,056-square-foot property contains three bedrooms and one and a half baths.
Holiday lived in this home for a short time after she and her mother moved to Baltimore, MD in 1925, then moved one door down to 217 South Durham (the house with the brick stoop to the viewer's right of the white home) before relocating to Harlem. Originally built in 1900, the property was recently renovated and purchased in November 2011.
6. Frank Sinatra (1915-1998)
Known by many just as Farralone, the onetime home of crooner Frank Sinatra occupies 14 acres in Chatsworth, California. The 10,000-square foot home has:
Four bedrooms
Five and a half baths
A detached gym
A 9-and-a-half acre vineyard
A 1,000-square-foot guesthouse
The house was originally built for Chase Manhattan Bank heir Dora Hutchinson, and Sinatra rented the residence for approximately a decade in the 1950s during his Rat Pack years. Recently listed for sale at $12 million, the property has boasted many celebrity visitors, and is rumored to be the meeting spot for an affair between Marilyn Monroe and JFK.
7. Elvis Presley (1935-1977)
The "King of Rock and Roll" lived in this 13-and-a-half-acre American Colonial style estate in Memphis, TN from 1957 until his death in 1977. The property consists of 17,552 square feet and includes:
23 rooms
A four-car garage
A pool house
Stables
The property, named Graceland after the original owner's daughter, has served as a museum since 1982, when it was opened to the public. 3764 Elvis Presley Boulevard attracts more than 600,000 visitors per year, making it one of the most-visited private homes in the U.S.
8. Michael Jackson (1958-2009)
The 13,000-square-foot mansion that was home to King of Pop Michael Jackson between 1988 and 2005 sits on the 2,600-acre Neverland Ranch. Located in Santa Barbara County, CA, the two-story Tudor home includes:
Theater room
Sunken tennis court
Guesthouse
The entirety of the property also featured a petting zoo, amusement park, and two railroads, left in dishevel since the late pop star's financial uncertainty and death. Two years ago there were rumors that the property might become a California State Park, but for now it remains closed off, its future shrouded in mystery.
9. Madonna (1958-)
Singer Madonna resided in this Beverly Hills estate likely sometime during the early 2000s. Originally designed by Wallace Neff, the 1926 home reportedly sits on half an acre and has:
Seven bedrooms
Eight bathrooms
Two guesthouses
formal garden
A swimming pool
The North Roxbury mansion was once 9,142 square feet and will have 10,050 square feet of space following a recent expansion. The Spanish-style property has a line of star-studded owners; it was home to Diane Keaton as well as Betty Grable prior to the "Like a Virgin" singer's occupancy.
10. Lady Gaga (1986-)
This Bel Air mansion was leased by Lady Gaga for $25,000 a month beginning in 2009. (It's unclear whether she still uses the home as her West Coast residence.) The property has 6,143 square feet of living space, and features:
Six bedrooms
An outdoor kitchen
A resort-style pool and spa
A terrace with panoramic city views
The abode is a far cry from Gaga's (aka Stefani Germanotta's) former residence–a tiny one-bedroom apartment in Manhattan's Lower East Side that she lived in before becoming celeb royalty.
As it turns out, even with the grossly inflated incomes of popular musicians today, their homes aren't always the largest. Mozart's apartment was larger than Madonna's house, and Tchaikovsky's last residence was bigger than Louis Armstrong's and Billie Holiday's homes combined.
Guess modern celebrities aren't quite as vain as we thought. Of course there's no telling what ridiculously priced belongings are inside those homes.
Related:
The Movoto blog is a service of Movoto Real Estate. Kristin Crosier is a staff writer for Movoto and a recent graduate from the University of California, Santa Barbara.