Real-life Hobbit house inspired by 'Lord of the Rings' on the market in New York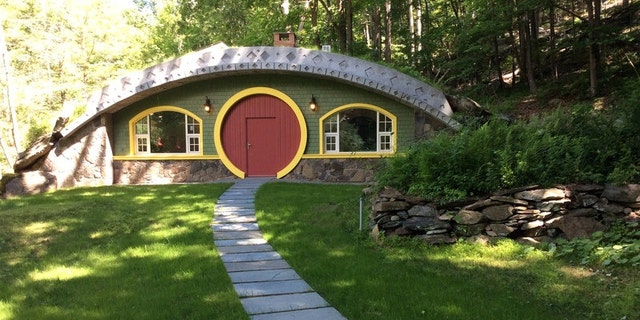 A film fan spent seven years building his own "Lord Of The Rings"-inspired Hobbit House — and it looks like it has come straight from Middle Earth.
Jim Costigan, 55, got the idea after seeing Bilbo Baggins' home, Bag End, in the film adaptation of Tolkien's "Fellowship Of The Ring." He flattened a derelict house he bought in the middle of a forest, and after seven years of slogging away on his days off and weekends, he has finally finished the two-bedroom home.
And just like Bilbo's home, the dome-shaped house is covered in grass and has the iconic circular door.
Situated on 1.7 acres of lush green forest, the Hobbit-style house looks like it belongs in The Shire, but is actually located in the small town of Pawling, N.Y.
Now on the market for $795,000, the two-bedroom dwelling offers 1,500 square feet of living space — plenty for elves, dwarves, and the odd wizard or two.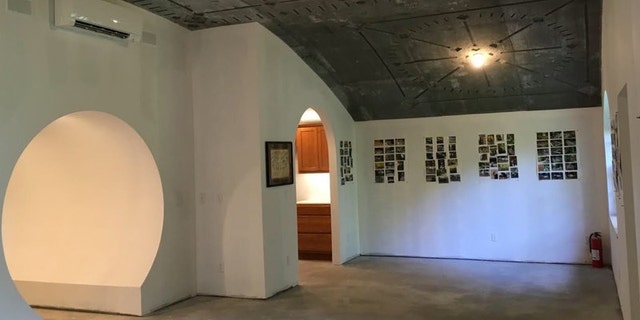 CHUMLEE OF 'PAWN STARS' LOWERS ASKING PRICE ON VEGAS HOME, AGAIN
Construction supervisor Costigan said: "I got the idea after seeing the amazing architecture of the hobbit homes. So, I thought to myself, I could achieve this challenge and build something like that it would be wonderful.
"However, the challenge became a reality and I started my project straight away."
Costigan purchased a derelict house and land in a wood in Pawling in early 2012.
"When I brought my wife to look at the place she loved it and said that this would be a perfect spot for the Hobbit house," he said. "Every time I stopped by the property I was struck by what a special place it was and how special it was going to be."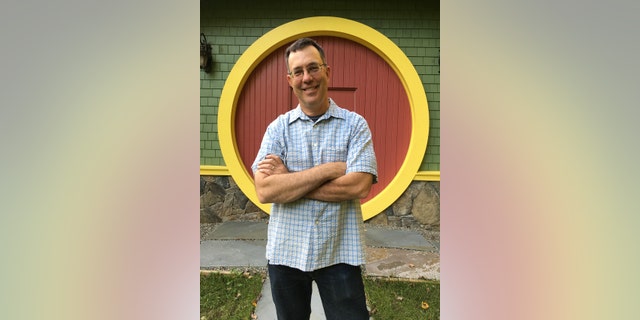 Costigan then got to work on his creation with the help of his wife Jo, 52, and kids Georgia, 26, Ethan, 24, Jude, 22 and Terrance, 19.
"The creation took seven years and a lot of weekends but I would like to thank my wife [and] children for giving me inspiration and strength while taking on this task." Costigan said.
After finally completing the project, Costigan, who has never lived in the property, decided to put the two bedroom, two bathroom house up for sale.
Costigan wouldn't reveal how much the build cost, but said it was "considerable."
7 THINGS HOMEOWNERS NEED TO DO BEFORE TEMPS DROP
Listing agent Gillian Stewart, who is marketing the property, said, "It's certainly something different and certainly not something which you would see every day, and added that the home "i built on top of iron ore mines, however the iron ore that came from the mines was used to make the bullets used during the war."
Taking its cues from J.R.R. Tolkien's fantasy novels, the home features rounded entryways, decorated ceilings, and stone trim with a unique diamond pattern. Walkways on either side of the house lead to a grassy, rooftop porch with fabulous views of the surrounding forest.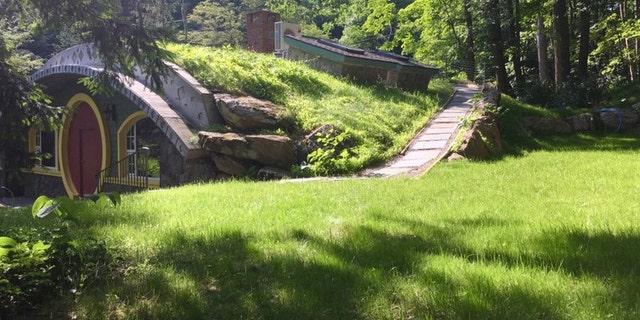 The structure is equipped with triple-pane thermal windows, which were imported from Ireland, and skylights brought in from Poland. To ensure the home remains cozy during the harsh winters, the place also comes with an electric fireplace and a Zehnder heat recovery ventilator, which ensures comfortable air quality. (The interior, meanwhile, has been left like a blank canvas.)
The acreage includes a small stream with walking bridge, pond, and waterfall. Despite the home's secluded location, New York City is only 90 minutes away by car.
FOLLOW US ON FACEBOOK FOR MORE FOX LIFESTYLE NEWS
"In the whole world, there are only a few people looking for a hobbit house so we know it's going to be a special person who buys it," Costigan added.