Hip shower heads for loft bathrooms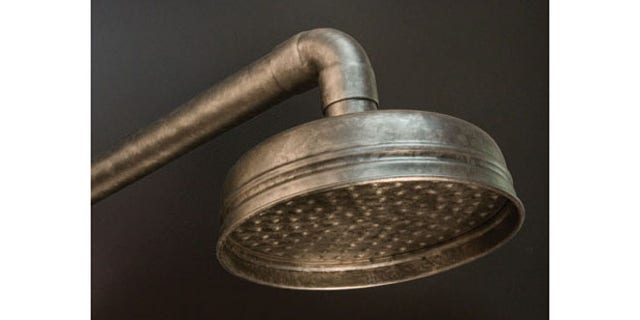 We should all be fortunate enough to be furnishing a loft. (Most of us are not.) Should you not be of the exposed-brick and enormous industrial windows crowd, these shower heads are still worth a look, just because they are beautiful. These shower heads are simple, but unusual. They're tough-looking but sophisticated. They have the right amount of chunk to look either modern, or rustic, or both. One is a bit sleeker and more feminine, but its odd triangular head is unique; it would definitely fit into a loft bathroom. Have fun drooling over these hip, hot shower heads, whether you are plumbing a bathroom in a loft or not.
The WaterBridge Shower Head by Sonoma Forge: There are several models of the WaterBridge exposed shower system, and they start at a list price of $2850. These rustic-looking designer shower heads are available in rustic copper, nickel, or oil-rubbed bronze. They are obviously an investment, but also a statement. The old-fashioned look belies a modern, water-efficient shower system. Nothing says, "My Internet start up is performing really well," like one of these puppies.
Gessi Segni Series: Although there are quite a few shower heads in the Gessi Segni Series, my favorite is the round tubular shower head. Though it is minimalist and futuristic, it expresses a sense of humor and whimsy.
TOTO Guinevere High Efficiency Shower Head: The chunky connection hardware and concave rim are what caught my eye. Though the TOTO Guinevere is a bit more demure than the previous two shower heads, it has enough personality to match an industrial chic loft bathroom. At around $200 for the arm and shower head together, it's on the affordable end of the spectrum.
Altman's Anti Lime Rain Shower Head: I love the long arm of Altman's Anti Lime Rain Shower head. It's an old fashioned feature that takes a regular rain shower head and turns it into something hip enough to be installed in a DUMBO loft by one of Brooklyn's best plumbers. Contact a dealer for prices.
Speakman Dounpour Rain Classic 96: Check out the curved neck on this shower head. It is graceful and unusual; perfect for the artist about town. If you're looking to add a bit of softness and grace to a loft bathroom, this is an excellent choice. The list price is $272.
Vola 080: Made by the Danish company Vola, this 5 and change inch, compact shower head is ultra modern and ultra efficient. It's an excellent space saver for smaller bathrooms, that certainly does not skimp on style or strength. Contact dealer for price.
Watermark Urbane: Made in Brooklyn (and therefore truly made in the USA), this tough guy has plenty of heft. Although the Watermark Urbane looks rustic, it's specifically sold to the luxury market and can be found in boutique hotels. Contact dealer for price.
Mico Designs 790-SQ-CP: This stout, masculine shower head has a chrome plated body and a very cool square flange. It is an excellent compact choice for a small shower stall. Contact dealer for price.
JADO Pyke Shower Set: I like this designer shower set because of its feminine, classic lines. The triangular shower head is a fun play on a classic look, that brings classic into the realm of loft-worthy. The estimated list price is $995 - $1224.
California Faucets 6 Inch Shower Rose: I love this shower head. If you're looking for the look of old plumbing, or if you want your plumbing to match your metal pendant lights or industrial upcycled chandelier, this shower head would be perfect for you. Shaped like an industrial metal pendant light, this shower head is available in 2.5 gpm or lower flow. It's available in 31 different finishes (!). Contact dealer for price.
Porcher Reprise Shower Kit: This is a compact, high end, designer rain shower head and faucet. The slightly asymmetrical design of the faucet flange marks the Porcher Reprise Shower Kit as a unique and arty piece. The chunky hex nuts that connect the shower head to the arm finish the look with an industrial edge. Contact dealer for price.
Chaya Kurtz writes for Networx.com.