Gift Guide: 8 Home and Garden Gifts for Under $40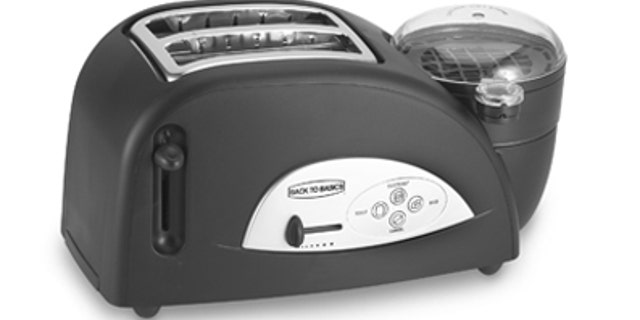 NEWYou can now listen to Fox News articles!
Black Friday marks the start of our annual mad dash to the mall, a time of year that can really stretch the old wallet. But times are tough these days, making it all the more important to have a few budget-minded gift ideas up your sleeve. If you want to get your loved ones some gifts that will still wow — without breaking the bank — here are a few under-$40 suggestions.
Around the Yard
Hammock: The snow might be gathering around the house and a bitter chill might run through the air, but that's all the more reason to start dreaming of summer. There are few better feelings than swinging free in a hammock on a sunny afternoon. At $18, the Texsport La Paz Hammock is an affordable way to remind a loved one that warmer days will soon be here.
Garden caddy: Anyone who gardens knows that it can be a real hassle trying to juggle a half-dozen tools while crawling around in the dirt. Fiskars' Garden Caddy ($11) solves that problem. Featuring pockets to stash shears, seeds, trowel and other items, the caddy fits around an ordinary five gallon bucket, giving you storage for larger tools, fertilizer or pesticides. Everything you need to tend a thriving garden, all in one place.
Around the Kitchen
Beer- or wine-making kit: While you can certainly get a nice bottle of wine or a quality case of beer for under $40, why not go a step further and get your booze-loving loved one a beer or wine making system? Mr. Beer's brew kit will give you everything you need to brew your first batch for a mere $40. If your loved one is more of a wine drinker, check out the Vino Italiano wine kit ($41).
Toaster/egg cooker: For dorm-room dwellers with no kitchen space, a hot breakfast can be a rarity. Back to Basics' innovative appliance ($35) combines an ordinary two-slice toaster with a side compartment to poach an egg or warm up a few slices of bacon. Sure it might seem a little gimmicky, but anything that can get a college kid to eat a proper breakfast is worth a shot.
Non-stick baking mat: Bakers know the treachery of a poorly greased cookie sheet. That perfectly baked batch of cookies crumble to nothing as you try to pry soft, sumptuous morsel from the cookware they've fused to in the oven. Silpat ($14-$39), however, offers a solution with their reusable silicone baking mats. Put one of these oven-safe mats between a baking sheet and your cookies, and your baked goods will slide right off the tray.
In the Garage
Multitool: For the Mr. Fix-it that has just about everything, but wants to fit everything in his pocket, there's the Leatherman Skeletool Multitool ($34), which can handle nearly any small job. Stripped down and made of aluminum to shave off precious ounces, the Skeletool is one of the lightest multitools on the market. Despite its pint-sized weight, it still features a screwdriver, pliers, a knife, as well as a clip-on carabiner for maximum portability.
Portable work light: In the garage, it seems like there's never enough light when you need it. And while you can try to shine a flashlight to reach that tight corner behind the engine block, that doesn't really leave your hands free to work. The Stanley SquidBrite ($30) has a set of bendable tentacles that grip tight to most surfaces, enabling you to position the light just right so you can get back to work.