Get this look: Sliding barn doors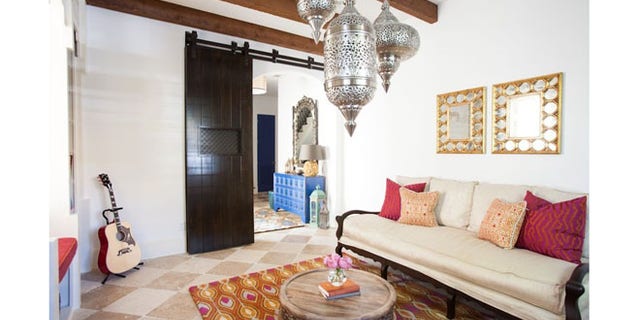 They're called sliding barn doors, but the popular, space-saving feature doesn't have to be country.
The barn door can come in nearly any material, explains Dallas-based designer Laura Umansky of Laura U, Inc. Interior Design, from steel and chrome to vintage wall panels and glass.
"There are many different things you can do," explained Umansky. "Stainless steel looks really sleek and contemporary somewhere in a loft, but something a little more industrial or rustic might be perfect for a French country [home]."
A barn door is a large paneled door installed on a track that lies flat against a wall. They've gained in popularity as a space-saver because the doors don't open out into a room; they've also become a design focal point, embodying and building upon the style of a home.
"It adds a little something to the interior," Umansky said. "You can make the doors custom, buy the hardware online -- it can be anything you want. What I think is interesting is that you see the mechanism; it's really tectonic."
One of Umansky's designs was for a writer who chose to have a barn door to create a more open floor plan.
"She wanted privacy but didn't want to close the room off," she said. "The great thing about it is that you can open the [barn] door all the way, and it also shows off the arched entrance."
Barn doors can be placed nearly anywhere, as long as you have wall space to slide the door to the left or right, as well as ceiling space above for installing the hardware.
"It's relatively compact, but if you have the wall space, you can absolutely do it," said Umansky.
Get more interior inspiration on Zillow Digs!
Related: