Frank Sinatra's former NYC penthouse hits the market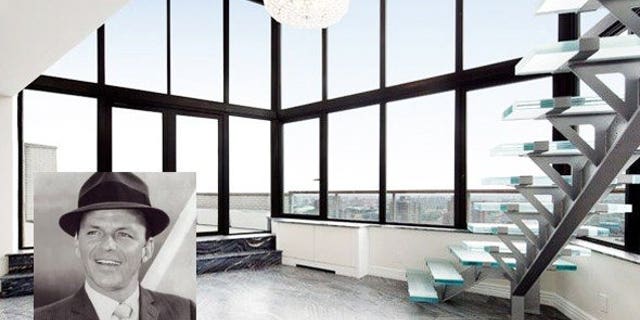 NEWYou can now listen to Fox News articles!
"I want to wake up in the city that never sleeps," crooned Frank Sinatra in his 1979 classic, "New York, New York." "And find I'm king of the hill, top of the heap."
Well, turns out his "little town" boy ended up being king of the hill, alright. Ol' Blue Eyes' former penthouse in New York City's Upper East Side has just hit the market -- for a kingly $7.7 million. Sinatra owned it from the time of its construction in the early 1960s until 1972, says the New York Post. The apartment was sold in 2010 for $2.49 million, according to our pals at Curbed, and has since undergone some sweet renovations -- including a glass spiral staircase that's "the exact same one used in the Apple Stores," the listing boasts. We're not exactly sure how we feel about that.
However, it does offer some pretty sweet views over the East River, a wraparound terrace, 18-foot ceilings, marble fireplaces, and even a putting green! See the home for yourself.
Jason Haber and Gregory Spock have the listing.
Related: