Five backyard additions to throw the best summer barbecue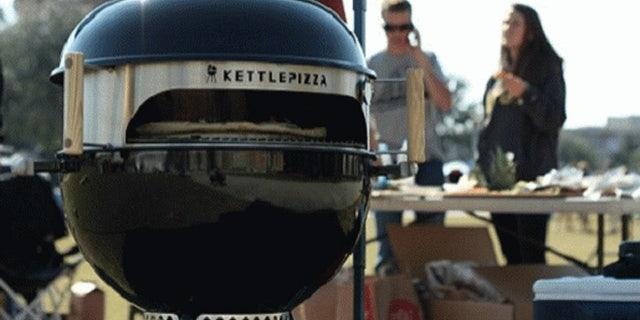 If you're planning on inviting the neighbors over for a big Fourth of July blowout, here are five backyard additions that will make your big party the most memorable one of the year.
Backyard Pizza Party
Burgers and brats are great on the grill, but why not change things up a little this year with a backyard pizza cookout? If you're flush with cash, you can spring for a high-end outdoor pizza oven, like the Fontana Gusto; but its whopping $5,000 price tag puts it firmly out of the reach of most people. For a more budget-minded option, you can transform an existing grill into a wood-fired pizza oven. The KettlePizza is a simple stainless steel spacer that works with most Weber grills, allowing you to easily slide your pies onto the grill. Add a pizza stone to your setup and you'll have perfect crispy crust every time.
Outdoor Movie Theater
Keep the Fourth of July fireworks going by putting on a show right in your own backyard. An outdoor movie theater is pretty easy and affordable to set up. First, you'll need a projector to put your movie on the big screen. While projectors often run a few hundred dollars, you can usually rent one from a rental outlet or, if you have a kind boss, borrow one from work. Next you'll need a surface to show the film on. A white bed sheet pulled taught against the side of your house makes a great DIY screen for your outdoor movie. Setting up a home sound system outside will ensure that you have the sonic oomph to go with your backyard big screen. However, if you don't have a high-powered sound system at home, a simple set of powered speakers won't bust your budget and should get the job done. Finally, put out a few lawn chairs, blankets or patio furniture and let your guests kick back under the stars with a summer blockbuster.
A Little Privacy
Keep out nosey neighbors and make your get-together feel a little more intimate with a simple privacy screen. While you can build a wooden privacy fence, it's a lot easier to let nature do the work for you. Bamboo is extremely fast-growing and will reach heights that make it perfect for protecting your privacy. It will also grow well in pots and planters, which means you can move it into place when you need it, and then shift it off to the side when the party is over.
A Cooler Table
Keep the ice cold drinks flowing all night long with a picnic table that does double-duty as a cooler. Simply remove the middle plank of a standard picnic table and insert a galvanized steel rain gutter into the opening. Drill some holes in the bottom of the gutter to allow the water to drain as the ice melts and voila! Your guests won't ever have to get up to get another icy soda or frosty beer.
Tiki Bar
Add a little retro charm to your backyard party this summer by building a simple tiki bar. With a little lumber, bamboo and a few tiki torches for flourish, you can have your own mid-century status symbol. The DIY Network and Popular Mechanics both have great step-by-step guides showing you how to get it done in a weekend. However, if you'd rather not take a DIY approach, you can also purchase a pre-fabricated tiki bar.