Finish rooms the elegant way with Marquetry furniture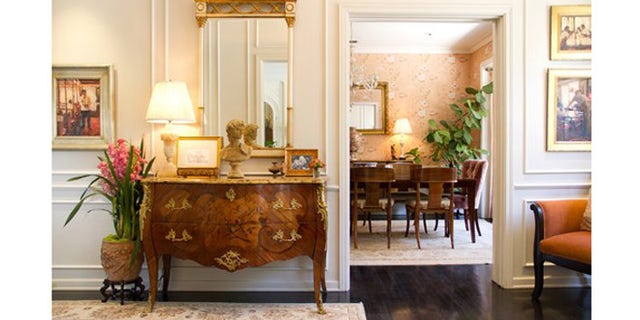 When I'm out shopping for a special piece of furniture for a project, I always keep my eyes open for marquetry furniture. Marquetry is the art of applied veneer, usually wood, in a pattern or picture. The art form of marquetry is similar but not the same as parquetry, which is wood inlaid in a geometric pattern, most commonly seen in floors. I love using marquetry pieces for their textural qualities, which include a multitude of colors and wood grains.
My favorite marquetry pieces are French and Italian, which typically show flowers, instruments and sometimes even landscape scenes, all made from wood veneer. The wood veneer may include mahogany, walnut or maple as well as more unusual materials, like ebony, ivory and mother-of-pearl. Marquetry is a beautiful art form that requires hours of precise cutting and application; the outcome is usually an heirloomworthy piece that adds a touch of distinction to a traditional or eclectic room.
This is an example of a French-style 19th-century marquetry desk. The drawers display a delicate flower and vine pattern, which is embellished with gold ormolu on the Queen Anne-style legs.
This formal powder room features an antique 19th-century French marquetry commode. Its look is quite formal paired with the 19th-century carved and gilded Italian antique mirror. Note the gold finish of the faucets, adding another touch of opulence.
Even simple marquetry can add a distinctive and surprising touch. This starburst design adds elegant detail to this warm wood fireplace surround and mantel.
Truly a work of art, this pool table features several different wood grains for a fanciful custom effect. The different wood grains contrast one another beautifully.
This wood box has a pattern typical of the 19th century. Whenever I see boxes like these in antiques stores, I always buy them. They look good anywhere, including in traditional and modern interiors.
This is a good example of how marquetry can work in a transitional setting. One elegant starburst centered on the vanity adds simple elegance to this powder room.
Layers of texture are featured in this rosy powder room, including marquetry on panels, the crown molding and the frame. Notice the tone-on-tone wallpaper that tops off this room to perfection. I'm sure visitors make several visits to powder their nose.
A casual traditional living room is graced with an antique glass-front armoire. This piece features several different wood grains. The patterns are more typical of Italian styling, with landscape scenes on the crown portion and the bottom drawers.
A French 19th-century commode graces this formal entry. The pattern is typical of this era and features two tones of mahogany depicting flowers and instruments on the sides. The piece is topped with a vintage marble slab.
Related:
Houzz is the leading online platform for home remodeling and design, providing people with everything they need to improve their homes from start to finish -- online or from a mobile device. From decorating a room to building a custom home, Houzz connects millions of homeowners, home design enthusiasts and home improvement professionals around the world. Charmean Neithart is a contributor to Houzz.