Finding the Right Flowers for Mom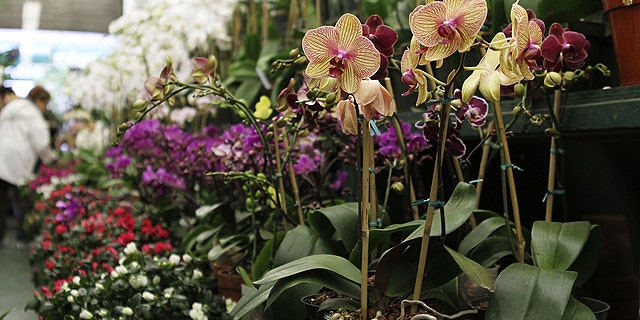 It's one of the most predictable and popular gifts for Mother's Day - flowers. But with just a little extra thought, the ordinary can be extraordinary this year.
Whether you buy a fresh bouquet of roses or a bay leaf topiary there's plenty of options that can brighten the home for mom. Some ideas can even remind her of how much you love her well beyond her special day this spring.
Compliment her personality
Florists suggest that you should first consider your mom's personality and what she enjoys in her home before making your purchase. "Is she someone who likes to dote over her flowers?" asks Maryann Finegan, the owner of Foliage Garden in New York, NY. "Or is she an avid gardener who would appreciate something more unusual?"
When selecting the bouquet or plant, think about where she can keep it and how much space she has on the counter or tabletop.
"It's about how it fits into her life," Finegan says. "Does she have a favorite color? Do you want to remind her of the flowers she carried at her wedding? It's a very personal thing. Moms always have favorites."
Make it meaningful
If you're having trouble figuring out what would mean the most to your mother, Tom Doyle, the owner of Springdale Florist and Greenhouses in Darien, CT, says to ask yourself this question: "what doesn't she like? (If she would say,) I hate carnations. I hate mums. That leads you into something."
While red roses mean love, you don't necessarily need a whole bouquet of the flower. Doyle said one customer told him he wanted just "one red rose in the middle of it" to express his love for his mom.
Handpick her bouquet
Sometimes simple is better. If you picked flowers for your mother from a nearby field when you were a child she might enjoy it if you bring back the tradition.
When putting together a bouquet of handpicked flowers, Finegan encourages people to take proactive steps to help keep the arrangement fresh.
"Pick them with as long of stems as you can and cut them as soon as you get home with a sharp knife - not scissors," Finegan says. "Immediately put them in water with a little bit of sugar."
Think beyond Mother's Day
Instead of a bouquet of fresh cut flowers that will wilt within a week or two, buy blossoms in a pot versus a vase instead.
"Someone who is a gardener may prefer a nice planter to put on the step," Doyle said.
For moms who would prefer something inside, florists recommend azaleas, hydrangeas or orchids, which you can likely find blooming this time of year.
"An orchid is very easy to care for," Finegan said. "It stays for a long time. You can even try to re-bloom it."
Gifts that keep on giving
From herb gardens to lemon trees, there are plenty of options that will remind mom of your love for her throughout the year. When picking a selection of herbs or a fruit tree, think about where she can put it. Some need more natural light than others.
If you want something unusual, a small lemon tree can be a beautiful addition inside or outside a home.
"Everyone loves the smell of citrus in flower," Finegan says. "It's just everything positive. Citrus just lingers in the room, and it's a perfect scent. After (it blooms), you get the lemons which you can use."
While lemon trees require a significant amount of direct sunlight, there's a host of herbs that require much less.
"Things like thyme, oregano, basil - all of those do well inside," according to Finegan. "She gets to keep it and cook with it. She can remember her children sent it. There's something very satisfying when you get to use a plant for a long time."
A bay leaf tree is also a nice alternative if your mom's kitchen doesn't have much light. Florists say the tree is also popular because of its pretty, dark foliage.
"They usually come in lollipop topiary shapes so that's one of the things that make it so appealing," says Finegan.
Make it easy for mom
For moms that might not have a green thumb or simply don't like to be bothered by watering, Finegan says succulents are a great option to add color to your mother's living room or kitchen without adding much trouble.
The desert plant comes in a variety of colors: greens, blues, pinks and burgundies. Sometimes, a variety are mixed together to form an arrangement.
"They're very sturdy with little care," says Finegan. "(The succulents) don't have insect problems and they're very beautiful."
Click here for more from FoxNews.com Home and Garden