Edris House: A Pristine Example of Sinatra-Era Cool in Palm Springs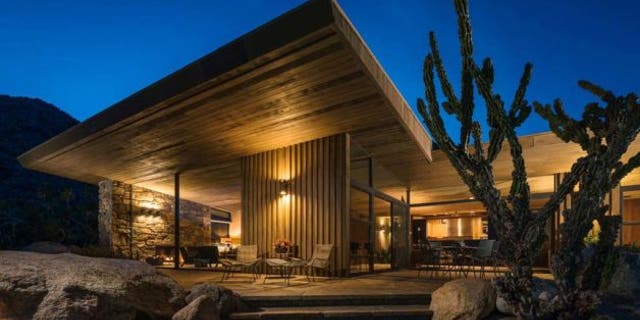 If desert cool has always been on your wish list—and you have $4.2 million to spend—now's your chance to step into a true Palm Springs original. Built in 1954 by esteemed architect and icon of desert modern style E. Stewart Williams, the Edris House in Palm Springs, CA, is a primo example of modernism. According to its seller and listing agent, it's a true blast from the past, pristinely preserved in the desert air.
Williams originally built the three-bedroom, three-bath home for William and Marjorie Edris (hence the home's moniker). Williams had previously designed Frank Sinatra's Twin Palms Estate home, in 1947.
In fact, Williams had begged off doing residential work by the mid-'50s, but agreed to design the Edris House because he was close to the couple and believed working with them would be rewarding.
realtor.com
Looking at the home, it's easy to see how the visions of the Edris family and Williams gelled into such a cohesive example of desert Modern.
As current owner J.R. Roberts says, "Stew envisioned a home that looked like it grew from the ground rather than falling from the sky."
Measuring 2,700 square feet, the home was designed to be built into its environs, from the swimming pool, which incorporates indigenous rock and landscaping, to the commanding views of the surrounding valley seen through the floor-to-ceiling windows.
realtor.com
There have been only two other owners of this iconic home since the Edris couple parted ways with it. After purchasing the place in 2001 for $1.2 million, Roberts took pains to maintain the original designs and intentions of the home.
"The house as it exists today is exactly how the house was in 1954," Roberts says. The Edris House has been designated a Class 1 Historic Site in Palm Springs and earned a spot on the National Register of Historic Places.
And while the price may seem oversized for a three-bedroom home, if you ponder the fact that it's practically a portal to a bygone era, $4.2 million is a relative bargain.
For more photos and details, check out the full listing.
Homes for sale in Palm Springs, CA
Learn more about Palm Springs, CA
The post Edris House: A Pristine Example of Sinatra-Era Cool in Palm Springs appeared first on Real Estate News & Advice | realtor.com®.