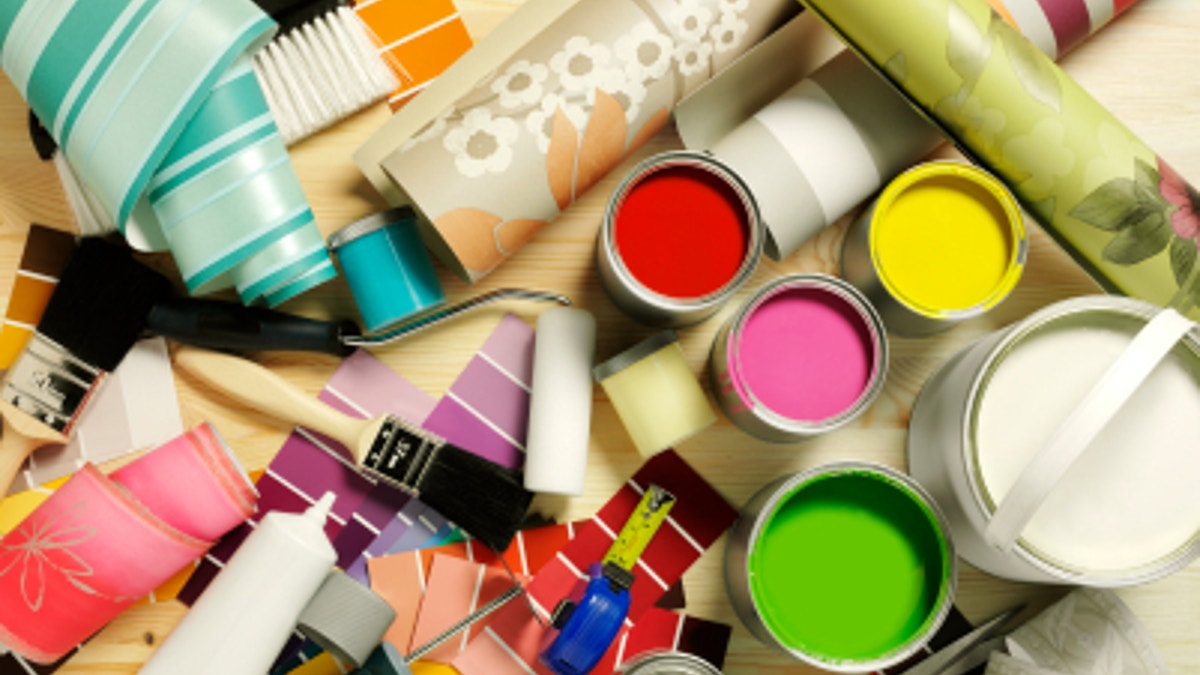 Feeling crafty? Here are four projects you can finish in a couple of hours that can help you tie together or add interest to a room.
Get creative with book pages
Ani Semerjian, an eastern Pennsylvania-based interior designer, suggests framing pages from a favorite children's book and arranging them as wall art in the nursery or your baby's room. She suggests using pages from charming Little Golden Books that are full of cute and colorful illustrations. You might be surprised how many ways you can use book pages in decorating. If you are a bibliophile and don't mind tearing out and recycling pages from extra books, you can do everything from making a table cloth to constructing wreaths. Check out TheNester.com's post about decorating with book pages for more ideas and inspiration.
Make your own groovy lava lamp
This decorating activity doubles as a science project that you can do with your child. Gather some glass jars. Fill them with about three inches of water. Add food coloring until the water turns to your psychedelic shade of choice. Add one-third of a cup of vegetable oil and wait for it to settle. Sprinkle in some salt, which will cause the oil to sink to the bottom of the jar. As the salt dissolves, the oil will float back to the top, giving the jar its lava lamp look. Make a few lava lamps and use them to brighten up your kitchen. Keep your far-out lava lamps going by adding more salt.
Invite tiny gnomes into your garden
These adorable mini garden gnomes from ApartmentTherapy.com are easy to make and fun to decorate. Place a water cooler cone upside down on the table and put an empty toilet paper tube on top of the pointed end. Draw a circle on the cone where the two pieces meet, and cut the cone along this line to make the gnome's little hat. Place your now smaller cone pointed side down in the roll and push it with a pencil until the tip touches the table. This creates the mold for your gnomes. Mix some plaster and pour it into the tube. Allow the plaster to set and peel away the cardboard from the tube and paper from the cone. Now you can paint and decorate your gnome. Use dimensional fabric paint to make its beard. Seal your work with a layer of polyurethane (a thermoplastic padding).
Spruce up boring switch plates
You can add personal touches to any room by embellishing plastic light switch plates. Semerjian suggests covering the switch plates with fun wallpaper, wrapping paper or craft paper. Apply mod podge (a type of glue that is useful for decoupage) to the back of the paper and front of the switch plate. Cut the corners so you can fold back the edges. Cut out the holes for the light switch. Apply at least two more coats of mod podge over the top of the paper and let it dry. Click to check out JonesDesignCompany.com's version of the project.