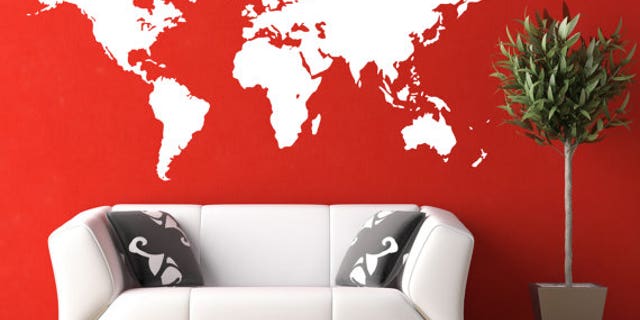 There is a wide, wide world out there and most of us have dreams and memories of exploring our favorite cities across the globe. Whether it's the rooftops of Chicago, the back alleys of Paris, the African delta, or the moon's surface, there is something so fascinating about maps. As works of art, maps both new and antique have long been prized for their beautiful artistry as well as the far-off places they represent. In the electrical age that we live in, we're getting used to maps that we can call up on our smart phones or GPS devices. For decor, though, there is nothing like a real, hand drawn map.
World Map Wall Decal by Zapoart: Dress up a plain painted wall with this large (44"w x 22"h) World Map vinyl wall decal. These map decals come in a myriad of color choices to match nearly any color scheme. Perfect for a kids room or an office corridor or waiting room. Decals are easy to apply and remove. $29
Map Garland of Hearts by Bookity: This sweet little map garland is made by fashioning hearts out of vintage maps and stringing onto simple twine, creating a lovely and colorful garland. The multi-sized hearts are about 3.5" and the garland stretches to over 12'. String on a fireplace mantel or over a baby crib and dreams of travel will be sure to follow. $28
Old World Map Coasters by PrayerNotes: Mounted on small wood boards, these Old World Map coasters are antiqued and gold stained. Made to order, these are truly tiny works of art. The coasters come in sets of four, but single coasters can be purchased as well. $16
Bespoke Map Heart by Bombus: Choose your favorite location and the folks at Bombus will source a vintage map and create a one-of-a-kind Bespoke Map Heart to order. Chose from a single larger heart image, or a group of three smaller hearts, the pieces are then mounted in a handmade frame. Winner of the "Gift of the Year" in the 2011 Make Awards. $79.12
Plan de Paris Print from Ballard Designs: This Plan de Paris Map depicts the city Hemingway called "A Moveable Feast". This is a reproduction of a 19th century map found in an antique atlas and depicts the winding streets and neighborhoods along the Seine. $499
World Map Wall Art at Pier 1 Imports: This World Map wall hanging is based on a 17th Century European view of the world. This large mounted map is perfect for a den or entryway and measures 47" wide – a worldly way to fill a wall. $199
Suzanne Kasler Map Giclee from Ballard Designs: Well known interior designer Suzanne Kasler's line for Ballard Designs has been a sure-fire hit among design enthusiasts and her Map Giclee Triptych is no exception. These printed maps are reproductions of actual 1937 maps used in American classrooms and depict the US, Europe and Africa. $299 each
Antique Lunar Map at Restoration Hardware: We've long been gazing at the moon and Restoration Hardware's Antique Lunar Map offers us a century-old view of this romantic place. Reproduced from a 1910 illustration of the view of the moon from Leipzig, Germany. Overscale at 63" wide, the map is encased in a hand-finished black ribbed frame with gold edging. $995
DIY Map Projects courtesy of Paper Scraps: Create your own map art projects courtesy of Paper Scraps on Flickr. Free, downloadable map art is available for your own use.
Linda Merrill writes for Networx. Get home & garden ideas like this on Networx.com.