Deck the halls in red, white and blue: 11 over-the-top July 4th decorations
It's just the birthday of the most talked-about nation on the planet. No big deal. NOT. Independence Day is your chance to have fun exercising your freedom to decorate. With a bold red, white and blue color scheme, it's easy to be "that house" on the block. Here are a few fun pieces to get you started.
1. Star Shower Patriot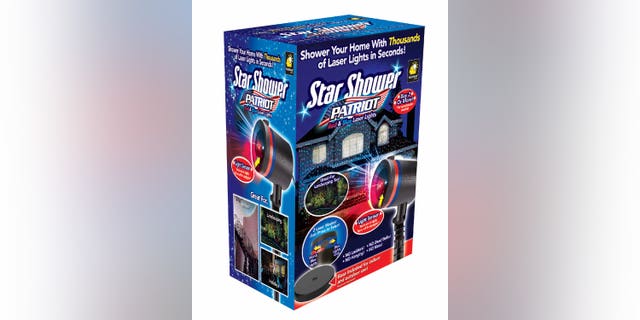 Cover your house with 600 square feet of temporary stars with the new Star Shower Patriot. The projector's one light source produces thousands of red and blue stars. Available for $59.99 at national retailers like Bed Bath & Beyond, Target and CVS or online at www.bulbhead.com.
2. 4-Piece America Bathroom Decor Set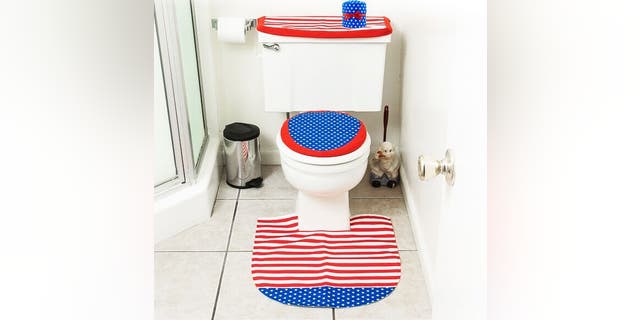 Show you're really serious about celebrating the 4th of July by outfitting your bathroom with this patriotic four-piece set from Wayfair.com. For $15.99, you get a stars and striped toilet seat cover, toilet tank cover, matching rug and tissue box cover.
3. Patriotic High Heel Storage Chair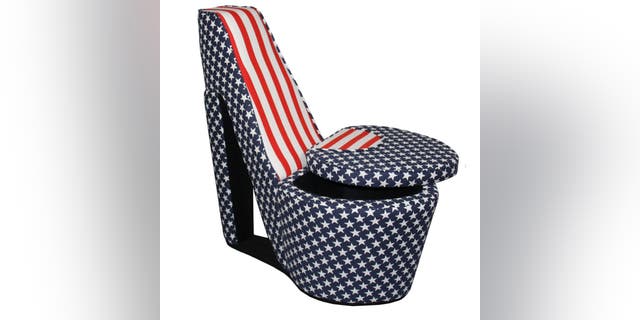 Storage meets stiletto in this funky high heel ottoman. Covered in stars and stripes and available in two styles, this statement piece is ideal for a patriotic party. Stash blankets or books under the seat in the hidden compartment. Available for $132.99 at Wayfair.com.
4. Larger-than-Life Uncle Sam Doll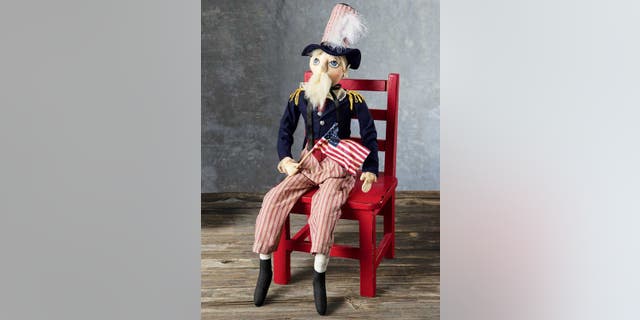 Even the most patriotic scarecrow has nothing on this Uncle Sam doll from Olive & Cocoa. With his "jaunty stovepipe hat," pin-striped slacks and navy blue top coat, he could easily win a best-dressed doll contest. The price tag, $118, may seem steep, but you'll understand when you see the intricate detail in his hand-painted face.
5. Red, White and Blue Hammock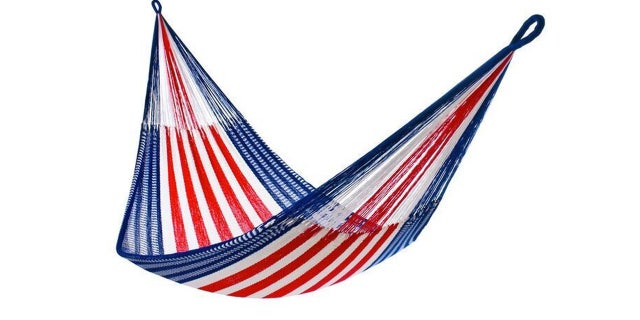 Pay homage to your country by swinging to sleep in this"star-spangled" hammock from Houzz.com. Available in double ($199) and family ($279) sizes, this comfortable piece will quickly become a backyard furniture favorite. It even comes with a tote bag so you can pack it with you as you barbecue hop.
6. Inflatable Uncle Sam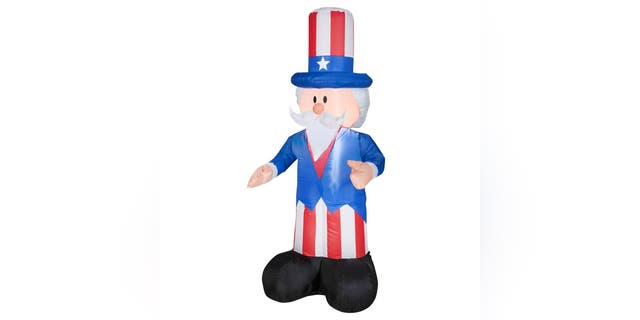 With his signature white mustache and beard, this 4-foot-tall jolly old guy could easily be mistaken for an inflatable Santa Claus. But thanks to his red white and blue ensemble—complete with floppy top hat—he screams Uncle Sam. Available for $24.99 in At Home stores nationwide.
7. Patriotic Mustache Rug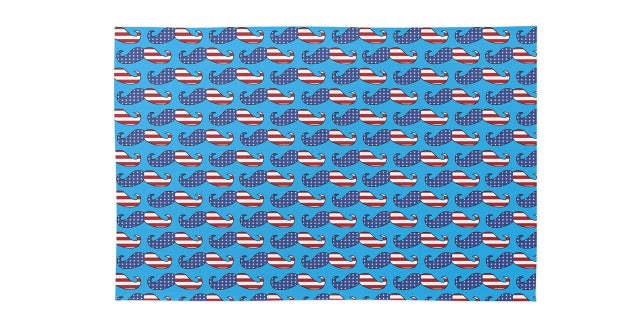 Swap out your everyday welcome mat for this eye-catching patriotic rug. Designed by Art Vixen, it features dozens of flag-themed mustaches, yes, mustaches. Available at Society6.com starting at $28 for the 2 ft. by 3 ft. size.
8. Patriotic Wind Chimes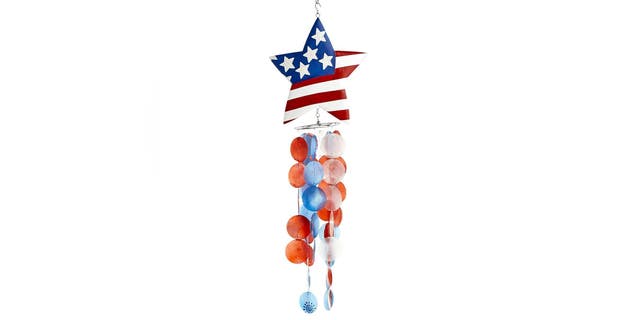 Just add wind. With these patriotic wind chimes, you and your neighbors can be serenaded with the sweet sound of colliding capiz shells. Available at Pier1.com and in select stores for $39.96.
9. Americana Glimmer Strings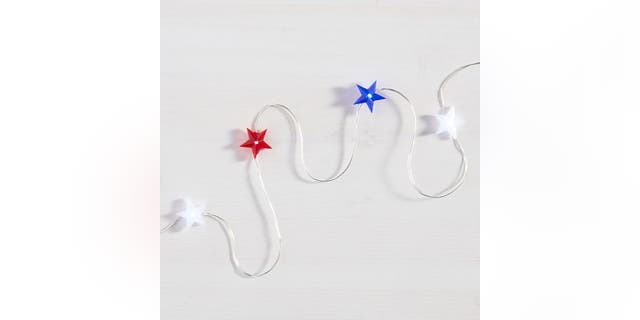 Go glimmer and go home with these shimmery Americana star glimmer strings. Each 10-foot-long strand bearing battery-powered LED lights is $19.96 at Pier1.com and in select stores. Use the built-in timer to shut them off when you're not home, or buy the handy remote accessory.
10. Patriotic Shower Curtain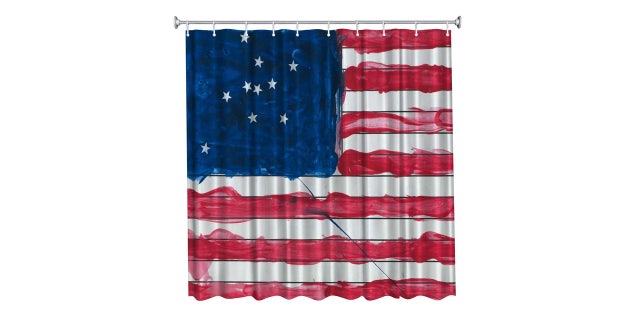 Turn your child's American flag finger painting into a meaningful shower curtain at Plumprint.com. Simply upload an image of their amateur artwork or mail it in and $82 and 10 business days later you'll have a custom shower curtain on your doorstep.
11. Uncle Sam Pinata Hat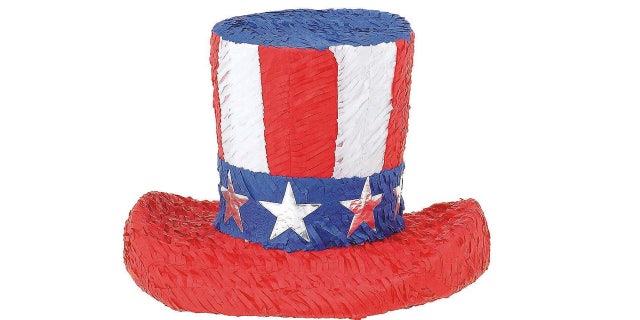 Say yes to décor you can destroy. This Uncle Sam Pinata Hat will be a hit, literally, with the kids at your 4th of July celebration. To keep with the patriotic theme, fill with red and white starlight mints. Available for $14.99 at ToysRUs.com.