California couple finds time capsule message during home renovation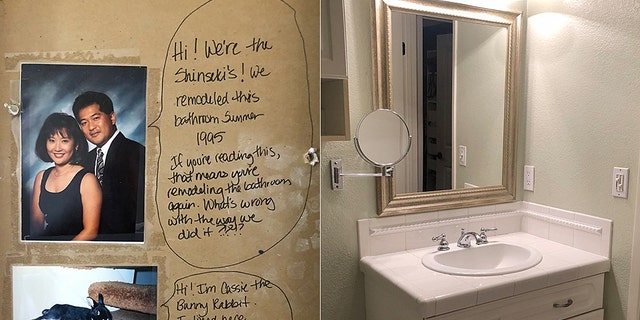 The writing was on the wall when a California couple decided to renovate their bathroom.
Twitter user Alex Monney and his wife, Jessica, said a contractor doing demolition of their home's bathroom discovered messages and pictures left in their wall by a couple who had lived there in the 1990s. The home appeared to be located in San Jose, according to Monney's tweet.
The message read: "Hi! We're the Shinsekis! We remodeled this bathroom Summer 1995. If you are reading this, that means you're remodeling the bathroom again. What's wrong with the way we did it?!?!?"
A taped picture of the Shinsekis accompanied the handwritten note.
MARINE VET GETS SMART HOME (AND INDEPENDENCE) FROM GARY SINISE FOUNDATION
Below it was a picture of what appeared to be the Shinseki's pet rabbit.
"Hi! I'm Cassie the Bunny Rabbit. I lived here too! (I'm potty trained!)," the note said. "I'm going to be the next Cadbury Bunny."
Jessica Monney tweeted that the surprising find "made my day."
She also shared pictures of what the bathroom looked like before demolition.
"If you know me, you know I love house projects. However, even I think I might be a little crazy for kicking off a bathroom remodel 4 weeks before I'm due," she wrote. "Bye bye bathroom!"
The image of the Shinsekis' message was posted by Alex Monney on Tuesday and went viral, gaining more than 11,000 retweets and 53,300 shares as of Wednesday.
It also prompted Twitter and Reddit sleuths to help the Monneys track down the Shinsekis.
One Twitter user, named Jay Shinseki, tweeted back at the couple to say he believed the picture was of his younger brother.
Another Twitter user, Elissa Shinseki, also replied to the couple's post and said she was "at my grandparents [home] and working on figuring this out!"
FOLLOW US ON FACEBOOK FOR MORE FOX LIFESTYLE NEWS
She said her grandparents were certain the man in the picture was not former Veterans Affairs Secretary Eric Shinseki.
"My grandpa is first cousins with General Eric, so we're convinced it's not him," she tweeted.
Fox News reached out to the Monneys and Jay Shinseki for comment, but did not receive a response.