Best DIY apps for around the home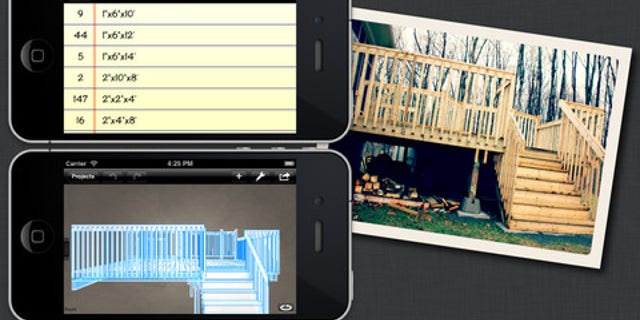 NEWYou can now listen to Fox News articles!
If you've ever picked up an iPhone and wasted several frustrating hours flinging ill-tempered birds at pigs, or slicing and dicing a never-ending torrent of flying fruit, you know what wonderful time wasters these machines can be. But games aside, mobile devices like tablets and smartphones are also incredibly useful tools, featuring loads of apps that can help you with DIY projects around the home.
And because phones and tablets are, first and foremost, made to be mobile, they are the perfect devices to bring along while you master a new skill in the garage, kitchen or garden.
So whether you're looking to take up a new hobby or knock a major project off your to-do list, these great DIY apps will show you how to get it done.
Grow a Garden: Perfectly timing a garden so that you always have something in bloom and something fresh for dinner can be a tough task. A well-planned garden should be staggered, so that your once-bountiful backyard isn't empty by late summer.
Garden Plan Pro (iPad) takes the guess work out of garden design, telling you what to plant, when to rotate crops and offering up tons of useful growing tips. The app also lets you map out your garden so you can make the most of your arable land and figure out which plants to put in full sun, and which could use a little shade.
Carpentry: If you've every struggled to put together some unpronounceable, pine-clad abomination from Ikea, you know that we aren't exactly living in a golden age of furniture design. Maybe it's time to leave the cheaply built big box store furniture behind and start building your own. For all the would-be wood-workers out there, there's Woodcraft (iOS), an app designed to help carpenters make virtual 3D models of their creations. By allowing you to visualize your ideas and get precise measurements before you start building, the app saves you a ton of wasted lumber and a bunch of headaches.
Interior Design: A major remodeling job at home can be a time-consuming project, but you can cut down on the guess work with an app like Home 3D and Room Design for iOS or Home Design for Android. By allowing you to arrange furniture, test out finishes, tiling, paint colors and a number of other design choices, you can make sure your renovation looks right – before you pick up a single hammer or hire a contractor.
While these powerful apps give you a number of different design choices, you may just be looking to pick a new color for your walls. For a simple wall painting job, check out Color Smart from Behr (iOS/Android) which allows you to match a color from a photo and then see how that color would look on your walls.
Butcher Like a Pro: If you'd like to sharpen your home butchering skills, check out Pat La Frieda's Big App for Meat (iPad). Giving you a rundown of practically every cut of meat under the sun, the app instructs you in useful butchering skills like how to french a rack of lamb or grind your own hamburger. With loads of instructional videos and 3D animations, the Big App for Meat will transform you into a meat expert in no time.
Brew Some Suds: From the Whiskey Rebellion to Prohibition-era gangsters, much of this country was built on DIY booze. If you've always dreamt of brewing your own, there are a number of apps out there that can help. Mastering the math is one of the biggest challenges of home brewing. Getting the perfect ratio of water, hops and barley, which all have to be brewed for very precise amounts of time, can be a tricky undertaking. Apps like Brewzor and Home Brew Calculators for Android, or iBrewMaster for iOS can ensure that your recipes are perfect from start to finish.