But microwaves are OK: Bay Area rental agreements can come with 'no cooking' clauses
Renters looking for a place to live near San Francisco might be wise to choose a spot near their favorite takeout joint.
Landlords in the Bay Area are reportedly cooking up rental agreements with stipulations that would prevent or severely restrict cooking, or even having an oven, inside the space, according to a recent report by the SFGate.
SEE IT: TINY ST. LOUIS APARTMENT FEATURES BATHROOM/KITCHEN COMBO
The article, published last week, reports on more than 90 recent Bay Area Craigslist housing listings in the Bay Area that featured "no cooking" or "light" cooking-only clauses.
As of Monday, there were still more than 80 hits. A similar search of Craigslist in New York City, which has a larger population than San Francisco's Bay Area, returned less than 20 listings with such stipulations.
The majority of the Bay Area listings included rooms for rent within larger apartments or houses, though some were for studios or in-law apartments attached to larger dwellings.
For instance, one 500-square-foot studio apartment located near Stanford in Palo Alto advertises a microwave and a refrigerator, but clearly states "no cooking" in the listing. However, the $1,500-per-month studio includes an outdoor area "with an electric outlet for light cooking."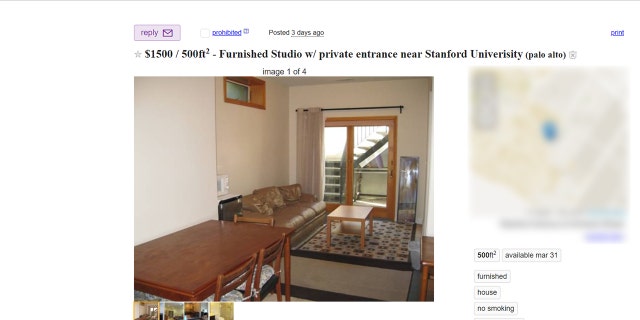 TWITTER REACTS TO $1600-PER-MONTH NYC LISTING: 'LITERALLY A HALLWAY'
Another Palo Alto studio, going for $1,899, even features what's described as a "kitchenette" — a fridge and microwave but no stove or oven — but again includes the "no cooking" stipulation.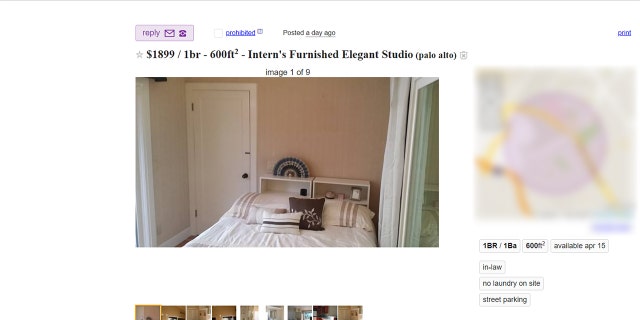 The SFGate also reported on a $1,790 bedroom for rent in San Francisco's West Portal neighborhood that didn't allow any cooking.
Many of these same listings also stipulate that "no overnight guests" be allowed during the duration of the rental, the outlet noted.
The SFGate further reported that federal law does not require rentals to include kitchens, nor does California at the state level. (California law does not require landlords to supply refrigerators or ovens, either.) San Francisco, among other cities, require at least a kitchen, but landlords are allowed to restrict cooking within the lease agreement with the tenant.
CLICK HERE TO GET THE FOX NEWS APP
California's safety regulations do, however, require at least a kitchen sink.