Attack of the Dome: This Week's Most Popular Home Is a Geodesic Gem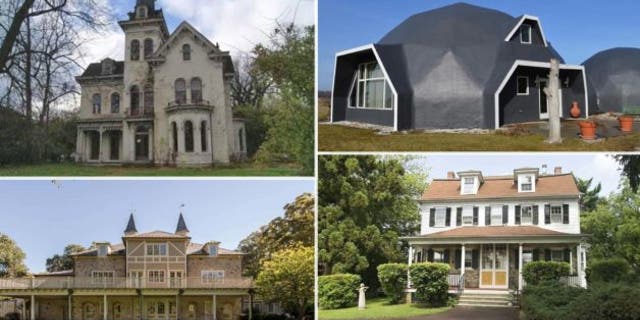 Endlessly fascinating trends emerge every week when we dissect the data on the most-clicked homes on realtor.com®. We obsess over these amazing abodes, analyze them, sometimes even puzzle over them. So what are the latest fads indicated by our pinnacle of popular properties? Here are some of the things we noted:
older
Rex Ryan
Sam Hinkie
While you ponder a dome dwelling side hustle in Indiana, have a look at the rest of this week's most popular properties.
Price: $200,000
Why it's here: Built in the 1930s, this adorable home oozes vintage charm. We're particularly enamored by the stone room outfitted with a cozy fireplace. We're also in love with the price on this four-bedroom classic—it's only $69 per square foot!
realtor.com
———
Price: $990,000
Why it's here: Sitting on 2 acres of land a few miles north of Lake Pontchartrain, this Acadian-style home gives off an old-timey Southern vibe from the outside. However, the interior of this 1989-built home is all modern. For a buyer looking to spread out, the five-bedroom house comes with over 7,400 square feet of living space.
realtor.com
———
Price: $59,500
Why it's here: We'll assume the ominous picture of this old building has something to do with its popularity. With the property being sold as is, an industrious buyer will have a multiyear restoration project on her hands. But at only $7(!) per square foot, it's worth the challenge.
realtor.com
———
Price: $200,000,000
Why it's here: It's the Spelling Manor. Fun fact: If a buyer puts down 20% ($40 million), the mortgage payment would be a cool million each month. It's time to start saving for it!
realtor.com
———
Price: $315,000
Why it's here: We're sensing a trend with vintage homes this week. This '20s charmer sits on a couple of acres and offers two awesome options for sipping sweet tea: a beautiful back deck and a fabulous front porch.
realtor.com
———
Price: $250,000
Why it's here: This budget-friendly, Cape Cod–style home is only a short drive to Cleveland. The four-bedroom home also boasts a finished basement, which we already see as a perfect man cave. Go, Browns?
realtor.com
———
Price: $1,100,000
Why it's here: Speaking of football, it's the home of deposed Buffalo Bills coach Rex Ryan. Ryan will work for ESPN on Super Bowl Sunday, perhaps providing a glimpse of his future as a well-compensated talking head. Hoist a nacho in his honor as you browse the pictures of the beautiful Buffalo-area home he's leaving behind.
realtor.com
———
Price: $549,900
Why it's here: Once owned by Dick Portillo, aka the "Hot Dog King of Chicago," this home has mustard a fair amount of interest, according to listing agent Frank Paganis. We're in love with the home's massive indoor pool accompanied by a Tiki bar, but the rest of the five-bedroom house is also worth relishing. Paganis told us the wiener monarch sold the home in the late '80s, but the current owner "has a great eye for design." That eye has translated into a quick sale—the agent said the home's already under contract.
realtor.com
———
Price: $3,100,000
Why it's here: Former Sixers GM Sam Hinkie's home slid one spot this week, finishing as runner-up in our popularity contest. Stay tuned—finding the right buyer is just a part of The Process.
realtor.com
———
Price: $299,000
Why it's here: It's been too long since we've seen a dome home leap to the top of the list! And this isn't just any garden-variety geodesic wonder. Painted black and known locally as the "Igloo House," this dome also has a separate pole barn situated on over 3 acres of land. Convert the pole barn into a living space (barndominium!) and you can be the Airbnb ace of northern Indiana.
realtor.com
The post Attack of the Dome: This Week's Most Popular Home Is a Geodesic Gem appeared first on Real Estate News & Advice | realtor.com®.