Argyle-chic crosses from clothes to the home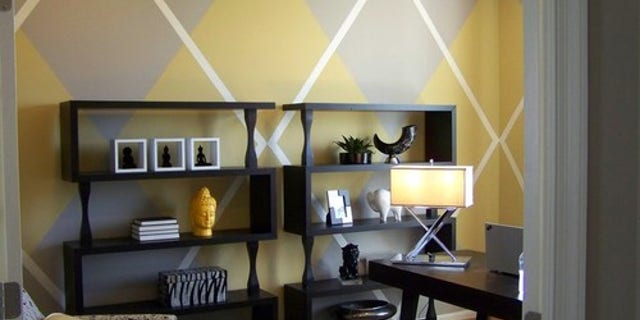 NEWYou can now listen to Fox News articles!
Quick: What comes to mind when you think of the word "argyle"? You probably pictured woolen socks, Scottish golf sweaters and New England prep schools. But this beloved pattern, essentially crisscrossing lines that overlap tiers of diamonds, has claimed a place in home interiors as well. Today's interpretation of argyle has less in common with knitting needles than with vibrant decor trends -- just take a look at the examples below.
An oversize argyle pattern on this wall plays with scale in a wonderful, unexpected way that brings the room to life.
Can you spot the argyle in this room? Look closely ... it's in the light fixture.
Tile quadrants separated by crisscrossing strips of grass create a wonderful riff on argyle style in this landscape.
This playful argyle pattern trimmed in eyelash fringe makes a peppy coverlet for a child's bedroom.
A subtle argyle pattern of tiles on the kitchen floor makes a refreshing alternative to the usual checkerboard design.
The same technique lends energy and movement to the walls of this bathroom.
Paired with chevrons, argyle-inspired diamonds jazz up this stool. The classic palette keeps it from feeling like it belongs in a circus tent.
An argyle pattern on this cut-glass barware adds a layer of preppy chic.
Do you really need argyle-print duct tape? Of course not, but it's so much more fun than drab gray or black.
This wallpaper could go in any number of design directions: traditional, modern, bohemian or midcentury.
Just when you thought you'd seen it all when it comes to pumpkin decor, along come these argyle-painted beauties. The best part? You could replicate this technique with any color that coordinates with your home.
Related:
Houzz is the leading online platform for home remodeling and design, providing people with everything they need to improve their homes from start to finish -- online or from a mobile device. From decorating a room to building a custom home, Houzz connects millions of homeowners, home design enthusiasts and home improvement professionals around the world. Lisa Frederick is a contributor to Houzz.