8 Vanity flair fashions for a chic bathroom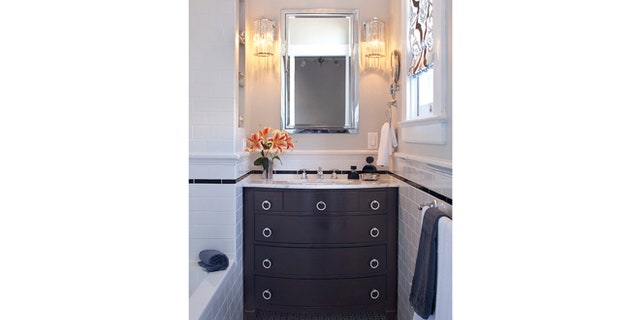 A bathroom vanity, whether in a powder room or master bathroom, provides a unique opportunity to show a little personality. If I were to equate a vanity to a fashion element, it would definitely be the shoe. Like a shoe, a vanity serves a basic purpose at the same time as it makes a statement.
You can enhance the beauty of a bathroom vanity with what you surround it with, such as wallpaper, plumbing or hardware. Specific pairings can make a vanity feel modern, whimsical or exotic. Try on these styles for size -- and think about taking a few steps toward a bold vanity statement in your home.
A basic white vanity contrasts a bold accent wall of blue mosaic tile. A vanity with drawers provides much-needed storage for toiletries and linens.
This open vanity includes a shelf for a basket to store towels in, and the shape of its backsplash gives it vintage appeal. A stand-alone cabinet separates the toilet from the vanity and allows for additional storage.
This sleek, modern bathroom features a floating (wall-mounted) vanity paired with a round electric mirror that provides two-directional light. Ideally bathroom lighting should come from above and in front, at eye level.
Like a basic black flat shoe, this vanity is custom sized and fits perfectly. It has a dresser-inspired design to hold all bathroom essentials. Glam sconces and round hardware pulls dress up the bathroom's basic black details.
This powder room features an actual dresser that has been plumbed with a vessel sink. A wall-mounted faucet is a great way to save surface space on a vanity with a shallow depth.
This powder room vanity is bathed in luscious layers of texture. A powder room is a great place for showing off a wonderful vessel sink with a vanity. Vessel sinks look terrific but are best for powder rooms.
Great hardware enhances the sleek transitional style of this vanity. A double-thick counter detail adds to the modern vibe.
This double-wide vanity really looks like a piece of furniture. The extra surface space with just one sink is a luxury.
A typical counter height for a vanity is 34 to 36 inches, depending on the user. Consider a 3- to 4-inch splash at the back of a vanity for easy maintenance.
Related:
Houzz is the leading online platform for home remodeling and design, providing people with everything they need to improve their homes from start to finish -- online or from a mobile device. From decorating a room to building a custom home, Houzz connects millions of homeowners, home design enthusiasts and home improvement professionals around the world. Charmean Neithart is a contributor to Houzz.