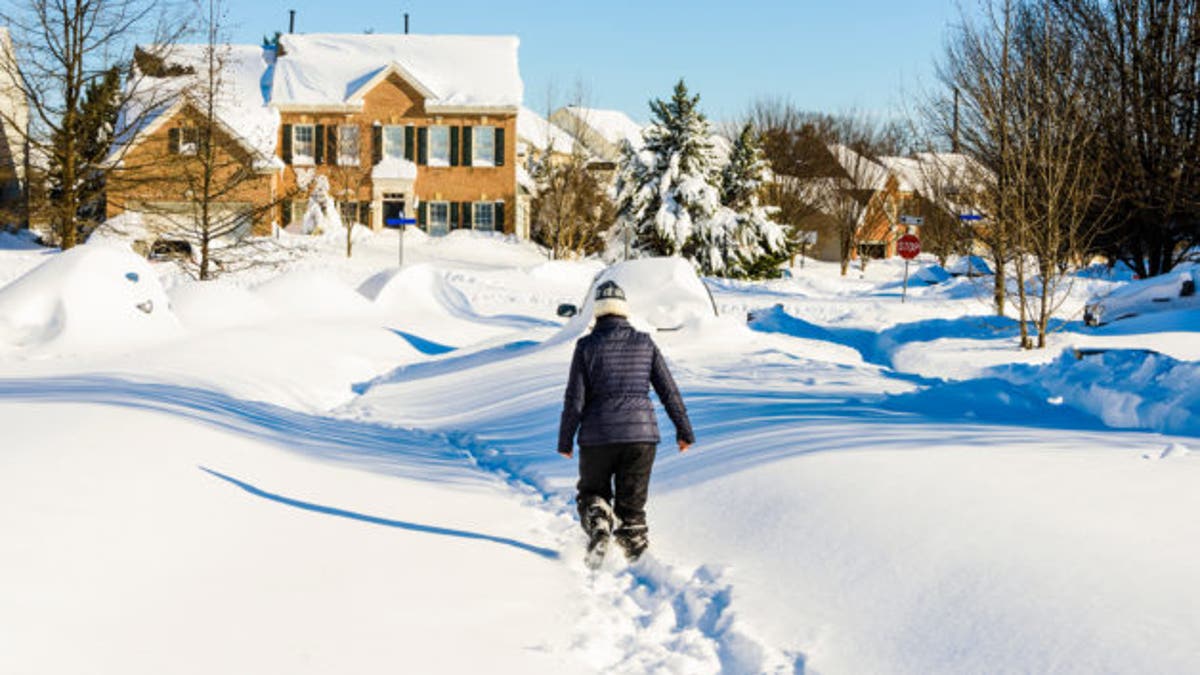 The seemingly endless stretch of bleak, freezing weather we're experiencing comes with some additional bad news: Wintertime generally means lower asking prices, fewer buyers on the hunt, and less money changing hands.
But there's cheery news, too: Just because your home's on the market during the slow, chilly months doesn't mean you have to accept a lowball offer. If you make your home attractive in all the right ways, qualified buyers will come. Just avoid making these all-too-common winter-selling mistakes in order to get top dollar.
Mistake No. 1: Setting down the shovel
You cleared off enough of the driveway for your car, but potential buyers won't be entering through the garage like you do.
"Blazing a path through 3 feet of virgin snow makes a lousy first impression," says John Engel, a Realtor® with Halstead Properties, in New Canaan, CT.
Don't put away your snow shovel until you've cleared a path to your front door. Or save your poor back by hiring a snow removal company to keep your paths walkable.
"Not only does it make it more inviting for buyers, but it avoids potential safety and liability concerns," says Massachusetts Realtor John Ternullo.
Mistake No. 2: Giving in to the winter blahs
Gray skies and barren trees make winter a particularly depressing time to sell. But you don't have to let your home look as doleful as the weather.
"Pops of color by the entryway, like a seasonal wreath and topiaries, can add some interest to the front entrance as well as make it more inviting," Ternullo says.
And don't wait until buyers schedule showings to add some life: Colorful curb appeal transforms your listing photos from drab to dramatic.
Mistake No. 3: Letting the seasonal slowdown slow you down
The hot summer market might leave you feeling optimistic about your home's chances. Your neighbor's identical bungalow sold for $300,000—so yours should too, right?
Not exactly. As the market cools along with the weather, "priced to sell" can mean something far different from what it did in the blazing months of summer.
But while you shouldn't be too optimistic, you also shouldn't be so scared your home won't sell that you give it away. Just because it's colder outside doesn't mean savvy buyers aren't still scouring the market.
"Buyers know a good deal when they see it, and they'll pounce on one in the winter if the price is right," Engel says. "Don't fall into the trap of thinking the market is dead because open house activity and closings are down. Buyers are online every day of the year."
Mistake No. 4: Not scrubbing your windows
Colder temps have robbed your trees of their leaves, leaving your home to look a bit sadder in winter's wake. But that's not the only problem. Those full trees previously shielded your home from direct sunlight. And now that it's pouring in your windows, potential buyers will be able to see everything.
Scuffs, fingerprints, and streaks are "never more apparent" than in the wintertime, Engel says, so you should make sure you're vigilant about keeping windows clean. Alone, that grime might not be enough to turn off a potential buyer, but it might make them wonder what other details you've missed.
Mistake No. 5: Displaying outdated summer photos
Your Tudor looks particularly glorious in the summer, but if your only listing photos were taken in April, buyers will immediately suspect a problem.
"Nothing says 'old, tired listing' more than the photo you took nine months ago," Engel says. Talk to your Realtor about taking new photos that make your home look festive and seasonal. Feel free to keep older photos in the listing—your buyers might want to know what the home looks like when the gardens are in full bloom—but updated photos will make your listing seem fresh.
Mistake No. 6: Turning down the heat
Olivier Le Moal/iStock
"Frugality is great, but not when you're trying to sell real estate for top dollar," says Brian Davis, a real estate investor and co-founder of SparkRental.com.
Turn the heat up before you leave for showings, your utility bill be damned. Stick to 68 to 70 degrees Fahrenheit to keep everyone comfy.
"It will make the house feel homier and more welcoming," Davis says. "It also gives the impression that the house is energy-efficient and well-insulated."
Mistake No. 7: Denying access
It's New Year's Eve and a buyer wants to stop by. How dare they! Shouldn't they assume you have a fabulous party to prepare for?
Maybe. But if you want to sell your home in the off-season, the buyer has to come first. You'll need to work with your Realtor to devise a strategy for squeezing in showings, even in between all of winter's holiday events and family gatherings.
"While it may be inconvenient, it's crucial not to deny showings, as that could be a missed opportunity," Ternullo says. "There may be less buyers compared to spring, but winter buyers tend to be serious."
Mistake No. 8: Leaving out your draft stoppers
Your hand-knit draft stopper might look adorable snuggled against your door, but it "sends a clear message to buyers," Davis says. "This house is drafty and loses heat easily."
Not that you should lie. But every home has hidden problems, and it's best to let the buyers make their own assessments and discoveries during the inspection period. Don't leave out little things that could sway their decision.
The post 8 Killer Mistakes That Could Keep You From Selling Your Home This Winter appeared first on Real Estate News & Advice | realtor.com®.