8 Fireplace designs for a radiant master bedroom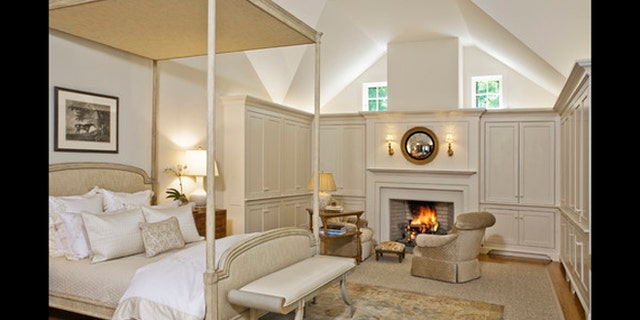 Anyone building a dream home is likely to tell you there is no better luxury element in a master bedroom than a fireplace. Whether you are building, remodeling or just sprucing up your main sleeping quarters, don't forget about the character a fireplace can add in addition to its increasing your home's resale value and overall design aesthetic.
Have a look at these beautiful and functional master bedroom fireplaces for inspiration.
Subtle shine. The fireplace shown here is delicately placed below a television of almost the same dimensions. Offset shelves and a rustic mantel make it so unobtrusive, it almost could go entirely unnoticed.
Design tip: Paint or tile the slight bump-out around the fireplace box if you want it to stand out more.
Max effect. In a room full of windows, this strategically placed fireplace has the maximum effect, thanks to the all-black window casings and fireplace tile.
Design tip: A double-sided design in this room would turn the fireplace opening into another window.
Book nook. This surprisingly creative fireplace is flanked by wing walls that act as bookshelves, creating a cozy nook.
Design tip: Build your own nook just a tad larger to accommodate a piece of furniture, and you will be able to read by the fire all night long.
Center stage. This entire room centers around the fireplace design. Paneled walls with matching door and window casings serve as the perfect backdrop for the center-stage fireplace.
Design tip: Opt for a higher firebox opening when you have high ceilings.
Faux fireplace. Not everyone has the budget to install a fireplace. If you have the space but not the money, consider installing just a fireplace surround for a great old-world feel.
Design tip: For heightened style, paint your surround an eye-catching color.
Fully integrated design. This low-lying fireplace gives way to a wall-mounted TV on paneling, which travels over and across the ceiling to a symmetrically placed bed. Everything in the room works together in this beautiful design.
Design tip: Try mimicking the ceiling's wood paneling on the floor using two different patterns and colors of carpet.
Built-in cabinetry. Rather than waste precious space with a mantel over the fireplace, this room's designer installed functional and beautiful glass cabinetry.
Design tip: Replace clear glass panes with frosted glass or wood panels should you want to store less attractive items.
Storage solution. Is this fireplace warming a sitting area or a closet? We would have to consult with the experts who designed this masterpiece. Although the area looks like it's surrounded by wood walls, they are actually wood cabinet doors hiding plenty of storage.
Design tip: Remove the center wooden panels in the tall cabinet doors and replace them with fabric for a softer look.
Related:
Houzz is the leading online platform for home remodeling and design, providing people with everything they need to improve their homes from start to finish -- online or from a mobile device. From decorating a room to building a custom home, Houzz connects millions of homeowners, home design enthusiasts and home improvement professionals around the world. Shane Inman is a contributor to Houzz.