7 Tips for lovely traditional living room lighting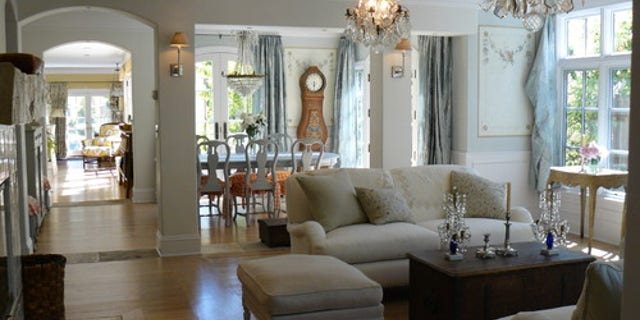 The living room may be where your family members spend most of their time, but it's about more than comfortable seating and the right-sized flat-screen TV. Proper lighting accentuates the room's design scheme and creates a sophisticated feel that's characteristic of traditional design.
Choosing and placing the chandelier, sconces, lamps and can lights can transform your traditional space. Here are seven tips that can help.
Consider how you use the room. For rooms used primarily for entertaining, late-afternoon cocktails or after-dinner coffee, general lighting may be all you need. In a room like this, a center light provides the main general light, with sconces and smaller lights filling in the spots that the chandeliers miss. Is there anything more traditional than a crystal chandelier?
Don't forget the dimmers. Especially for general lighting centered in the middle of the room, dimmer switches are essential. That way, you can achieve any type of mood you want. For bright, cheerful illumination, turn up the lights full blast. For nighttime events, turn down the lights to make a traditional scheme, like in this French country room, even more romantic -- and appearances even more flattering.
Use task lighting to define zones. Living rooms are for a lot more than lounging. For rooms that get a lot of use, consider task lights to brighten work areas. Task lighting includes built-in can lights that direct a flow of bright light onto a reading or working area. An orb chandelier adds an updated twist on tradition in this room.
Task lighting also includes desk and side table lamps that illuminate areas used for paying bills or writing thank-you notes. The symmetry in this room, right down to the matching pairs of lamps, defines traditional style.
Play with accent lights for style. Don't forget about accent lighting when planning your living room. Sconces are a fabulous touch that can show off a painting, a focal point or a special accessory by directing attention to a specific spot.
Pay attention to size. Fixtures should be proportional to the room. A good rule of thumb is to take the dimensions of your room in feet and add them together. The number of feet in the sum is how many inches your chandelier should be.
Long pendants and tall table lamps can help balance rooms with very high ceilings. Hang chandeliers 78 to 84 inches high; place sconces at least 60 inches high.
Add to your home's ambience with your lighting. Lighting can be one of the most aesthetically pleasing parts of a design scheme. This single large turquoise chandelier certainly makes a statement, repeating the color on the pillows and rug and making a sophisticated neutral palette pop.
Let it flow. Using the same fixtures in adjoining rooms can create continuity. Matching fixtures -- especially when they're as fabulous as these -- make a design scheme feel well planned. These crystal chandeliers are a classic fixture for a traditional home.
Next, two of our favorite traditional lighting fixtures.
The feminine lines and masculine materials of this fixture juxtapose beautifully for use in a variety of living rooms.
If you're torn between a glamorous chandelier, a funky focal point or a stunning centerpiece, a classic ring chandelier like this is a great way to go. Its color coordinates with any decor, while multiple bulbs cast a glow -- instead of a piercing, unflattering line of light.
Related:
Beth Woodson and Kristy Harvey are the mother and daughter behind the blog Design Chic (www.mydesignchic.com).