7 reasons to consider pullout waste and recycling cabinets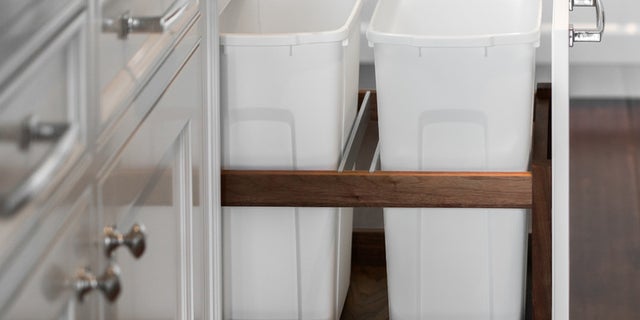 Waste pullouts are a secret weapon of the well-oiled kitchen machine. They do the dirty job of handling your garbage, recycling and more. In fact, among surveyed homeowners who are remodeling a kitchen and upgrading cabinets, the No. 1 storage addition is a pullout waste or recycling cabinet, according to the latest Houzz kitchen trends study. But what makes them better than a regular garbage can? Actually, a pullout bin can have quite a few advantages, both in style and function. Here are some reasons why a humble pullout cabinet for waste deserves a little consideration and a space in your kitchen.
Out of sight, out of mind. When you think about your dream kitchen, what do you imagine? I'll bet the garbage bin is not the first thing that comes to mind. But then, this is the whole point of a waste pullout: It tucks the garbage, recycling and other waste bins out of sight but within easy access. That way you don't have to look at a messy freestanding bin or struggle with a tiny, seemingly always full can tucked under the sink.
RELATED: Do You Dream of a White Kitchen? Find Inspiration Here
Seamless integration. Because a waste pullout is essentially just a very deep drawer, it can easily be integrated into the look of your cabinetry, bringing some great contemporary functionality to very traditional or transitional style.
In fact, it's quite common for a pullout drawer to be faced out with multiple false fronts to help it blend more seamlessly into a cabinet scheme.
RELATED: Pick Out the Perfect Drawer Pulls
Ease of use. If you cook often, one of the trickiest and yet most common tasks is sweeping away the remnants from chopping. You can carefully carry a chopping board to the bin, or you can bring the bin to the chopping board. Locating your garbage or compost pullout below a chopping zone means you can sweep waste directly into the bin with ease.
Here's another smart take on this idea: a pullout chopping block (in place of a typical drawer) positioned above a waste pullout, with a simple hole to allow for trimmings to be swept directly into the bin. A great option for small kitchens, as the whole chopping station can be closed away when not in use, and the main counter can still be used for other things.
Waste sorting. Pullout cabinets aren't just useful for holding your garbage bins. More and more cities today not only facilitate recycling or composting, they also require some level of waste sorting, and this requires managing multiple bins.
Depending on the system you use, you can easily have space for two sizable bins, or many smaller ones, configured with one tucked behind the other in a full-depth cabinet, or side by side, or many other configurations to suit your typical needs.
Odor control. One major concern that people often have with waste bins is the odors that can linger in the kitchen. There are several possible ways to combat this issue, and one is by using compartments with individual lids for organic waste.
Some waste pullout systems even integrate a special bin with a securely sealing lid specifically to hold compost, so you don't have to change it with excessive frequency just to keep odors in check. Keep in mind how quickly it will fill; you'll want to plan ahead so that organic waste isn't left sitting exposed to air for too long.
Another option is to put different types of waste into their own cabinets with appropriately sized bins so that you only have to open the relevant compartment at any particular time. You can devote more space for plastics and less for compost, or vice versa, depending on your needs.
All-in-one storage. If you want to make sure nobody has an excuse for not changing the bin when it's full, try a drawer that includes a small storage drawer inside, and you can keep garbage bags and related products right by the bins themselves.
You can also use interior drawers to split compartments into smaller subcompartments or to keep cleaning products or deodorizers on hand.
RELATED: Kitchen Storage to Fit All of Your Needs
A fit for any budget. Want a fully luxe look? For just a little extra investment, a system with side panels (which can be custom fitted by your cabinetmaker) will more fully cover the bins for a discreet look even while the cabinet is pulled open.
Meanwhile, at the other end of the budget spectrum, pullout systems integrated into a standard door cabinet can turn any underused space into a garbage pullout with room for multiple bins without a total renovation. Plus, for dexterous chefs, they can be pulled and pushed by foot to facilitate disposal even when hands are full.